Prem means Love. And love without respect, passion,possessiveness , devotion, loyalty, adoration and affection is incomplete. Prem is the perfect symbol of love. He just can not see his Heer in pain or in danger.
Due to some reasons Heer had to disguise herself as a bride and have to go for the wedding. She knew that this is a wrong thing but as she promised the real bride that she will so she had to do that.And when bride's mom pulls out the bridal veil from Heer, everyone gets shock to see her as a bride.Everyone questioned her that where is the real bride.Whole chaos is made there.And then we see someone pulling Heer's hand and taking her to some room.He is none other that Prem. He knew Heer as in danger now. So he becomes her shield. And then he takes Heer's hand and takes her back to the crowd . Bride's relatives gets really hyper to see Prem with Heer. As he is the owner of the hotel and is with the Fake bride.Heer hides behind Prem because she knew only Prem can shield her. People point fingers at Heer. And this bugs off Prem. We can see Anger coming in his eyes.He warns that old man not to say another word against Heer.Prem threats him that If he did then he wont be able to go his home safely.Prem takes out Bridal Veil from Heer and gives it to the Bride's mother. And then turns towards the crowd and says that this is the last time he is saying that Heer is not responsible for all this and she didn't did anything. Which leaves the crowd speechless.
Wow Heer was really a lucky girl to have someone like Prem in her life.Prem has always helped her in every phase of life. Harshad as Prem was the best thing about this show. The way he portrayed Prem's character is really overwhelming. Harshad have conquered billions of heart around this Globe through his tremendous acting skills. Keep it up Harshad.



Prem have always loved heer so much.And he can not bear to see her with someone else. It hurts him to see her with some other guy. And just when prem was about to tell heer about his feelings, his dad lalit announces Heer's engagement with Manmeet. At that time prem was holding Heer's hand. It was clearly visible that both did shared same feeling about each other. But as it was in their fate, manmeet comes to take Heer's hand. Prem had to make her go. He drops her hand. There is so much pain visible in Prem's eyes. He was shockingly hurt by all that. One can clearly see how his heart was broken through his emotions. He puts his hand on he burning candle.Though he might be burned by that, but in this case he couldn't feel that as he was already a burning man to see his love Heer with someone else.
In this scene, Harshad was seen playing a shattered lover, Prem. He Flawlessly have acted in this scene. It really looked as if it was happening in real with him. Such a brilliant actor he is. Way to got Harshad !!! You rocks Big time !!!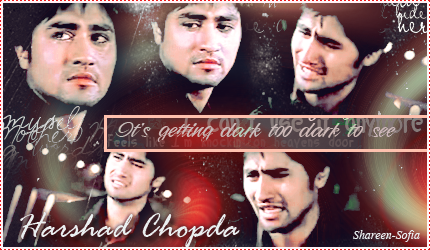 Prem is not only a passionate lover but an obedient son too. He is that perfect man, whom everyone dreams to have.Such that Parents dreams to have a son like him,siblings dreams to have a brother like him, and a simple living girl do dreams of having such a life Partner. Prem is that dreamy guy !!!
It have always been with Prem to Love and respect all those people who are connected to him by any means. And he can not tolerate any single accusation related to them. That is the hight of Prem's love !!! Similarly, When Daljeet,would be Mother-in-Law of Prem, pointed fingers on Gayatri for not loving Prem and doing discrimination between Prem, Kulraj and Preet-harman-Veera. Hearing all this about his Mother, made Prem to go in depression. He left his engagement Party and disappeared. No one knew where to find him. Except Gayatri. Gayatri have always loved Prem more than any of her child. And she knew about every single move of Prem. So she went to that place where she knew, she will find him. And there we see Prem all crying and depressed.Gayatri goes near him and ask him that how can he believe on that that 19 years old letter. Though it was true, but now the story is all changed. And she always thought of him as her own son. Prem turns and says that she believes that Prem is depressed because of that letter.No he is not at all mad at it. He is angry on her. he knows this that she have always loved him. He continue to say that she thinks that he could believe on any ordinary guy who will come and say that Gayatri refused to marry Lalit as Lalit was already having kids and was married man. Would he believe it?? he keeps on screaming. He again says that he is angry on her. He asks her what he means to her?? she says you are my son Prem !!! And then Prem again in angry tone asks her...then why in front of so many people she kept quite and didn't said this,while others were pointing fingers on their relation?? That letter was nothing, he can also deny God, if God comes and say that gayatri is not his mother, he wont believe him either. He only know this that Gayatri is his mom and nothing at all.SO what if gayatri didn't said this in front of those people, he will declared it that she is his mother and will always be!!!!
After hearing all this, gayatri breaks her silence and makes Prem to go back with her in that Party. and then if front of all these people she too declares this that Prem is her son and she loves him more than her own children.She truly was Prem's Mother. Like him, she too gave an amazing speech in front of everyone which made to close those people's big mouth !!!
Wow this has to be the best episode !!!Both Harshad Chopda and Shama Deshpande were flawless. Hats off to both of them. This was the first time when we saw prem in angry mode. And Harshad brilliantly have acted this scene. All those dialogs, emotions and everything was just out of this world !!! even till date when we think about Mother-son relation only Gayatri-Prem's bonding comes in our mind.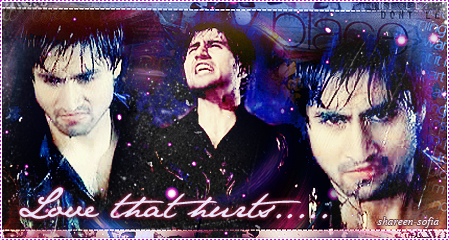 Pain is the fuel for a fire that is anger. Fire can't be put out if gas is still being fed to that fire. Heer, the sole reason for his pain. He was misleaded by Heer herself and forced to believe that she was part of an illegal exertion. He wouldn't be credulous of it even if God himself came down off a high horse and told him for he knew deep down in his heart that his Heer was unstained. However, what hurt him most was the fact that she lied to him, that she didn't place her trust in him. This feeling of being neglected drove him crazy. It was as if a wave of futile rage swept over him and one could see his eyes glow in fury. Seething with anger he smashed his fists and the blood oozed out but it didn't hurt him.
This act of his showed his anger but not for himself but for the person whom he loved with all his heart and soul. The physical pain didn't hurt him at all, it was the pain bottled up inside him which was raging to cascade that hurt him the most! However, Prem being the man that he was, was determined to hunt down everything and get his Heer out of the place which she under no circumstances desrved rather did everything for his welfare. He would go to any extent, even if it costed him his life but prove to the world that his Heer was innocent. He would win her trust so that she would never ever again not consider him worthy enough of sharing her sorrows! the only question on his mind was "Why Heer why? Why did you sacrifice yourself for me?' Turning his grief into anger again that later changed into determination to prove her innocent. One look at his face and you could tell that if she could sacrifice her prestige to save his reputation, he would do everything to prove she is pure!
This scene had all the different shades of who Prem really was, his anger, his passion, his love and trust in those he held dear and the determination to always protect those that are his! It was a beautifully thought, executed and brilliantly acted scene leaving and ever lasting impact on the viewers, giving a whole new meaning to love!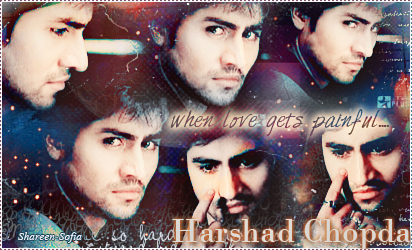 Prem Heer were like two bodies but one soul. They were incomplete without each other. To save Prem's respect and his hotel Heer takes all the Blame on her head and goes to Jail.She knew even prem haven't done anything wrong and there are other people behind it. But police will arrest Prem as hotel belongs to him.And heer can not see Prem in danger, takes all his blame on hers and gets arrested by the police !! Prem knew this that Heer lied and he couldn't do anything to save her. Depressed Prem goes out in rain, with a bottle in his hand. Here we see a drunken Prem asking God why?? why this have to happen?? and then he breaks that bottle in his hand. And then he remembers heer saying that she was the one who hided all those proves in prem's cabin. with that bleeding hand he goes to get those proves. And when he goes there and find nothing and then there we see that yes prem was right. heer wasn't the one who did that.


This was killing prem that he knew that Heer haven't done anything wrong but still she was in Jail. To get his answers he goes to meet Heer in Jail. He questioned Heer that Why that girl who came from a small town along with her sister, who have lost her parents, but haven't lost her self-respect and will power, she says she have done an illegal business in his hotel?? That girl who cries in front of God Shiv's Idol and prays to God to give her more and more Pain and sorrows but also give power to bear that pain, that girl says she have done an illegal business in his hotel?? That girl who sees a stranger in night and runs hiding her face in her veil, that girl says she have done an illegal business in his hotel for money?? That girl in whose Fate god have given so many sorrows she says she do deals of human being for money?? Why she said so many lies?? He again questioned her "Tell heer, I'm asking you?? why you did that??". Meantime we see heer crying. Prem with his finger takes heer's tears and hold it near his heart and stares her and then leaves. It was like he did got his answers back.
Prem then goes to the Inspector and asks him procedure of bailing heer out.Inspector asked him that why he want to get in this case?? Now his Hotel is not involved in this case. Prem informs him that his lawyer would be there by tomorrow afternoon and he should leave Heer then.Inspector again says that prem is not getting what he is trying to say.Prem can also get involved in this case if he tries to say this girl. And questioned him again that who is this girl. But prem was Prem. He tells that Inspector that because of this girl his hotel got save. This girl saved his hotel's reputation.Inspector denied this and says that because of this girl his hotel is being caught in this case. And all the proves are against her. Prem again takes Heer's side and says these are all proves which Heer herself have given him she was the one who came to inspector and accepted herself as the culprit. She was the one who made you trust her that she is the real culprit.Or in other words he told inspector that he can say that she took Prem's danger on her head.If someone can destroy himself for someone else's sake, that failure is not called as failure its called as craze/Passion. And now there is not that talk about money, its about Prem's passion in front of her. In the end Prem says that he will make Heer out of this prison.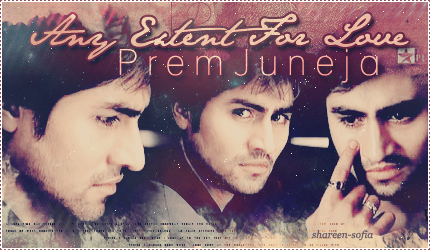 After delivering this Awesome speech Prem makes his way out of Police station. But then he sees Manmeet coming in, he stops there. Manmeet tells police officer that here is the real culprit now you can leave Heer. Ad the again we see angry Prem telling that officer now he doesn't have any right to keep Heer in prison for even a second !! Prem sees Heer leaving from Jail. He is really happy to see that now heer is save and there are no more allegation on her. Everyone can see that right Prem is just eager to take heer in his arms but again there is Manmeet who is Heer's would be husband. Prem knew this that he is the only one who have right to hug Heer. He was in great pain when he was watching Heer with some one else. He was confused to see that why there are tears in his eyes. He takes his tear in his finger, just like what he did with heer's tears....and when he turns he saw that Heer wasn't happy with Manmeet. Both stare each other and Prem throws away his tears fro his hands and goes away.
This scene is my personal Favorite scene. Both Harshad Chopda and Additi Gupta have done a great Job. In the beginning of this scene the chemistry between the two is really making me to go crazy !!!! Harshad chopda is a fabulous Artist. I haven't seen a performer like him. He is a marvelous actor. The way he have said all those dialogs its really breathtaking !!!! And all those emotion flickering his face every moment is just leaving me speechless. He can not only deliver an awesome performance with dialoges he is master in speaking with emotions !!! Hats off to him. I can not say more about this as there is always lacking of words when it comes to describe ow great actor Harshad is. God bless him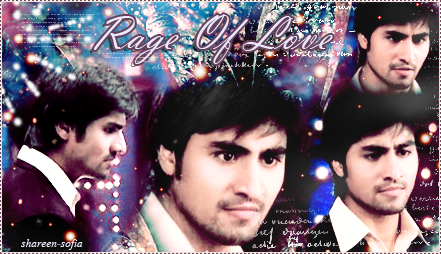 As the theme of this amazing FC is based on angriness and Passionate lover Prem....so why don't we give light to this scene....this scene have always been the best one. In the beginning of this scene you can see Prem all trying to tell Heer that how much she means to him and why he have gifted that dress to her. What a passionate lover Prem is !!! Heer is all accusing Prem that Why he is caring for her?? What she meant to him??


the confession scene in desh was a milestone in the history of indian telly where for the first time ever...the lead was confessing his love and at the same time he was threatening her of dire consequences if she wasn't happy without him!
harshad was exceptionally brilliant in this scene where he as prem in a bid to hide his "junoon" for heer...his self promise to keep her safe...just gave away the secret that he loves her!

it was unintentional......but his anger just took control of everything and he confessed to heer......there hasn't been anything on screen so perfectly done....so perfectly convincing....prem hardly shouted...but wen he did....the timber is deep.....wen the key to his heart was unlocked by heer.....it is no trickle, but a deluge. it sounded like prem wanted to get off everything that he has felt since he first stepped into the country with a sense of finding his true love here. it was like he told the inspector at the policestation: it's no longer a question of wealth or money, it's his obsession against heer's obsession. and oh boy, is he obsessed! it is so deep that he comes across as slightly insane - those dips and pleas in his voice against the thunder and threats in the next second. any other face, and we'd call him mad. this was the magic of harshad's brilliant portrayal of anger on screen.....a magic which still echoes in the minds of all .....
Hats off to Harshad !!!! The angriness in his eyes was clearly visible. And then what to comment on his acting skills?? He have always been so much keen and dedicated to his work !!! Its always great to watch such scenes !!!



Another scene where anger took over all of prem's senses was the "ho gayee tumhaari bakwaas khatam scene"

o boy...this was a personal favourite of all where unable to take the non stop ranting about how heer loved manmeet...he just shuts her up! that look in his eyes spoke volumes and as he tells her wat love was for him.....he was ono ordinary lover as he announces to heer who would just love her superficially...but a lover who's sole concern was the happiness of his lady love...least bothering whether it was with him or someone else...but the only fact that remained constant was...heer's happiness...otherwise he would die!brilliant....coz for the first time we saw prem 's anger spilling....and he showed...if he was angry....it didn't matter to him who was infront of him....it was just him....and his anger.......



Prem make understands Heer that what is love and what it means to him, he is not a person who only believing in getting his love and loving her but a person who can go to depth for the girl without thinking twice. He has not learnt taking but only giving, he is not a lover who just wants to maker girl his but a person who can be bearer of his love's palanquin but wanting the person to be worthy of his love.
Prem made us believe that such lovers still exist in world who can love other so unconditionally yet demanding for nothing. Harshad as Prem delivered numerous shots which left out wide open in amazement but this was something, through this, he projected how a boy can love a girl through the person Prem Juneja.



After confessing their feelings with each other, Prem Heer knew that now its really difficult for them to live without each other. As they were already engaged with two different people. And they were getting married to them due to their family's sake. But still how can they hide that love which they both feels for each. Their eyes also spoke about their love and its peak.
Prem was already having a doubt about Manmeet's character. So he for his self satisfaction he tried to investigate about Manmeet's story. He did even tried to tell Heer that Manmeet is the not the right guy for him. She should not marry him. But it was Heer, how can she do it. As she knew if she will calls it off for Manmeet, ultimately Prem will also call it off his marriage with Ashlesha. And if that happened Heer coluld see danger coming from Daljeet.
So at the Mehndi Ceremony of Heer with Manmeet and Prem with Ashlesha, Prem again tries to explain this to Heer that Manmeet is not at all good for her. But Heer stops him saying all this and says to him that today she will speak and he will remain quite. She continue saying that he is the only guy who have supported her and said yes to marry an orphan girl. She goes on and on about how Manmeet is right for her. Suddenly, both Premeer hears someone's approaching noise. Prem grabs Heer's hand and hides her. And when they were alone again and Heer was about to go, Prem catches Heer's hand and asks her what was she saying?? She will stay Happy with Manmeet?? She is Happy with this relation??What was she saying?? She trusts Manmeet?? She loves manmeet?? he again asks Heer that So then why its that, Heer is with him right now. Why she is so close to him that he can hear her heartbeat?? why is that?? Why is that she thinks something else, believes something and see something else?? why is that?? Why??
In this whole scene Prem first tries to calm down and let heer speaks. But when she sees that Heer is all blabbering about how Good Manmeet is, he just couldn't controlled himself and asked those questions to Heer. In this scene, we can see how jealous Prem was to see Heer with Manmeet.
Harshad Chopda is really a great actor And he shares a great Chemistry with Additi. Every dialog was just straight from the heart. It really created a magic on my screen. Every such scene of Harshad is just so magnificent and one can watch it again and again and even after watching it so many times, it still have that magic in it. Its just because o Harshad's brilliant's performance. Love You Harshad. God Bless you !!!



Prem have always been a wall between Heer and her enemies.Whenever someone have pointed fingers at Heer, he was the only one who sided with Heer. Similarly there was a time when a video of Prem and Heer in a hotel was shown in a party. Prem's dad lalit questioned Prem about his relation with Heer. Prem tried to save Heer's respect in front of so many people, denied any relation with her. Because he knew people will assume wrong things about her. But when Lalit asks him giving his sake, prem being an obedient son couldn't controlled himself and confessed his feeling for her. And there in front of so many people, lalit slaps Prem. Ultimately Prem leave that place and goes out in rain.He is all broken down as his father didn't trusted him. So then his brother Preet comes there and tries to calm Prem. Preet tells him that If Prem wants to get married with Heer, he is with him and he will make him Marry with Her. But Prem knows this that if this happens everyone will think wrong things about heer so he tells Preet that what happened today was not in his hands but he wont let it happen again. As he can not bear it when people talks about Heer in that way because he knows this that Heer can't be wrong...she was as pure as he was !!!
In this whole scene,though we don't see many dialogs said by Prem but his expressions were saying so much that it didn't required to have dialogs. Harshad in this whole scene has done an awesome Job. The way his expression changes from calm to anger then to in-tension mode and then again in anger mode is really appreciative. He was spectacular in this whole scene.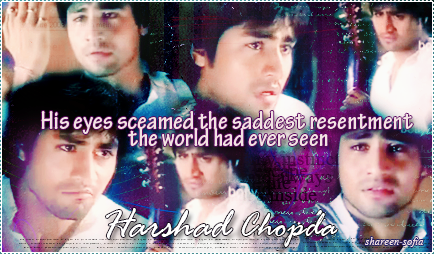 Prem Juneja made us witnessed many shades out of which the highlight of the character was his angry and passionate side for his love, for welfare of his love. But here something differnt was showcased, otherside of Prem, hurted Prem Juneja who felt defeated in his love, who loved a girl but lost her and could not do anything. The thing that pains you the most is your love praising someone else, declaring her love for someone else and that was what Heer did but still Prem used to endure but here we finally saw the inner storm raging inside him, when his patience lost its way and his pain, agitation came out in form of anger.
And the victim of his anger, his pain becomes his friend who was there with him, his mandalin, which was there with Prem always when he used to be happy or gloomy, only it was used to be his way to express out his feelings. The name Prem is not just Love or affections, it also menas the symphony between two hearst and that what Prem used to potray to his mandalin. But when anger took toll on him, feeling losted for loosing the only girl she adored. the way he found to soothe himself was by breaking his mandalin, with breaking of it, he didn't only broke the instrument he used to love but ir was a clear inkling that with end of this, all his emotions and beliefs from every relation also came to an end. The epitome of Love was shattered into pieces and from the only being whom he loved from his heart and soul.


Harshad phenomally did this act, the way he showcased anger through the tears, agitaion through the pain was a commendable job, his expressions made it so real that it touched our heart and seeing such condition of Prem made her haert to weep for the person in front.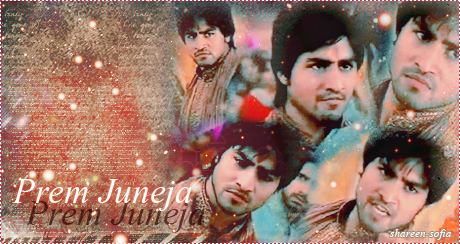 Prem had known about the intentions of Manmeet for a long time, he even encountered him once before, only to be proved wrong, the one person he did it all for was not ready to believe him either and told him he was trying to ruin her life. So what was it that made Prem leave his mandap and go to Manmeet and tell him if he dared to marry Heer, he will set the mandap on fire? Till then he was holding himself back only because Heer was not willing to believe him either but when Preet came and told him Heer knows too, there was no holding Prem back! Even then Prem was not aware of the fact that Heer loves him too, so being an obedient son, he was willing to marry his father's choice but he could not let his love suffer either. He could not let her be married to a wrong guy and spend her whole life in misery. He made sure every one knew he won't let it happen; there was so much anger and passion in him that Manmeet, even though he tried could not dare defy Prem.
He cared for nothing and no one, the only thing on his mind was he had to save Heer's life from getting ruined and even though he thought Heer can never be his, he still had to make sure that she does not get married to a person who would make her life hell. This scene reminded me of an earlier scene where Prem had told Heer that he will himself give a shoulder to her doli and do her bidai but only if the person is worth it and when he challenged Manmeet, Prem actually lived up to his words he had given to heer because Manmeet clearly was not the right guy for his Heer.


Prem even put his relationship with his father on-line when he stood up to tell Manmeet he won't let her marry Heer. But that he cared for nothing, his only objective was to save Heer, to save her life! As they love is not always about getting the one you love, it's also about making sure the one you love is safe and happy, so Prem wanted Heer to be safe and happy even if he was not the one to give her that happiness.
Ishq ka rishta sab sey ouncha
Khoon sey apney pyar ko seencha
Ishq da panchi jaan guwawey
Ishq bina par kuch nahi khawey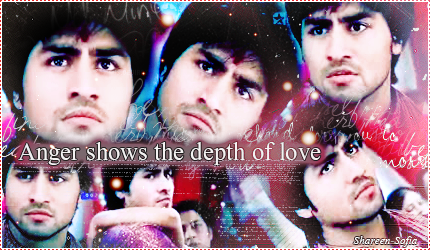 18th June was the day Prem Juneja announced to the world that "Heer, Prem ka parteek hey aur Prem sab sey ziada Heer mey samaya hey '.. aik hi hien Heer aur Prem", he belonged to Heer and both are inseparable!
18th June is what distinguished Prem from all other lovers on Indian Television till date; making him the epitome of love. The day he stood up for his love that too in a way that left those watching aghast; such was the power of his emotions that it left you mesmerized. It was like the volcano he had been controlling for so long had finally erupted, making everyone see the fire of passion and love.
When he said "if anyone dared to even look at Heer; I will take their eyes out", one could feel he meant it! Such was the authority in his voice and anger in his eyes that no one could even dare move for a long time.
Prem, who had always been calm and mellow, was bursting in anger that day because someone had dared to insult his love in-front of him. Prem's love for Heer was oozing out with every word he uttered that day, the feelings he had suppressed all came out in such a compelling way that it gave a whole new meaning to love.
The rage, the passion, the love visible in his eyes, perceived through his words left the viewers flabbergasted. Prem Juneja made sure on 18th June that one and all understood the depth of his love; he left no one in doubt about what Heer meant to him and all that he can do for her.


He once again showed how love can change a person; Prem who was an obedient son, defied his father for the first time ever because he was over powered by love; love for his Heer, the love he had been trying to keep in check but for how long he could hold inside an emotion so powerful? And when that emotion broke out it swept us all away into a world where one and all could feel the intensity of Prem's love!
You have ravish'd me away by a Power
I cannot resist: and yet I could resist till I saw you;
and even since I have seen you I have endeavored often
"to reason against the reasons of my Love."
I can do that no more
the pain would be too great
My Love is selfish
I cannot breathe without you



A Perfect definition of a Big Brother is that he is pampers his younger siblings, he is a tough guy, he is always there to protect like a shield, is really caring, a great friend, helpful, generous and etc etc....there is always lack of words when you comes to define how a big brother is!!! Similarly Prem is a Perfect Symbol as a Big Brother. He was always there to shield, pamper, love or even to pull leg of his siblings
.A big brother can also be the one who can not see his siblings in pain and when they know about the culprit behind all this pain, they just can not control themselves, their anger burst out. Similarly when Prem got to know about his sister, Veera's affair and that the guy,Rishab Rampal, was cheating her due to which Veera poisoned herself, he just couldn't controlled his anger. It was Veera's engagement Party and there in front of so many people she ate poison as she just can not live without rishab and she knew this that Rishab cheated on her. It was looking as if she wont live any more. And there we see Rishab along with his Mother entering Juneja Mansion. When Rishab saw Veera like that he got those crocodile tears and came near Veera and puts whole blame on Heer, who was Prem's wife. Prem knew this that Rishab is lying and he is the real offender. He grabs Rishab's collar and asked him that does he love Veera?? He even doesn't know the meaning of love how can he love Veera?? In love we don't play with our Lover's respect. We don't abuse our lover in front of others. Prem again tells Rishab that he should not take the advantage of this moment and must leave this place immediately.Prem pushes him away. But as he was Rishab so how can he listen to Prem that easily? He comes back. He tells Prem that he is not taking any advantage of this moment. He truly loves Veera.And he know that there ar business differences between Prem and Him but still this is not a deal to sign.He loves Veera. I f he wasn't loving her so then he wont have come here with his mother to take Veera's hand.Prem was really agree at that moment he wonted to throw Rishab out but he had to looked after Veera first.So he leaves to call doctor.
In this whole scene one can see that, through which pains a brother has to face all this.Prem is also hurt to see his sister like that but still he has that much strength to fight away with the bad guy. We all know that Harshad too is a Big Brother like Prem in real life. And one can say that he did this scene flawlessly as he knows what it feels to be a big brother. But in real, what I think is that Harshad is a Perfect Actor and he knows how to flicker different emotions on his face. He is Master in it. And he has done true justice in this scene too !!! God Bless Him.



There is always a part of life, which sometimes we need to forget to move on . But it is not that easy to conquer that part. There are always few things which becomes mirror for few mistakes which we might have done in past.
Everyone has a past. Similarly Prem too had a past. He did tried to tell Heer all about his past but heer trusted him so badly that doesn't want to know what had happened. She always thought that it was past which have gone and can not be repeated so why to bring it in our present ? But sometimes it really become difficult to ignore that part. Prem, like always, listened what Heer said and didn't talked about his past. But there were others in the house too, who wanted Heer and Prem to get separated. One of them was Kuljeet,Heer's Aunt. She investigated about Prem's past and somehow was able to find few things which she knew will trigger Prem. She gave a light blue color Saree to Heer so that she could wear it in that function. Heer wearing that Blue color Saree comes in that function. Every member of Juneja family is shocked to see Heer wearing that Saree, especially Prem. Prem is getting flashback of his past. Heer goes towards Prem and asks him that how does she look??? Prem becomes really angry and walks out of that ceremony.Heer chases Prem. She makes him stop and asks him that why he walked out of that party and came here.She keeps on asking Prem that why he did that?? why???...it bugs up Prem and unintentionally slaps Heer. And shouts at her that she wants to know it?? huh, she wants to know it?? there is so much anger in Prem's eyes. Prem says her that she was the one who told Pren that she is not interested in his past and doesn't want to hear a single thing about him. Then why she is doing this?? why?? He screams really loudly and again says to her that She wants to know it na so then listen. He tells Heer that the Saree which she is wearing is of Sanjana, that song which was playing in that party was Sanjana's favorite song. You want to know that who is this Sanjana and where she is ??? She is no more with him and have becomes ash now.He again Shouts at heer and ask her you know why?? because she is dead now.And again in a loud voice Prem asks her you know how she was dead?? Who killed her?? And once again in a more louder tone he confesses to Heer that He killed Sanjana.He is the Culprit. While he was shouting at Heer he was moving forward towards her. Suddenly there was no space left for Heer and she was about to fall from that mountain. Prem saves her by holding her hand and hugs her. Prem is all scared that in one moment he would have lost his Heer. And then in a low voice he asks her that if she is gone mad??? What will he do without her??
That was Prem's love towards Heer. He was mad at Heer basically not at Heer but on those people who were making him not to forget all that what have happened with him. Though it wasn't completely his fault that a girl will commit suicide. He didn't told her to love him. Prem knew this that its only Heer whom he belongs too. As his marriage with Heer was arranged when they both were kids. Since then, he have only waited to meet his Heer. But again as He was "The Prem" who only knows how to spread love, can not bear it when he got to know the reason behind Sanajan's death.That was the height of Prem's love. With whosoever Prem was connected with, he always have spread love and have loved that Person with the devotion. Whether they are his friends or his family. That was Prem.
In this whole scene Harshad have acted so flawlessly.His looks, were not only overwhelming but his whole performance was just out of this world. And again he is now master in doing angry scenes *bows down* Harshad Chopda Rocks big time!!!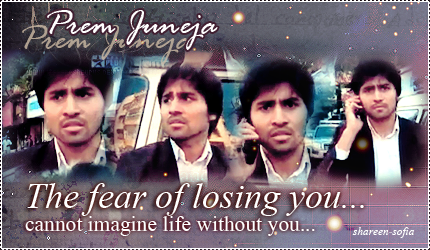 We mostly get angry with those people who means a lot to us. Sometimes for their happiness and safety we losses our control on them. Similarly, this scene was happen in Kis desh. Prem being madly in love with Heer.....became highly obsessed and protective towards her. Prem sees a nightmare where he loses his heer....heer being the love of his life, he requests her to not leave home at any cost, as he don't want to lose her. But due to some circumstances she does have to leave home. And then there we see for the first time Prem blasting his anger on heer. He shouts so badly that he himself thinks that he have gone mad.
Heer not picking up Prem's phone, it makes Prem to go more tensed...and then by mistake her hand touches the phone and then call is received....Prem can hear Heer talking...all he can do is waiting for heer to see his call...that is making Prem more crazy. And then finally heer notices his call. But that was too late, as Prem's anger was it peak when she answers her call. Prem didn't gave her a chance to speak even.....and then hears sound of firecrackers....which made him more scared...he keeps on shouting Heer, Heer...but there is no heer to reply Prem as she is busy in helping a kid......and when she returns, again there we see angry prem shouting his throat out !!! This was the intensity of Prem's love. He loved heer so much that he just can not see her in any harm.

This has to be an excellent Performance by Harshad. He was at his best. That Anger in his eyes made too look him more hot. We have seen harshad growing as an actor. And this tremendous act has to be one of the best act of Harshad.




So much Intensity and Passion we have seen in Premeer's love that have made us to salute them. Their love was eternal. Prem acting as Gaurav in front of heer so that when he leaves her she is able to recover. And on the other side, heer is acting to be in love with Gaurav, so that Prem confesses her that he is her prem.
Prem becomes upsets to see that Heer loved Prem because of his appearance, she never loved The man inside this appearance. As Heer was falling for Gaurav and was making measures to stay with Gaurav. Which made his Heart to break in thousand of pieces as he never thought that heer would only love Prem's face not the man or feeling behind it. He wanted to fight Heer but he couldn't do that as he doesn't wanted to disclose the truth behind this fake face. He tries to make every possible thing by which he can make Heer to go away from Him. Even he gets more than angry on her. But that doesn't worked. As on the other side, Heer from the day one knew that its her Prem not that fake-looking-like Prem-Gaurav. So she acted to be in love with Gaurav. Which really hits Prem so hard that he breaks his wall of patiences and burst out at Heer for cheating on him. But in the end he was taken by the surprise that Heer already this that he is Prem. This was the love, magic between Premeer, which made them to look beyond this world.

Harshad, as Prem, have given a light, life and magic to this show. harshad have portrayed every single shade of Prem so gracefully that we even lack words to describe what kind of a actor he is. God Bless You Harshad. You, being Prem, was the best thing about this show !!! You Rocks !!!!



To give up your life for someone is not that easy. But when you truly love that one and knows that its best for them, so it becomes easy to put it up in action.Though it really hurts you to the core to even think about leaving your love like this. Similarly, Prem gets to know that he suffering from some disease and would be leaving world soon. He doesn't want to leave Heer this early. But if it was in his fate he have to do this so he had to. First he tries to act like Gaurav sharma who is Prem's lookalike and he comes to live with Family as Juneja's really needed Prem at that moment. Few days passed and Heer's gets to know that he is real Prem and he is doing all this so that when he leaves, Heer is able to move on in her life.
One Night Prem was packing his bags so that he could leave early in morning. He had already been in so many arguments with Heer about his departure. He had hurt Heer by all this but he was in more pain than her. As he just cannot see Heer in pain and we know that Heer is in pain due to him which was really killing Prem. He never thought about that. Prem was about to close his suitcase, there we see Heer taking her dupatta from Prem's bag. Prem was already not in correct state of his mind, grabs Heer's hand and snatches dupatta from her Hand. Heer is all like that this belongs to her why in world he is packing it up. Prem was taking it with him so that whenever he will miss Heer he will see all those things which reminds him of Heer. But Heer was in fighting mood. She too was sad to see Prem leaving her like this. She was way too much irritated. Takes her dupatta back. This was the first time when Prem hurts Heer physically. He grabs Heer hand again and twisted it. It hurt Heer so much that she almost shouted in pain. Which ultimately makes Prem to leave her hand. A second ago Prem was in anger and when he saw Heer like that, his mask breaks and that burning pain is visible in his eyes. Prem's bitterness was not only Hurting Heer, Prem was also affected by it. Which was clearly shown in this scene.
Throughout this whole Journey of Harshad as Prem, we have witnessed him growing as an actor. Now he really have become an experienced actor. He have always done 100% justice to his every scene as Prem. Such a magnificent performer he is. He always brings his heart in his performance, which is really a great quality of an actor.

Credit :-
Write ups - -Alina-, Soaps1, Ashlesha09,sofia. & -vandy-


Edited by Ashlesha09 - 19 December 2010 at 5:36am