Posted:

13 September 2010 at 4:53pm

| IP Logged

Crazy creative section is looking for more creative members who are madly creative and want to share their creations with all IF members. This is open to all IF members .
******Requirements*****
1. you have to be creative
2. You should not have any WLs
3. You are willing to make at least 2 or more topic posts a month
4.This position requires commitment so apply only if you have time.
******Selection process******
You will be given task once you sign up by pming to crazycreative
Task will have deadline . You finish the task and pm it to crazy creative.
You will be judge on your wrting, creativity, ideas etc.
So are you ready to take yet another fun of joining us the crazies and you have an appetite for some challanges and come up with new ideas month after month. Then go for it by all means.
How to Get in?
Send pm to
crazycreative
subject New CC application
with some of your creative work links(2-3)
by September 25th.
all the best.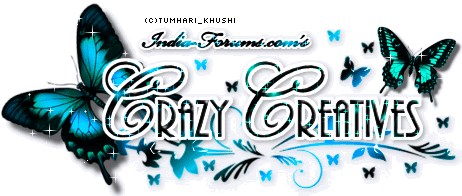 Edited by ramas - 13 September 2010 at 5:23pm