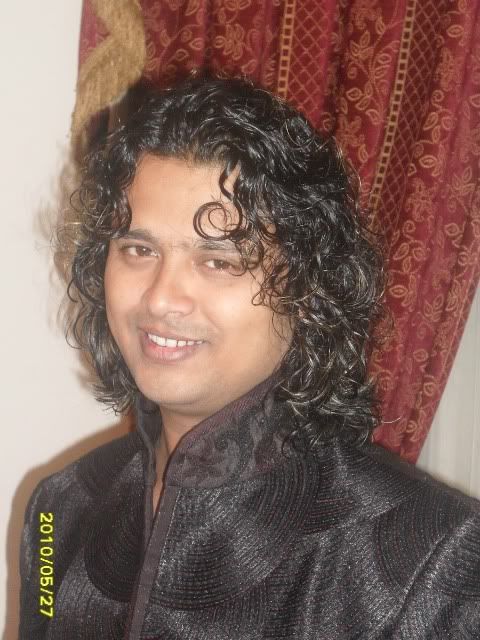 In last few months Raja Hasan has recorded many songs. He has recorded two songs for Amit Trivedi of Dev D, Aisha and Iktara fame and two songs for Bappa Lahiri for the movie Flat.
He has also recorded a song for the movie Who is There and will also appear in the movie. He is due to record for Pritam soon.
He has sung an Assamese song in an album Agni for a renowned MD from Assam Vijay Kashyap. Aneek Dhar and Debojit has also sung for the album.
His item song with Sunidhi Chauhan for the movie 13th May Gulabi Nagar based on Jaipur bomb blasts and the title song for the movie Madholal Keep Walking has released.
Raja Hasan has recorded a song for a Bhangra Album Hyper alongside Jazzy B and the album will release in November.
His second solo album named Teri Panah will release in near future and his album dedicated to Khwaja ji has already released. His three songs in the album Mannat has already released and 6 songs for Bhojpuri movies has also released.
On the day of EID he recorded for the movie Tees Maar Khan alongwith Kamal Khan and a female singer. Raja Hasan has sung Salman Khan's part in the song. Salman Khan is to appear as guest in the movie for an item song with Katrina Kaif and Akshay Kumar.
Raja Hasan's Assamese song:
Raja Hasan's song for the movie 13th May Gulabi Nagar:
Must watch video for those who love Nusrat and mehfil songs.Raja Hasan singing in a relax mood in a family function:
Raja Hasan singing a Kishore Kumar Song Mere Dil Ne Tadap Ke:


Edited by Vijay Vyas - 08 January 2011 at 10:28am