Home

»

Star One

»

Siddima/JeRan Unbreakable Bond:SixMonthsOfTogetherness
Siddima/JeRan Unbreakable Bond:SixMonthsOfTogetherness
Post Reply
New Post
*Shruti*
Global Moderator
Joined: 26 April 2006
Posts: 125405
Posted:

22 August 2010 at 6:57am

| IP Logged

SIDDHANTH RIDDHIMA SIDDHIMA KARAN WAHI JENNIFER WINGET JERAN APPRECIATION THREAD # 163
Page Design:*Shruti* (Do Not Copy Without Permission)



Siddhanth + Riddhima=SidDhima

Jennifer Winget + Karan Wahi=JeRan

SidDhima means "Achievement" and "Blessed"

JeRan means "Cry Of Rejoicing"












Dear
Guest
, Being an unregistered member you are missing out on participating in the lively discussions happening on the topic "
Siddima/JeRan Unbreakable Bond:SixMonthsOfTogetherness
" in
Dill Mill Gaye
forum. In addition you lose out on the fun interactions with fellow members and other member exclusive features that India-Forums has to offer. Join India's most popular discussion portal on Indian Entertainment. It's FREE and registration is effortless so
JOIN NOW
!
*Shruti*
Global Moderator
Joined: 26 April 2006
Posts: 125405
Posted:

22 August 2010 at 6:58am

| IP Logged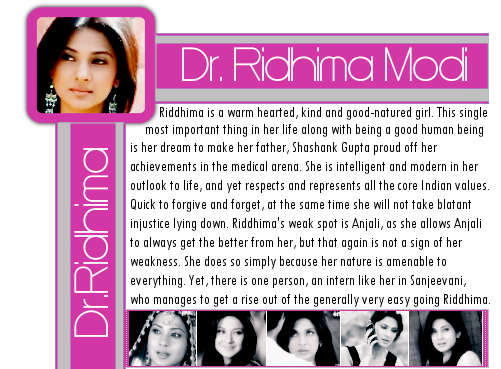 *Shruti*
Global Moderator
Joined: 26 April 2006
Posts: 125405
Posted:

22 August 2010 at 6:58am

| IP Logged



*Shruti* (Shru)
Pocahontas (Nitica/Nitz/Poco)
sajni786 (Shilpa)
Lennie
sun29 (Sajani/Sanj)
supercool3(Vithya)
ANfan1000 (Leah)
sidsk (Sidra)
zgerl (Zafirah)
MagicalKash (Parul)
zainab25
sugaryanu (Anu)
Zeenia
kritishah3
-alimabi-
nikita_88
krishnaria (Ria)
Aahaana (Meli)
-Sidd- (Aishoo)
prerna4rishav (Guddi)
-Preeti-
~*sindhu*~
jenny1000 (Jenny/Jen)
Anjelic_J (Jot)
Perfangel5655 (Fatima)
LuV_MiLeS (Miley/Khushi)
gk_09 (Gurprit/Gur/Gurpz)
jyoti06
xtaurus429x
ramsha247
Ravjot (Ravs)
_angel_ (Gauri)
Kai_Hiwatari (Jasmine)
Asthuox (Astha)
shockalot (Shazu)
Niki_18
-bhootni- (Suma/Sumi)
sanjanamishra (Sanju)
forbiddenlove (Anuja/Anu)
DrSidMrsWahi (Tamia/Tamz)
chocogurl (Miloni)
princess1 (Riddhi)
clars (Clarita)
sanchitaroy (Sanchi/Sanchu)
innocentdevil. (Priya)
deepthis
Mrsha (Marausha/Maru)
SaleemKamil
pakindmuziq
heersweetie







shanti05
shamil
monar
-Yas-
Jaan730 (Jaan)
-Fizzylicious- (Fary)
Rohini.star (Ro/Rohi)
luvarti (Abanti)
Ramy25
-fsn- (Fatima)
mandy1024
Cutie_Chicka93 (Sazi)
desigrl05 (Jhanvi)
Amit-Tandon (Sanya)
gina-101
...erum...
n7genius
khadija_89
-SamPari-
rose_love
Rema_Ranvijay-S
-Destiny-
xoHarshaxo ( Ayysha/Ash/Harsha )
aishu_25
*Shifali*
_Hira_89
SRK-ian
-Sarahh-
daffodils.dudu (Tanya)
mariya12345
coolpc
*payal_15*
mohitkideewani (Jia)
Salz. (Salma)
JATINTHAKKAR
pagli91
shubabegum
rosette80 (Anjali)
dublieu
johanne
moviebuff05 (Buffy/Zaara)
diyajiya
-Priya-
Tasha1985
DarkHellBlaze
Meenzyrox (Meenu)
hewascool90210 (Bani)
Jennifer.L
driftingaway (Aisha)
Sammie_Ronit (Samira)






Rozain
desi chic (Neetu)
aish_punk
xXAngeliCXx
Karan_Deewani_
*payal_15*
sweety307
sweet-hiya
yamini.arjun (Yamini/Yams)
SKtani
shonakasu
kasuforever (Ragini)
spring_breeze05
t-mayur-sajan-j
niksidfan
-simi-
anki.lalwani1
shaktheback
nisha80
urworstnitemare
dmg1_mjht
...anshu...
bhavi20_s
sweety307 (Maham)
ibdt2004
KaSh0477
_sidma_
sohrob
-Kalindi-
AttractiveAdya
dr_ash
mjhtnupurmayank (Shweta)
aish_punk (Aish)
TaniShaKaShid (Tani)
moon27 (Supriya)
Mahika.Ways (Mahika)
KaSu4Life (Marisa)
angelz (Diana/Dia)
Zoya_01
...Noorya...
lovebapu18 (Radhika)
angelz
shilpa mehta...
hum993
mariaa.xo
shlvrv (Niva)
sarah1024
aditi123_78
-CUTE- (Shanti)
ashmii (Asma)







ridz_arman (Maham)
-_AfridiMalik_- (Reeno)
Vedika126
Evita.
dr_ash
--sarar--
krupur1103
QueenHinna12
dpatel486
LanaBurak
pourquoipas (Aditi)
Archana_Naksh (Archana)
nakssh (Maheen)
NaughtyNihu
kvva
humz_786
AnnaNAshley
diyajiya
doukno
Sweet_dream (Rumi)
anwaya
lucky_me
ka7eela
bhavdevi
Lekha.Mayur4eva (Lekha)
AfghanLeena (Leena)
gauchalover
gimzy (Girisha)
Phoenix_3
-Alina-
hafiya
lalitbhai
bhapu
djjeeto
kamlu
DoWntOwN_GaL
pavs
pallabika
b.sandhu
arp04srocks
ssdtvgojan (Sudha)
Preeths609 (Preethi)
kw0906 (Komal Wadhwa)
Tahmina96
Neha_S
-Lush- (Sabreena)
TazzyA
sidra2007
-Ayesha-
Durga A. (Gurleen/Gini)








lighteningbuzz (Buzzy/Payal)
Cookies01 (Pree)
211su (Supriya)
Leenasmg
Khushi007
Arzoo_r
Pragzie
mabel
kheerni (Nisha)
kasuartifan
SanKi4eva (Sanjana/Sanju)
juisa (Jui)
gimzy (Grisha)
prejudice (Anusha)
-anonymous- (Minu)
monamine (Mona)
kawal_tak
srk_biggest_fan
kashev
good4nothing
books4ever
hum993
SATHYA88 (Roopa)
sidma4eternity (Arpita)
Raghni2009
AndekhiAnjaani
greymatter
indian_beauty
KaShian4evr
sidma_forever (Priya)
PraSha_SidMa (Anushka)
papia
StarshineHues (Aditi)
bajlooka
Angelic_Swancy
-TomNJerry- (TJ/Jhooti)
Vidya85
jacobharry10011 (Manika)
jeran (Urmi)
malluangel (Aishwarya)
Akanksha0701
RehanSinha_XR
uppaas
Naina2127
friends_rick (Hira)
sidma_love (Harshita)
*Shruti*
Global Moderator
Joined: 26 April 2006
Posts: 125405
Posted:

22 August 2010 at 7:07am

| IP Logged

The following 1 member(s) liked the above post:

ShiningStar18

,
*Shruti*
Global Moderator
Joined: 26 April 2006
Posts: 125405
Posted:

22 August 2010 at 7:12am

| IP Logged

The following 1 member(s) liked the above post:

-Prithi-

,
Post Reply
New Post
Go to top
Related Topics
Forum Quick Jump
Please login to check your Last 10 Topics posted
"I believe in hard work to achieve the best thing in life" - Sukirti Kandpal
Sukirti Kandpal aka Simran of Life OK's Kaisa Yeh Ishq Hai, who ... 327
TV actor Karan Wahi set for big screen debut
TV actor and host Karan Wahi is the latest to make a transit to the ... 65