Birthday Msgs

Lipsa
ummm....
*scratches head*'
There is something importantYeah, I'm supposed to go to SCHOOL! Damn it! All those HW.. OMG! I didnt finish the history homework.. But this isn't exactly important...
*scratches head more.. Maid comes in to check if i have dandruff. I shake my head, resigned*
Maybe, this is not about my social life.
Not about my school.
Not about my family....
BUT then? What is IT??
*scratches head some more ignoring maid's stares*
I know.. It's someones Birthday!!!
Someone i know very well.
Someone who gets on my nerves sometimes. ( ony teasing haan)
Someone whooo calls me Chipsu.
Yes, It is,... my pashu (reha, to commoners) :D:D

See I told you M gonna have a looong post! :D:D
Even though it is not exactly long :P:P

Happy birthday Pashu :)) Bless the day i found you.. technically.. We met.. I didnt search for you, Oh well who cares
! You were a gift :D:D! A sometimes annoying, [Didja think I was going to go all sweet on you? *bats eyelashes*] sometimes teasing, sometimes sweet and most of all the best gift i ever had in my life
Love you Pashu!!

K a poem for you :D
Happy birthday my dear friend,
A special birthday to attend
Wouldn't miss it for the world
Laughs and stories we shall record.
Our friendship began, long ago,
Support and sympathy, mutually bestow.
Never envious or neglect,
Always listen and reflect.
Cherish everything we share,
Hope you know how much I care.
Just want to wish you all the best,
On your day, what's your request?

And about that request, i'm so sorry i forgot your favourites *fake gasp* name and I was unable to do any sigs for you!! Accha to compenstate.. I'm going to give you a major gift selection. you select whatever you want :D or ALL
1. 3-4 sigs with ANYONE of your choice..
2. Photoshop tutorials written by me *wink wink* On any TOPIC you want
3. Any avi you want
4. translations (You know what I mean)
And finally,
5. You can choose a way to punish me if you are still angry and i'll follow through it, on my honour (considering I may have got none)
k k
Do you like the bumper deal?? and Maybe forgive me?? :D
x Love you :D

HI REHA DEAR
HOW R U BABY?
Wish u HAPPY BIRTHDAY
Have a wonderful Birthday
love u
deepz

hey rameeza...!!!
have known you recently... but you have become a real good friend in this short span..
love our chatting through scraps...
hope all your dreams and wishes come true and you get all the success in your life..! inshallah..!
have a blast in your birthday....and ENJOY........!!!!!!!!!!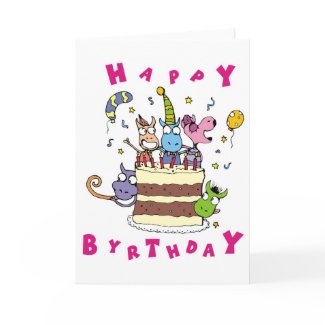 here's your birthday cake.....
and here's a small message from my side...!
Doyel............!!!!!

Many many happy returns of d day "Reha"
Best wishesNikki

Happy Birthday Reha Mean Khan/Jungli Billi....meow
May you have a birthday filled with happiness and joy...hope you get everything that you actually deserve and what your heart desires for
May your each day make your dream come true
Wish you a prosperous life ahead
i really mean it haan
tere birthday ke din mein jhoot nahi bol rahi unlike everyday
On this special day I would like to dedicate one romantic song for u'which u wanted
this is Katrina's song one of your favorite actress
but don't take this song seriously haan
http://www.youtube.com/watch?v=h3gqNt9o4_8
Once again wishing you Happy Birthday
Sonali

Happy Birthday Reha!!!
I hope you have a fantastic birthday & a wonderful year ahead & always!!Hope you enjoy it to the fullest, b/c your never too old to celebrate
kidding, its your birthday you know i had to crack a bad joke
so enjoy your burrdayy and here are two siggies I got made for you. I hope you like them!Love always,Muski
HAPPPPY BDAYYYYYY REHAA <3God Bless Youu !Thankyouuuuuu for being there always needed u are surely One GEM ! GEM AS IN GEM !u are one of the best persons i had ever came acrosssss !making me laugh encouranging helpin everythin thorought have been an joureny beautiful one ! <3a big mwaaaaaaaaaaah and just tighest hug !wish u a great year ahead :D i lovee all our bakwaas and random talks bitchin and my abuses :P ROFL FUn know ?misseed uu so muchlovee uu !<3 Riya

Disha


Happy Birthday Reha di !!!


Here's ur cake


Sorry, Iphone toh I can't give u
But dis Iphone cake 4 ya...
and da mineral water bottle 4 u incase u get thirsty after eating da cake


Hmm, nw a googled quote


Birthdays come and go each year,
Today is yours, so don't you fear.
Conversations fill the air,
We have joined you since we care.

Funny jokes and laughs out loud,
We will always be your crowd.
Many friends you haven't seen,
How long has it really been?

We shall dance all through the night,
Until our spirits are truly light.
Celebrate my dearest friend,
A birthday poem, I wish to send.



And here a gift 4 u




Now, don't say I don't keep my promises


Something is missing


Oh, well how could I 4get.. Ur bday can't be complete widout maggie

So here




and here ur birthday sig



Once again.. wish u a very happy birthday

Disha

Happy Bithday Reha.....
May Allah Bles You......
May youget get all the happiness in life....All ur wishes cum true ismy prayer near Almighty....
Hope u hav a gr8 day with ur loved ones ......
E
sry E nahin mila.......
I hav tried make with ur fav pics.....
hope u will like em !!!
googled quote.....
Side by side or miles apartTrue friends are always close to your heartWhether you're turning five or fifty-threeYou know that I'm a true friend because you're here beside meI'm here, right now, on your special daySo lets give a cheer for you, hip, hip, hooray!
I'm so lucky to have a friend like you. Happy Birthday!
I look forward to enjoying our friendship for many more of your birthdays.
Happy Birthday old friend.
There is a gift that gold cannot buyA blessing that's rare and trueThat's the gift of a wonderful person coming into my lifeLike I have in you! Happy Birthday!
Friend is just a word but you give it a meaning.
just want to say, Happy BirthdayTo you, my dear, dear friendYou have always been there for meAnd our friendship will never end
I will stay with you through and through forever and ever, We will be friends until the end.
I just wanted to wish you a Happy Birthday and to let you know that you are not alone. Should you need someone to lean on, I will be here for you.
Thank you for your friendship through out all of the years.
In this world, where everything seems uncertain, only one thing is definite. You'll always be my friend, beyond words, beyond time and beyond distance.
Looking forward to many more years of fun and friendship.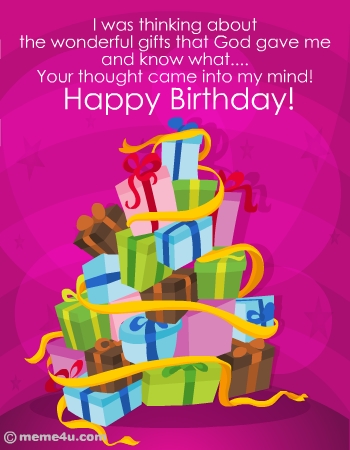 Happy Birthday Reha.......
I wish u eveythn u get in ur lyf u want to.....
aur everythn u hav not expected to !!!
aur...everything which i good for u......
everythn which make u happy.... n take ur sorrow away!!!!
aur everythn which makes u smile....n gives u pleasuere.... everythn which bring joy to u......
andeverything whicch makes u blush like like Mr.AK...
.not akshay Kumar k........
Emraan Hashmi chalega as ur Bday gift..... he deffo made u blush once !!!!
And see i did not used :D smile for once which u may think was fake......
o nowmymessage is genuine !!! i mean original !!!! written bey me k !!!
Happy Birthday Reha ..........
i hope you enjoy a lot......
Keep-----------------Smiling !!!!!

Hi Reha,
Happy Birthday to you
..

Gob Bless you and may he grant you whatever you wish for on this day...

With loads of love hugs and Muaahzzz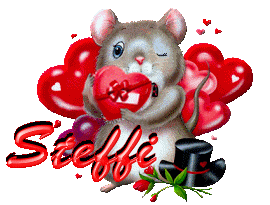 Happy Birthday Reha
Hope u enjoy ur day 2 da fullest wif all ur luved 1's ...... may Allah bless u wif a long n healthy life n may all ur wishes n dreams cum true
U knw na i hate writing n ere i am tryng 2 write ths msg 4
n i knw it will still b short
Well i luv all our mindless talks evrywhr nour chats elsewhr
.
.
Well on ur birthday i 2 have a wish ...... dat we always keep chattin, arguinn fightn
.
N yh i sed na i wudnt post ths Birthday post n so wudnt Dish ..... so c we kept our promise
we rnt postin it Lips is so no gettin angry ok
.
.
N yh ths sig is 4 u 4rm me
.....n i made sure thy r all fully clothed
.
Luv u ...... lots of luv Sim
.


Edited by -Lipsa- - 20 August 2010 at 11:12am