Originally posted by -fsn-

-Pooji-
Happy Birthday Fizi
Many Many Happy Returns of the day
Hope all your dreamz come true

Smiles and laughter, joy and cheer

New happiness that stays throughout the year

Hope your birthday brings all these and more

Filling life with surprise and joys galore!
Here's your Gift!hope u like it
Once again Happy Birthday!

May you have all the joy your heart can hold,
All the smiles a day can bring,
All the blessings a life can unfold,
May you have Gods best in everything.
Wishing You A Happy Birthday
Luv
Happy birthday Faiza
Wish you all the best in the life. Many happy returns of the day.
Loads of love and hugs
Parm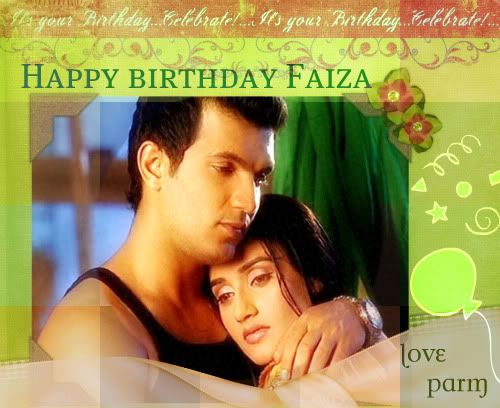 shooooooooooo shweet of u yaaaaar
u made this for me
luv u yaaaaaaaaaaaaar
using it
luv fizii

xoHarshaxo
Hey Fizii!
Happy Happy Happy Birthday baby Hope you have an awesome one&may the upcoming year bring loads of joy into your life. Wishing you all the best in the beautiful year ahead may all your dreams, hopes&wishes come true and bring you many many happiness&Joy.
You are one of the most sweetest people i have met ever, always willing to take Req's&helping me out Thank you so much for being a great friend hope we can keep this friendship going.
I love all your work & every single piece of art you make its always amazing&unique.
Again wish you a happy birthday darling. Love you loads. Keep rocking the Avatar&siggy shop forum & looking forward to many many more of your shops.
Love you loads jaan.
Harsha.

thank u sooooooo harsha mch yaar
issi ko to friendship kehte hai yaar
luv fizii