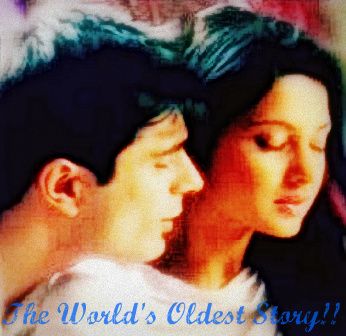 1. Love?? At First Sight!! - pg 1
2. I Believe in Love ?? - pg 1
3. My First 'Basket'!! - pg 1
4. Can't Get Enough! - pg 2
5. Won't Let You Fall!! - pg 2
6. Analysis 101 - pg 3
7. Mind Games!! - pg 3
8. You Set Me Free!! - pg 4
9. Time Of My Life - pg 5
10. And Life Goes On... - pg 6
11. Your Call Or Mine? - pg 6
12. Somewhere I Belong... - pg 7
13. Who Are You?? - pg 8
14. Of Friends And Foes - pg 9
15. There's Something About You! - pg 9
16. Who's Whose?? - pg 11
17. I Caught Myself! - pg 13
18. No Getaways! - pg 14
19. Need Some Help!! - pg 15
20. One Step Forward - pg 17
21. Love Lost!... And Found!! - pg 18
22. Atul Weds Anjali! - pg 20
23. My Lonely Heart - pg 22
24. But I Love You!! - pg 24
25. But I Love You - 2!! - pg 26
26. With You.. - pg 29
27. Yeh Ishq Hayye!! - pg 31
28. A Friend In Need... - pg 33
29. ...And A Friend Indeed?? - pg 35
30. Bound For Life! - pg 37
31. Lucky Lips! - pg 40
32. All I Want Is You! - pg 43
33. Got My Eyes On You! - pg 45
34. This Love - pg 47
35. My Best Friend?? - pg 50
36. Drawing The Line - pg 52
37. Game Over - pg 54
38. Complicated Heart - pg 56
39. Back To You... - pg 58
40. In Repair... - pg 61
41. Your Love Means Everything... - pg 68
42. You and I, Both... - pg 71
43. Too Close?? - pg 75
44. Too Far... - pg 78
45. All Work.. No Play!! - pg 81
46. Punch Drunk Love!! - pg 87
47. I'm Yours... - pg 93
48. The Key To My Heart - pg 100
49. When The Heart Takes Over... - pg 107
50. A Little Bit Longer... - pg 112
51. You Complete My World! - pg 117
52. On Second Thoughts... - pg 129
53. Sorry For The Interruption! - pg 134
54. Papa Jaag Jaayega!! - pg 139
55. I'm On My Way... - pg 145
Next part follows on thread number 2. Click on the link below.
-----------------------------------------------------
LOVE??? AT FIRST SIGHT!!!
"Hey Nikki!! What a pleasant surprise!", Riddhima was ecstatic at seeing her best friend after two long years. They were in med school together for five years. In these five years they had become inseparable. Like they had found their soul mates. Both of them were very close to each other. But obviously like all good things come to an end, so did their time in college. For her internship Riddhima had to come back to Mumbai, too her family and to Sanjeevni, the hospital where her father was the dean. However Nikki stayed on in Bangalore, with her family. Initially they kept in touch, but the busy schedule and the pressure of work crept up and unfortunately they lost touch. Of course they were in touch through facebook, but that's hardly called keeping in touch. Two grueling years of internship and they finally could call themselves doctors. Just having finished her last exam, Riddhima was in Goa for a vacation. She was here with her sister Anjali, whom she lovingly call 'Di', her friend Muskaan, and Atul, her sister's fiance. Atul and Anjali were resident doctors in Sanjeevni and were two years senior to Riddhima and Muskaan. This vacation was a breather for all of them, especially for Riddhima an Muskaan, before they begin their careers as full time resident doctors and get stuck in the hellish circus called "Life". The last three days that they were in Goa, were mostly spent in the confines of their bedroom. Riddhima couldn't get enough of sleep. For a good part of the 72 hours she was snoozing or lazing around in her room and watching TV, making up for all the sleepless nights she endured during her exams. But today finally after a lot of cajoling from Anjali and Muskaan she agreed to go for dinner. Little did she know that she would meet her long lost friend who had also come there to cool off her heels and have some fun.
"So how are you? Its been such a long time", said Nikki, hugging Riddhima. Both of them were extremely happy to see each other after such a long time.
"I am good. Just got over with the internship. Thought ki kahin ghoom ke aa jaaye!! Oh! By the way, this is my friend Muskaan. We did our internship together from Sanjeevni.", rushed Riddhima in a single breath.
"hey Muskaan!", Nikki greeted Muskaan with a warm hug which was well reciprocated by Muskaan. Riddhima could tell that Muskaan felt comfortable with Nikki, so she dint waste time inviting her to join them for dinner.
"I'd love to Riddhima, but I am here with my friends. Tumhe unhe bhi invite karna padega!!", Nikki was there with her boyfriend Abhimanyu and her bestest friend in the world.
"Arre sure unhe bhi invite kar lo. I want to meet these friends of yours. Of course if they don't mind that is!", Riddhima loved meeting new people.. It was kind of a given since she was a doctor by profession..
"I would mind if you kept Nikki all to yourself all night though", a tall, handsome man wearing glasses caught hold of Nikki from behind her and said. "Hey I am Abhi!", he introduced himself while Nikki blushed to a deep shade of red while trying to get out of his hold.
Riddhima looked at them with her eyebrows raised and her mouth open, "Oh! So these are your 'Friends'!!" , she indicated the Friends in quotes with a hint of sarcasm and a little tease. Nikki couldn't meet her eye and quickly wriggled out of Abhi's arms.
"who Riddhima' Main who' actually I ...", Nikki spluttered.
"So are you going to tell me or will I have to wheedle it out of you?", Riddhima grinned. This shy and new Nikki was a revelation to her. The Nikki she knew was boisterous and bold. She dint shy easily. Even in college she was never the one to blush at the name of her crush or giggle when they were around. On the contrary she would go and tell them that she liked them. Riddhima could never fathom how she managed to do that. Nikki used to give her a hard time, teasing her with guys she liked and pulling her leg at every opportunity she got. So now this was the perfect opportunity for Riddhima to give it back to Nikki. Especially now that it was clear that she was in a relationship with this guy, Abhi.
"Riddhima!! That's quite a unique name and also very sweet. ", Abhi who still wasn't introduced to Riddhima tried to save Nikki.
"Thanks Abhi. Par Nikki ki bolti kyun band hai?? She dint even bother telling me about her boyfriend let alone take my approval", Riddhima just couldn't get over teasing Nikki.
"Actually its fiance now! We're engaged to be married", Abhi retorted.
Riddhima was positively enraged while Nikki looked up at her guiltily and said in a shaky voice, "Who Riddhima, he proposed just yesterday. Of course I wouldn't keep such a big thing from you of all the people."
But Riddhima was miffed, "But evidently you did. And that I wont take lying down!!"
Muskaan intervened, "Ridzi what's wrong with you. He just proposed yesterday. How would she have told you."
"Muskaan you stay out of this. She is my best friend. We were inseparable in college, and now she doesn't even bother telling me that she's in love with someone and engaged to them", boy was Riddhima angry!
"I am really sorry Riddhima, please maan jao. Please. I dint do it intentionally. please", Nikki pleaded.
"Only on one condition", Riddhima couldn't help but melt, "You stay in my room today and tell me the entire story form the beginning. Tujhse bohot sari batein karni hain yaar. "
Nikki was relieved and with a huge grin agreed to all of Riddhima's demands instantly. However, Abhi was visibly disturbed by this turn of events and dint make an effort hiding it either.
"Tum Armaan ke saath time pass karo na Abhi. Waise bhi he's also giving us a hard time like Riddhima here, about how we don't spend enough time with him. Please na.. Mujhe bhi Ridzi se kitni saari batein karni hai."
Abhi very grudgingly took Nikki's offer, "But yeh Armaan hai kahan? I haven't seen him since we got here!"
"Who's Armaan?", asked Riddhima. Just then the DJ started playing "I Hate Luv Stories" .
This distracted them and they looked in the direction where a group of people, wait, a group of girls were dancing with one guy in the centre. "Oh my GOD!! Who's that??", Muskaan exclaimed.
"That's ARMAAN!!", Nikki and Abhi sighed together.
That's when Riddhima's eyes fell on him. 'Oh my God!!', she agreed silently with Muskaan. That creature had the perfect features and the perfect physique. He was wearing a casual loose black T-shirt and cool denims to complete his personality. To Riddhima he looked positively yummy!
She couldn't take her eyes off him. That's when she noticed how close he was dancing with a girl. Then she saw that many girls were dancing close with him. He was practically flirting with different girls at the same time and that too in front of them. She came crashing down to earth. She thought to herself 'There's nothing called perfect. So he's the Casanova types huh! Should've known, Beauty without Brains with a one track mind. What a waste!!'
"Ridzi chalo na lets go and dance. Armaan s calling us. Chal na!", Nikki brought her out of her reverie. But before she could reply or react in any way, she found herself being dragged onto the dance floor by none other than her Mr. Perfect. He danced with her, as close as he danced with all other girls earlier but this time he danced only with her. As they danced Riddhima felt her body brush with his and for the first time in her life she got a weird feeling. Though she wasn't completely comfortable, she dint feel like letting go. He twirled her and twisted her and made her dance to his tune. Apparently he too was mesmerized by her as she held his undivided attention. He twirled her out and rolled her in his arm a final time. That's when their eyes met. She looked into those deep blue eyes and couldn't take her eyes off them. "The song's over sweetheart!", Armaan's deep husky voice reached her ears. He had a smirk on his face, enjoying the effect that he always manages to have on the opposite sex. Riddhima suddenly realised she was in his arms and jerked herself out almost pushing him and fled from there.
"Hey Armaan!!", Nikki came bounding from somewhere followed by Abhi and Muskaan.
Armaan who was surprised by Riddhima's sudden escape turned around to find his best friend and her fiancee and this brought a huge smile to his face.
"Oh my God!! He has such cute dimples", sighed Muskaan who was completely taken by Armaan's appearance. She dint even realise that what she said was quite audible to Armaan. Nikki and Abhi looked at her quite amused as she kept gazing at him dreamily. "Well thank you beautiful. I know I have that effect!!", he flashed his dimples again at her. But this time Muskaan blushed a deep shade of red, partly out of embarrassment and partly due to Armaan's flirtatious remarks. "Hey I am Armaan, and you are'.", Armaan introduced himself waiting for Muskaan's answer which never came. Finally Nikki did the honors. Anjali and Atul who were having dinner in a private booth spotted Muskaan just then and walked over. "Hey Muski! Where were you guys? Hum kabse dhoondh rahe hain! And where's Ridzi?", Anjali questioned her. Then recognizing Nikki she exclaimed, "Oh my God Nikki, Where the hell have you been. Long time, no see. Yaar how are you. ". Nikki told her how she met Riddhima and Muskaan and how they got talking etc. "Hey Anjy is that you??", Abhi asked looking at Anjali and then spotting Atul, "And oh hey, Atul tum bhi yahan ho?". It turned out that Anjy, Atul and Abhi knew each other well as they had done their internship together. Armaan readily befriended all of them and they hung around for quite some time looking for Anjali's sister who had apparently disappeared and wasn't answering her phone either. "Ridzi, kahan hai tu?? Ya ok, I will get Nikki with me. You are ok na?? Theek hai Bye, See ya!", Anjy had just got off the phone with Riddhima who had finally called, herself to reveal her whereabouts. Apparently she wasn't feeling well, so she decided to head back to her room.
After making plans for the next day all of them retired to their rooms. Abhi offered Armaan a trip to 'The Doors' club which he refused. He dint know why, but he wanted some time alone. He wanted to think! but he couldn't lay his finger on what he wanted to think about.
As he lay on his bed, he felt his body ache. All the dancing was ought to make him tired he thought. That's when it came to him. The mystery dance partner of his. He had been dancing and enjoying the party with girls swooning over him and dying to dance with him. He spotted Abhi and Nikki and indicated to come on the dance floor when he saw her. She was looking at him like he was some extraterrestrial creature. But then most girls had that reaction when they see him for the first time. But her expression was different he thought, she looked out of this world. She was so lost in him that he thought he might as well grant her wish and give her what she wants. So he dragged her onto the dance floor and danced with her for the remaining of the song. He had danced with so many girls. But she felt different. When they came close he felt this weird feeling, some kind of attachment, that he couldn't let go. That's why he danced only with her giving her his undivided attention. As he brought her back to him after twirling her out, their eyes met. He remembered those eyes, so beautiful, he thought. He could have looked into them forever but the music stopped and he came crashing down to earth. "The song's over sweetheart ", he'd said to get her out of her daze. What happened next had completely baffled him. She had literally pushed him aside and run away. 'Cinderella' he thought, she even looked like a princess to him in her beautiful white dress. Without realising where his thoughts were taking him he drifted into an uneasy sleep.
Riddhima ran from the club as fast as her feet could take her. She couldn't believe what had just happened. She had never ever in her life behaved the way she did a few minutes ago with Armaan. She could still picture his eyes. The way they held her gaze she felt something different, something she cant put her finger on. But for her it was like an ethereal experience. she was still shaken by the incident. She felt she dint have control on what she was doing anymore, so she thought getting away, from there, from him was most important. So she had run away, and now sitting in her room on her bed she recounted whatever happened that evening. For some reason she couldn't get his eyes out of her mind's eye. She dint want to let go of that gaze. She thought about him some more and drifted off to sleep. When she woke up she remembered what she was dreaming about 'deep dreamy ocean blue eyes' . For a moment, she thought maybe it dint happen and it was all a dream. Then she started 'hoping' that it was all a dream. A shrill sound brought her out, her hopes crashing down, as she saw her mobile. Before she could answer, the call it got cut. She checked to find 20 missed calls- a few from her Di and a few from her 'Jeej'. "Oh freak!! Di must be freaking out.", she swore at herself with a scowl. She quickly called her and made some excuse.
She was glad Nikki was coming over as now there would be something to take her mind off that 'Armaan' guy. But wait!! Wasn't Armaan Nikki's friend!! She made up her mind to wheedle out info about this guy from Nikki.
Do You Know Me - John Mayer
It's just the strangest thing
I've seen your face somewhere
And early evening dream
A past life love affair
Do you know me? At all
Do you know me? At all

In all my reverie
I thought I felt us there
A feather in my hand
a flower in your hair
Do you know me? At all
Do you know me? At all



Edited by z.e.p.h.y.r - 24 February 2013 at 10:49am