I m not a writer, i always write when i m deprived of mn/ARTI. So here goes am os..u can imagine any two ppl on it....
& yeah it is too long
i wanted to cut it short but divz said it is ok, so if u get bored blame her
This is for u deepti ..
Happy Birthday ....
& one special dedication to divz.......u two r always so positive....abt everything.i love u guys for this!!!!!
A Fairytale
"Pack up" the director shouted & finally the shooting for that day come to an end. A bit earlier than usual though, it is only 6.30 pm .usually they finish at 9'.'.but today was a special day for him '.it is his birthday today & that is why this early pack up .It is gift for him from his director. Though he was really nor able to find anything special about it. Yeah the whole team of his show wished him in morning..when he came to the set & his dear ones too '.whole day he kept receiving sms & calls from his friends but still something was not feeling right. He knew the reason, it is her. (Of course, who else it would be?) his long time co star in the show & great friend & may be' well yeah friend it is for now!.. since the last few days she has been very cold towards him, for some unknown reason though as professional as they both are, It never has any affect in their chemistry onscreen. They were fine shooting for the romantic scenes yet he noticed the fact clearly & tried to talk with her,but she denied saying it is nothing. It is not that she totally stopped talking to him or anything like that'.but it seems most of the time she was lost in her own thoughts, ignoring him completely. & she refuse to give some joint interview in the media with him & this was happening since last few days & finally today he saw the worse part of it. She forgot his birthday! & when someone from the set actually remind her, she didn't seem much worried abt it ." oh! Happy birthday!" cold & short..that was her birthday wish for him. & it hurt him way more than he thought ''.he could feel something shaken inside him,why is she doing this suddenly? Was it any of his faults? Did he say something that upset her? But he couldn't remember any such thing happened in last few days & that was leading him to only one conclusion, she is trying to say something to him with such behavior..something that he always avoid to think abt, something he always feared may happen to him, to them. Something that he wished never happen even in his nightmare.. yeah May be she is trying to say a "no" to him finally & decided to end it gradually this way as she can't possibly tell him on face to face. She know it will hurt him considering they r such great friends! A storm passed by inside his heart even at the thought of it.
Yeah she means a lot more than a friend for him & it is not something new,it happened within the few days of their first meeting only'''.she was someone unlike any other women he ever met in his life & he just couldn't help but to fall for her as she was such a beautiful person with a even more beautiful heart! & it is been three years now that she held a very special place in his heart & he never really tried to hide that from her. He just couldn't possibly hide that glow in his face & that shine in his eyes whenever he is with her,his happiness automatically comes out in his face & also in his mouth 'he just can't stop hinting to her abt that!! Though he never really tried to push this "thing" he feel for her' he talked to her once abt this at very initial stage of their friendship & she asked for time to think ,which was such an awkward convo that they both tried to avoid talking abt that "forbidden topic" after that! & thankfully not talking abt this actually helped them to build their friendship otherwise that awkwardness would hv killed it even before it started off properly & after 3years now they r great friends & they almost behave as if they forgot abt the whole thing, yeah they had their share of tiffs & all ,but nothing that much serious. Though he never forgot that convo actually, how could he? When he still can feel that 'thing' for her, but he was not sure abt what she feels! & he could never take the chance to do something that make her uncomfortable & can change the amazing friendship they share,so he preferred to wait until she say something.

Yet donno why, he always felt that he also held a place in her heart,special or may be not so special who knows! But he was there somewhere!'.he felt that whenever she blushed when he comes near to her. He felt that whenever she smiled when he cracks some stupid jokes. He felt that whenever she bat her eye lashes to cover up her shyness when he complimented her. He felt that whenever she scold him on his bad habits as if she has full right to do that. He sooooo felt that always!!!!! But she never spoke anything in words'.not even once''.& in this three years he somehow developed a fear inside him that he may lose her''"her practical & so much in control over her emotions" nature was the main reason behind it. He knew how tough it is for her to think abt a relationship with him. He knew they differ ''.in a loooooooot of things'. their nature , their upbringing, their lifestyle, their habits, their friend circle everything is different & his own image in public is also not very impressive but on the other hand he also knew that she accepted him with all this differences & that is why they became great friends. She never really judge him on the basis of those differences..she always looks into the real person he is'.& that thought actually managed to carry a ray of hope in his mind, always. They were complete opposite & complement each other & thus perfect for each other..his positive mind used to say that to him. But it looks like the fear is ultimately winning this battle over hope'..she forgot his birthday where he actually expected this birthday will be special as this is the last birthday he is celebrating with her in this show. Their show is coming to an end & this is the last 6months of them working together if they don't get the opportunity to work again with each other in future in any other show. But she seemed so careless abt all this today :(

He heaved a sigh & open the front door of the car,& just then he saw her car passing in front of his car. It stopped for a moment & her beautiful face appear behind the glass of the front seat. She slide down the glass, gave an awkward& real shy smile (well he knows her very well to differentiate her smiles) to him & then waving a good bye she left in a hurry! Didn't even wait for him to say bye to her in reply! He waited till her car crossed the gate & vanished from his sight. "that was really unusual" he thought. "why is she behaving so weird? " with a restless mind & an anxious heart he seat in the driving seat of the car &fasten the seat belts. Some friends are coming home for his birthday party & he need to go home& act all fine now! He wish he could say no to all this .he just wanna stay alone for some time .he need to think how to talk abt this issue with her''..& he need re assure her whatever she decide he will be alright with it. He was so not in the mood of celebrating his birthday now! He was all lost in his thoughts when suddenly he noticed the card & the red colored gift box kept in the other seat beside him!" Who can give those now?" he murmured looking at the card, but decided to open it out of curiosity. It was a beautiful card where it was written "Through the shifting sands of Time, your memories have always Filled me with delight &have become a Special part of my life..Happy Birthday!" Signed by her!!She remembered! He almost screamed in happiness! She remembered & she actually bought a gift for him. She must have kept these here in morning before coming to the set coz he didn't saw her coming outside in the whole day! "Oh! She just wanted to give a surprise & here I was thinking all non sense" huge smiles appeared in his face with that thought. Like an excited kid he open the gift box ' a beautiful golden colored branded wristwatch shined from the box along with something else. It was a small piece of paper pinned inside the box & something was written on it in familiar hand writing. He removed the paper carefully & then read," I think it is time, I m ready to give 'us' a chance :)" he read that again, then again & again & again. One second, Two second, Three, Four, bamm''''.& finally at fifth second it get into his head & a series of emotions came rushing through his mind. "she is saying a yes!!!!!! Is she saying a yes? ????Yeah she is saying a yes..or this mean something else? No she meant yes ..yeah she only meant that,oh god! She said yes. Why she said yes? Oh W*H! She said yes to me,to us,finally!!!!!" He stared at the paper with utmost disbelieve! He didn't know what to feel as he was not even recognizing his own feelings. He was shocked, surprised, relived, Happy..well if that is called happiness then he was sure he never was happy in his life so far. He tried to read that line again but couldn't as his tears of happiness make it all blurred for him. Finally the three long years of his waiting come to an end! & what a beautiful end it is! He used to imagined it thousand times in his head that if someday it actually happen how it can happen, how will he react, what will he say to her, but now when it actually happened '..he just couldn't think of anything' He feel like run to her & take her into his arms.& keep her there forever! He feel like screaming loud & let the world know that she said yes to him .'.he feel like- what is that they say?"yeah, he feel like he is the king of the world."
It took him some 5 minutes to cope up with the shock & as soon as he came back to his senses, his hand automatically reached to his cell phone & dialed her number quickly. But it was switched off.W*H? Why she switched off her phone now? He wondered. What to do now? He thought, Ok, she just left some minutes back & he can still reach her if he drive fast, well it is raining now, maybe that will be a bit risky, but who cares? He just needs to talk to her right now & nothing else matter!!! Wait, he remembered that smile she gave her while saying bye. She just can't leave like that after all this & she switched of her phone. It only means she wants to talk to him face to face & waiting for him somewhere on the way!!!!" I will find her for sure" he said to himself & start off the car quickly. & yeah he was right! Even in this heavy rain he found the familiar car parked in the side of the road half mile away from their shooting spot. His face lighted up with joy as soon as he noticed the car, he parked his car on the other side of the road & crossed the road by foot getting totally drenched. The front door of her car was not locked as expected. He opened it quickly & placed himself inside & closed the door.
Silence came down inside the car. He tried to look at her, his heart was beating faster & faster & he felt like a teenage boy newly fell in love! There she was, sitting in the driving seat beside him, staring outside the window, not even looking at him & looking prettier than ever in her open hair! Well she always looks pretty to him. But right now, at this moment, she is looking the best, wonder why didn't he notice that in the whole day? Minutes passed by & none of them tried to talk,they had a lot to say to each other but he was at loss of words& she waited for him to speak. Finally he decided to break the ice-
" umm. Woh'..i just wanted to say ''..that ki , I mean that ..' His words fumbled & that bring a smile in her face! She still wasn't looking at him, but shifted her gaze from outside to downward. "Dude! What r u doing? cmon get a grip of yourself. This is not the first time u r talking to her." he scolded himself in his mind & start talking again, this time with a lot more confidence. "I wanna say thanks to u!" he began, 'for making the day so special for me, this was the best birthday ever! Truly, u hv no idea how much I needed this", he continued. " I was waiting for this for so long & I m so happy to get this finally, i just want to tell u from the bottom of my heart that I really really love''." He paused. & that worked. She finally looked at him with an urge in her eyes to hear the rest of the sentence "I mean I really really loveeeeed the watch u gave me" he finished with a mischief smile in his face. She gave a confused look to him & he absolutely loved that. How cute she looked! He thought. " u were talking abt the watch?" she talked finally. 'yeah.' he showed her the watch in his hand, "I loved it". "but u didn't got anything else with that? " she asked again'' oh yeah! I got ur card too, thanks" he replied making a straight face hiding his smile. " I 'I didn't mean the card. I mean..i mean " She tried to speak. " oh! Okk,'Now i remember! U r talking abt that piece of paper na? yeah that note, I got that. But what was written there? I didn't really get it. Can u explain it to me plz? "he said with a broad smile on his face. "U!!!!!" she exclaimed & hit him in his arm, as she realized he was joking. "Ouch! Lagta hai" he pretended to get hurt. "Serves u right" she shoot an angry glare. "arre! Toh kya kerta mai? U were not even looking at me, i had to do something so that u notice that I m also here with u in this car" he chuckled. "I hate u & stop smiling now,it was not that funny" She scolded him. In reply he suddenly leaned towards her & whispered "acha! u hate me then?........& still wanna give us a chance?" She was totally taken aback by this sudden gesture of him. She lowered her gaze & only managed to nod her head in agreement & he enjoyed watching her cheeks going pink all of a sudden. With a smile, he took her hand into his, slide his fingers into hers & gripped it tightly & looked at her intensely. His voice soft yet firm & words were coming straight from his heart. "I promise I will never let u regret this decision of yours. I know it very well how tough it must be for u to decide to give this a chance! Trust me I understand & I will always understand u! That's a promise. I know there will be hard times..Lot of compromises we have to make, Lot of sacrifices we need to do to make this work but we will make it work for sure'& the final decision in this relationship will always be yours & u will find me beside u no matter the decision goes for or against us! I will always be there for u" he finished & saw the tears that formed in her eyes. She looked in to his eyes & replied to him with utmost honesty " U don't need to say all this to me'..I know u will always understand me & will be there for me ''.I hv my faith in u & that faith made me take this decision'..i will never regret it no matter what may happen in future" & they both sat down there quietly looking into each others eyes'& holding each others hand.
A sudden sound of horn from the road break the moment between them & she pointed him to his watch that she gifted him, "hey! it is almost 7.30! u need to go home now." " No baby, no way!.i m not going home now," he simply refused. "arre you have party at home, bhool geye?" she said." I don't care, I wanna spend time with u" he said like a stubborn kid. "u can always spend time with me," she smiled. "but for tonight u hv to be with ur friends & family, we will meet tomorrow at the set" She said. "Set? Who wanna go to set?" he made faces. " I wanna go for a date," he gave his mischief smile. "we will go for that too.....later" she blushed. "But now u need to go home & it is an order" she glared." some things never changed! *sigh.u r still daatoing me.."he teased her. "oh okk.mr.!" she pointed to him" if u r thinking with all this i m gonna stop daatoing u & always be miss goody good to u then bhool jao. Nothing is gonna change between us. everything will remain like before. I will keep daatoing u &'.." he cuts in "& I will keep irritating u" he finished & they both laughed. "okk u will be late, go now plz." She pouted. "Hv I heard it right? R u saying plz to me? He acted to be surprised. " nah , I was wrong! Something has definitely changed between us!" he winked at her. " u!!!!!!!! I will kill u'" she said all embarrassed & hit him' & thus after a little bit of more fighting & arm wrestling & nok jhok.. finally he decided to go home only after she promised to go on a date with him tomorrow.
He was right when he said that it is the best birthday gift ever! Life was not bad for them individually before, but with the gift of togetherness it just became a lot more beautiful for him, for her & for them!!!!!!!
The End.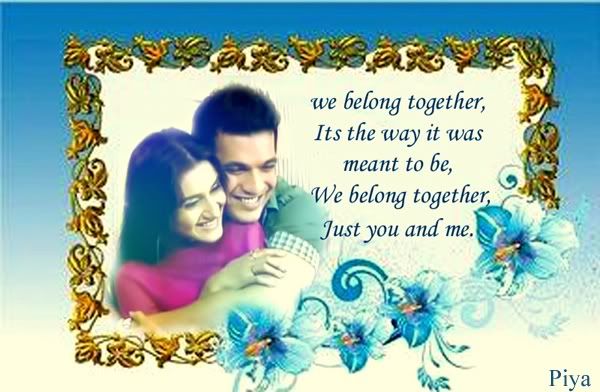 Edited by Mou. - 21 October 2010 at 11:24am