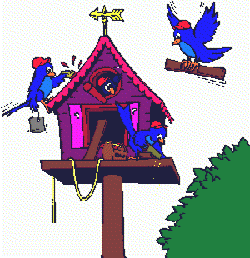 Members of this Family:
Chits aka Chitra : Basera ki mukhiya and Pinku ki Virtual maa
DD aka Tabbu: Rahul ke pyaar mein Diwani
Pink aka Monica; KSG ki badi fan
Gayatri aka Ani; Pinku ki Real Maasi aka Mamta ki Devi

**Our Guest aka Atithi :
Axeion aka Ekta; seen once in a blue moon.She is a fun loving gal
May God bless our Parivar with peace n prosperity...ameen
Birthday list:
Chits; August 16th.....beware of her, she is Leo
Leo: Confident, Loyal, Ambitious and Generous. At the same tym she is; Dominant, stubborn, lack patience, melodramatic n pretentious.
Ekta-;
March 31st...she is sensitive, she is Aries
Aries: Generous, Enthusiastic, Optimistic n Sweet natured. At the same tym she is; moody, short tempered, impatient n weak hearted.
Pinkisluv91;May 20th...Self-Indulging, undoubtedly a Taurean
Taurean: Dependable, Persistant, Patient n Loyal. At the same tym she is; Stubborn, Lazy, Possessive n Materialistic.
DD; May20th...Very Stubborn, she is also a Taurean
Taurean: Dependable, Persistant, Patient n Loyal. At the same tym she is; Stubborn, Lazy, Possessive n Materialistic.

Ani; June 6th
...
she is clever and sensible, she is a Gemini
Gemini: Imaginative, Clever, Adaptable n Energetic. At the same tym she is; Superficial, Impulsive, Restless n Indecisive.
Member's short description:
Chits1 aka Chitu Parmeshvar: She is the head av our Basera Parivar. Yane ke Mukhiya aka Sarpansh. Chitu lives in Canada, in some Jungle
..Canada ka niagra falls bahot famous hain...waha hamari chitu gayi thi ghoomne
Hamare chitu ko batein karne ka bahot shauk hain
, infact, it's one av her hobby..

. Kabhi meethi to kabhi khatti... Another hobby is to be in the kitchen and cook
for her Hub. We have named her 'Kitchen Queen'
... We alwayz desire for her tasty food.
...She cooks delicious, yummiest, masaledar, mast food - yane khaake mast se swarg ki aur padharo
. She is the most wanted cook in Canada aka Jungle
... Chitu ko jitna apne kitchen se pyaar hai, utni hi nafrat apne sasu maa
se hain. When chitu is not working
, she is probably watching TV
. Her fav serial is Partigya

. When not watching TV, she is doing ghar ki saaf saafai
...aur kabhi ghalti se apne hub, AB ki bhi safai kardeti hain...
... Chitu loves her work
. She thinks "work is worship"
... her worship will be doubled, if her peanut pagaar becomes Watermelon
...currently, Chitu is in love
with 3 guys; Ajju
, Shastri Baba
and Salim
. Who will be her next pyaar
?Janne ke liye dekhte rahiye Basera.
Last but not least, I wanna say, Chitu is a wonderful woman, both inside and outside. She is a real friend in need and definitely a fun loving n warm by heart.
Here we have pluses and minuses av Chitu, according to the member's answers (member who have participated, their names have been kept confidential).
pluses:
Emotionally Connected to each member av BP (social). Funny at tyms. Fearless and Sincere, what makes her special. Child by heart , kind and Protective towards the Parivar and their member's. Hamari Shree Valmiki (becz, it's only she, who can write Ramayan).
minuses:
Impatient - lacks vit "P", Dominant at tyms (pichle janam Hitler ki beti thi), Sensitive, Disagreeable at tyms. Has a kid like mind.
Gayatri aka Ani: She is the senior member av our Parivar

. Sab Ani ki izzat
karte hain. She lives in NY (New York)
, and runs her own Business
. Just like Chitu, Ani bhi apne kaam ko 'worship'
karti hain, Unlike chitu her tankha is not peanut
..She is trained in every field, for ex; ask abt Beauty tips
, Remedies
, Recipes

, and you'll get all the answers from her..That's why, we have given her a very special name, "Beauty Advisor and Therapist - BAT"
. For this, she has also received an Oscar award.... still waiting for her thanku speech, which we assume gonna be in 2012. Ani has immense amount av 'Patience' aka 'Vitamin P'
. Ani itni "Patient" ladki hain ke kabhi kabhi hum beemar aka 'Patient' hojate hain
. She is very gentle by nature and soft spoken ladki
. Itna slow n soft spoken
, ke hamare liye woh "soft words", Lori ka kaam karta hai
... . She believes in Dharam and Karam
.. matlab neki kar dariya mein daal
. Ani loves to shop
and pamper herself, she loves body Spa
, body Massage
facial and all sort av pampering treatment
.



Last but not least, she is a woman of substance, full av ambition. She is
and makes her own decisions. She is warm hearted and kind. We love her the way she is and want her to remain same for lifelong
Here we have pluses and minuses av Ani, acc to d member's vote:
: Smart Business woman, Social, attached to the thread, caring and ready to help. Sensible and lovig natured.
: Diplomatic, too fragile and sensitive, Introvert (not open).

Pinksluv1 aka Monica:
yeh hamari Parivar ki sabse choti sadasya hain
..she lives in Alabama (USA) , Jaha ka president hai Obama
. She is bubbly
, witty and chat pati. Pinku ko apne aap se bahot pyaar hain; She likes to be in tip-top. She loves to do make-up aka laali powder
and when it comes to do painting
; she paints walls, halls, nails, face, eyes..Etc...Etc. She hates to get up early in the morning
, and when she goes to college
, she makes sure her face is bleached n cleaned
, eyebrows tweezed
& nails and lips are painted
. Agar nahi hain to , hamari gudiya rani college nahi jaati
. Pinku has crush
on K3 aka 3 diff sorts
av Karan....Once upon a time, she used to be Jay Sean ki deewani, but you see, she changes her choices, as much as she changes her clothes
...ismein bechari ka koyi kasoor nahi, she is adat se mazboor. Pinku is totally pampered
by her sweet Maasi aka
...Pinku loves it and enjoys the love and attention getting from her dear maasi and VM
(virtual maa aka Chitu)...Pinku loves to spend her quality time on net..
....Kaun sa star kiske sath hain
, aur kidhar kya khichdi pakk rahi hain
, yeh sab hamare pinku ko pata hain. Ask our detective Pinku
anything abt IF and serial stars, you will not be disappointed. She loves to gossip
..Pinku ka sapna hai ke woh badi hoke (agar badi hoti hai to) Doctor bane
...If she becomes 'dil'
ki doctor... ...
then we are sure, she gonna have many lucky Patients ..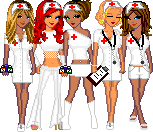 Last but not least, Pinku is a sweet and carefree girl
. She loves Basera Parivar. She is our BD Jalaile aka Barbie Doll..
.
Here we have pluses and minuses av Pinku, acc to the member's vote:
:Practical, friendly and Ambitious. Attached to our Thread, BP. Patient and Loyal.
: Get carried away easily. Has a Careless attitude (sometyms). Not attached to all the members of the BP (Basera Parivar) Equally. Diasapproving at times and possesive (A common trait av Taurean).

DD aka Tabbu: Agar Chitu Basanti hain
. Ani, thakur hain
. Ekta aur Pinku, Jay aur Veeru hain
...to DD, Gabbar hain
. ..She lives in some XX000 miles away, in Europe, in a country called Sweden (naam to suna hoga )
..Unlike, Chitu and Ani, DD apne kaam ko itna serious nahi leti....
...Like Pinku, who changes her BF's, now and then
,DD too changes her job more often
. She is 'social' and loves her friends a lotz..
, sometyms in overdose
..DD ka yeh parivar se sadiyo purana, janmo janmo ka nata hain
...beech mein DD, kumb ke mele mein beechad gayi thi
..Ek din raste mein chitu mili
and use ghar wapis le ayi
..DD loves to go on holidays
..uska bas chale to woh ghar wapis na aye
..she wanna enjoy life to the fullest, aur agar doston ka saath ho to phir kya...
. ..DD loves to sleep
and that's the reason, she is sooo lazy...
...Like Ani, DD too loves shopping specially clothes
...she loves to wear trendy clothes. Like Pinku, she too loves saula singaar, but kuncham kuncham
. DD ko nachne ka bada shauk hain

lekin usse jyaada apne hub ko nachane ka
...Bechari DD, she has to take care, both her work
and home
the day DD is washing clothes
, samajh jana, she is dead ..iss takleef se bachne ke liye, DD has given an ad in d newspaper, "wanted Kanta bai" - Alive
.
Here we have pluses and minuses av DD, acc to d member's vote:
Charming, Sensible, Loyal, Confident, Blunt and open. Protective and Kind hearted.
Emotional at times, Possessive n picky. Sensitive at tyms (lil bit hot temprd and lose cool)
Doesn't know the whole story and assumes something. Overthink things (hmnn...). Disappears in the middle av the chat/thread
Axeion aka Ekta:
She is the new member av our Basera Parivar. Ekta ko membership
mile 4 months hoye hain. Ekta lives in the heart av USA, matlab ke WC aka Wahington DC
. She is full av life
and a carefree girl
. Ekta loves to enjoy life with her family
and friends
. She loves her Job
...She also loves to go on a long vacation..Hawai, Goa or Thailand
any corner av the world. She Loves to party and loves to go shopping
...agar kisi aur ka credit card ho to kya baat ...
..Ekta is a sweet girl aka rasgulla...itni meethi hain...itni meethi hain...ke doctor has advised her not to eat chocolates....
...use ek aur shauk hain, films dekhne ka
..jo bhi film ho; Drama
, Comedy
, Sci -fi
or Romantic
. Ekta is waiting for her Prince Charming
...But only rich NRI's or Ambani's are allowed
..
Last but not least, Ekta is a sweet and loving girl, with great sense av humor. A pakka Flamboyant and lively creature
.
Here we have pluses and minuses av Ekta, acc to d member's vote:
:
Care free and lively. Sweet and sour. Friendly and loving.
: Not much attached to the thread (disconnected sometyms), get mad easily.