Aziyat...Destiny's Ploy...

Intro

11 am...Mauritius International Airport

We see an middle-aged man pacing around at the airport receiving area with him stood a young woman around 26 years old...she watches the old man look at him watch every few minutes checking the time waiting eagerly for the flight from Delhi to land...he counted down the minutes as he was getting going to see his youngest daughter after 10 years...the young woman was trying to calm him down by holding his hand as they look at the arrivals area...Just then a car comes to stop outside and a young looking man get out of the car wearing a designer gray suit with a white shirt and look at the man and woman...he locks his car and then walks towards them with a smile...he goes and stops at by the man and the woman...the young man was none other then Sujal Garewal...
Maahi: Hi Sujal...tum itne late kyun aaye...tumhe to maine kal raat hi bata diya tha na aaj yaha aane ke liye...
Sujal: sorry..aaj subah achanak office se phone aaya to muje meeting ke liye delegates ke saath site pe jana pada...wahin pe thodi dair hogayi...I am really sorry Maahi...
Maahi: its ok...waise how was the meeting?...
Sujal was about to speak when...
Old man: Sujal tum dono business ki baatein baad me kar lena...kamse kam aaj ke din to nahi hi...aur Maahi beta flight abhi tak land nahin huyi...main pata karke aata hoon...aakhir kar abhi tak aayi kyun nahi...abhi tak to aa jana chahiye tha...kahi woh kisi musibat me to nahi ...sab time pe to hoga na...tum dono kuch bolo to sahi...
Maahi: dad aap bhi ek saath kitne sawaal karte hai...ab kiske jawab hum pehle denge...
Sujal: Abhinav uncle aap itne hyper kyun ho rahe hai... I am sure woh aati hi hogi...abhi to flight bhi land nahi huyi...
Maahi: dad..Sujal sahi kehraha hai...abhi tak to flight bhi land nahin huyi...just be a little patient...aur ab woh koi bachi to rahi nahi ke kahi kho jayegi...just calm down dad...
Sujal: its ok Maahi...lagta hai subaah subaah uncle ne sugar wali chai pee li hai...isi liye itna hyper ho rahe hai...
Abhinav: arre nahin beta...maine aisa kuch nahin kiya..bas 10 saal baad main apni beti se milne waala hoon...to ab intezaar nahin horaha...ab excitment badhti hi ja rahi hai...
Sujal: dus saal bad...aise kaise ho sakta hai...main aapko pichle 10 saal se janta hoon lekin maine kabhi aapki dusri beti ko nahi dekha...lekin aapki to beti hai to aapne aur Maahi ne to dekha hi hoga na...
Abhinav: nahin beta..in 10 saalon me na to maine usse dekha hai..na Maahi ne...kyunki na to hum India gaye hain aur na hi woh Mauritius pehle aayi hai...kayi bar humne use milne ko kaha ki hum India aate hai lekin bas mana karti rahi...kabhi exams to kabhi projects...lekin.kahin baar humne usse apni tasveerain bhejne ko kaha par usne nahin bheji..usse na hume surprise karna bahot acha lagta hai...bachpan se hi uski yeh aadat rahi hai...
Sujal: aapne uski ek bhi picture ko dekhi nahi..
Maahi: humne nahin dekhi..jaisa dad ne abhi bataya..usse humne surprise karna acha lagta hai...she is a total opposite of me...par humne sunna hai ke woh bohat khubsurat hai...
Abhinav: sirf bohat hi nahin...Shimla me sabse zyada khubsurat meri beti Kashish hi kehlati hai...aakhir kar pichle 10 saal se main tarife hi to sun raha hoon...woh bhi phone pe...
Sujal just looked at them in surprise...
Sujal: hmm..aap dono ne na hi use kabhi dekha hai na hi kabhi mile hai...to aap pehchanoge kaise...aur aap dono ko pata hai...apne parivar se is tarah khud ki pehchan chupna bhi ek gunah hai...
Abhinav: aisa nahin hai beta..bhalle humne usse dekha na ho...par 10 saal me aisa ek bhi din nahin guzra jab usne humse baat nahin ki...jitna humne usse miss kiya hai..usse bhi kahi jyada woh hume miss karti hai...10 saal binna family ke rehna asaan nahin hai...Maya ke jaane ke baad mera Shimla me rehna mushkil hogaya tha..isliye maine apne construction ka business yahan Mauritius me shift karne ka faisla kar liya...par Kashish khud ko Shimla se alag nahin kar paayi..13 saal ki umar se hi use pata nahi waha ke log...us meeti se ek ajeeb sa lagav tha...isliye maine usse wahan ke boarding school me admission dilwa di...aur main aur Maahi yahan pe aagaye..main bhi utna hi kasoorwaar hoon...shayad business aur Maahi me itna ulaj gaya ki kabhi use thik se mil hi nahi paya...ab aaj pata chalega ki woh kaisi hai...kiski tarah dikhti hai...
Sujal: ab to muje bhi milne ki becheni badhti ja rahi hai...ab jaise Maahi ne kaha ki woh total opposite hai ...pata nahi lekin.aakhir kar yeh Kashish Sinha hai kaisi...
Maahi: bohat hi alag hai woh...jab tum usse miloge...tab tum dekh lena...
Sujal: ofcourse...uncle ki beti...tumhari behen...to usse to milna hi hoga muje...aur ab to woh aap logo ke saath hi rehnewali hai to...now lets just wait..
Abhinav: I just hope ke woh jaldi se aajaye...
Abhinav was constantly looking at his watch and waiting to hear the announcement..when finally to his relief the flight for Delhi was announced...he happily looks towards Maahi and then at the gates..waiting for Kashish to walk out...Maahi and Sujal also looked at the gates...getting slightly impatient too...they all walked little closer to door to find Kashish...but there seemed to be no sign of her...Abhinav looked disappointed as he saw everyone leaving...The airport had started to get less crowded as almost every passenger of Delhi had walked out with their families...the three just stood there...Abhinav's awaiting smile had faded...
Abhinav: yakeen nahin aata ke Kashish ne phir humse jhoot bola..usne vaada kiya tha ke woh aaj zaroor aayegi
Maahi: muje bhi aisa hi laga...ab uski study puri ho gayi to aur koi bahana nahi karegi lekin phir bhi...phir bhi woh nahi aayi...
Abhinav: main pichle 10 saal se usse milne ko bechain horaha hoon..par usse to apne dad ki koi parwah hi nahin hai...
Sujal: uncle please...aap apna dil chota mat kijiye...shayad koi problem agayi ho..jiski wajah se woh aa nahin paayi..agar aap aise udaas honge to aapki health pe bhi burra asar parega
Abhinav: shayad tum thik keh rahe ho...chalo hum bhi chalte hai...
Maahi: chalo ab hum bhi ghar chalte hai...pata hai aaj maine specially Kashish ki pasand ka lunch khud banaya tha...per use to aana hi nahi tha to kehti kyun hai banane ko...chalo ab uske hisse ka hum sab hi kha jate hai...
They turn away disappointed..Abhinav looks back one last time then started to leave...when they stopped suddenly...hearing a sweet melodious voice behind them...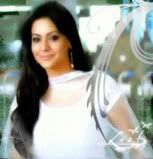 Lady: maine aaj bhi apna khana kisi ke saath share karna nahi shikha...
They all turned around to see a beautiful young girl..draped in a white shalwar suit..carrying a heart warming smile on her face...they all continued to stare at her...not saying a single word..when she moves forward towards Abhinav..
Kashish: dad...main aapki beti...Kashish...wahi choti si..ab sirf badi ho gayi hoon...pehchana nahi kya...aap mujpe yakeen kar sakte hai...main hi aapni beti hoon...
He just scanned her with his eyes..silently staring at her...not able to say anything...when she moved across to Maahi...
Kashish: maahi...main janti hoon ki tumne muje kabhi dekha nahi...lekin tum to meri aawaz pehchan lo...main wahi Kashish hoon jo aadhi raat ko tumhe pareshan karti hai...
Maahi just looked at her..she opened her mouth to respond but her words did not support her...they were in too much of a shock to say something...she then turned her head and saw Sujal stood there...she moved towards Sujal and just looked at him..he stared back too
Kashish: tum to kuch bolonge nahi kyunki tumhe to kabhi aaj se pehle dekha nahi...aur nahi tum muje jante ho...isi liye ..its ok...tumse koi sikayat nahi...
She was about to move away when she stopped and looked back at him as she heard his voice...
Sujal: main jaanta hoon...tum hi Maahi ki behen..aur Abhinav uncle ki choti beti Kashish ho...Kashish Sinha
Kashish just stood there looking at him ...she was lost in his voice..There was something sensational she felt inside her...as she heard his voice...her name sounded so magical when he spoke of it...she continued to stare at him..strange unknown feelings developing inside her...when Maahi and Abhinav finally came back to reality...Abhinav just looked at her and moved towards her...bringing her back to reality...
Abhinav: Kashish beta..
Kashish: dad...main...main Kashish...
He just holds her from her shoulders...a sense of happiness developing within him...as he looked at his daughter from top to bottom..with tearful eyes...
Abhinav: muje...muje yakeen nahin horaha..ke tum itni badi hogayi ho...tum 13 saal ki thi jab maine tumhe pichli baar dekha tha...aur ab 10 saalon me tum itni badal gayi ho...
Kashish: bahot buri ho gayi hoon na main...aapne itne saalo se danta jo nahi...
He let out a small laugh as he took her in his arms..hugging his daughter..
Abhinav: tere mazaak karne ki aadat ab tak nahin badli...bohat miss kiya maine tumhe beta...main bohat khush hoon tumhe yahan dekh ke...in 10 saalon me aisa ek din nahin guzra hoga jab maine tumhe yaad nahin kiya..aur ab itne saalon baad main tumhe dekh raha hoon..yakeen nahin araha hai muje..
Kashish: dad...maine aapko sabse jyada miss kiya...phir bhi aapke pass to Maahi thi...main to akeli thi...
Abhinav: jaanta hoon beta...lekin tum hi Shimla me rehna chahti thi..na to main tumhari baat ko taal sakta tha..aur na hi wahan rehsakta tha..isliye majburan muje tumhe wahan akela chodna parra..par muje aur Maahi ko har pal tumhari kammi mehsoos huyi beta..
Kashish: ab main aa gayi hoon na...ab kabhi aapko aur Maahi ko chodke kahi nahi jaungi..
Abhinav lets go of her and looks at her..
Abhinav: vaada karo mujse..ke dubara tum hume chodke nahhn jaaogi
Kashish: vaada raha aapko aapki Kashish ka...jab bhi aapko meri zaroorat hogi main aapke saath hogi...
He just smiles at her whilst placing his hand on her head with love...
Abhinav: thanks beta..
Maahi: dad...ab muje bhi to apni behen se milne dijiye...
Kashish: Maahi...jaisi 10 saal pehle dekha tha waisi hi ho...sirf tumhari height badh gayi...
Mahi: main jaanti hoon..bachpan se tumne kabhi baantna nahin seekha
Kashish: kabhi bhi nahi...sirf dad ko tumse...
Maahi: muje pata hai..aur utna hi kaafi hai mere liye
Kashish: ab ghar chale...muje apna ghar dekhna hai...kaisa hai...kitna bada hai...kaunse rang ka hai...kaha pe hai...
Abhinav: arre bas bas beta..itne saare sawaal..woh to tum dekh lena..sab sawalon ke jawaab tumhe miljaenge..chalo ghar chalte hain..
Sujal: aap chaliye uncle..main samaan leke aata hoon
Kashish: thanks...ab hum chale...muje bahot bhukh lagi hai...
Abhinav: haan chalo...
They headed off towards the exit talking whilst Sujal followed them with the luggage as they made their way to the car...
PM List
kyunki_iloveu
Puri_2711
sweety_1754
monikaseth
pinky901
nisha1984
togepe30
spvd
Radhika Shah
Humaira.Rajpoot
navyavenkat
ammuakhi
bharathi29
sweetangel_25
preet09
Sneh-Jiwan
swa291
jyothi_cool
sania_58
cute_samrah
dazzling_glory
Aamnalicious
sun_423
crystall
adventure_gurl
Iqbal Neha1
rajeev_myfriend
chinmayi
golu_1677
swetha10
-Aarti-
rajeev fann
Updates
Intro...pg-1
Part-1.pg-5
Part-2..pg-8
Part-3..pg-14
Part-4..pg-17
Part-5..pg-21
Part-6..pg-24
Part-7..pg-27
Part-8..pg-30
Part-9..pg-32
Part-10..pg-34
Part-11..pg-37
Part-12..pg-39
Part-13..pg-41
Part-14..pg-46
Part-15..pg-51
Part-16..pg-56
Part-17..pg-61
Part-18..pg-65
Part-19..pg-69
Part-20..pg-74
Part-21..pg-78
Part-22..pg-80
Part-23..pg-84
Part-24..pg-86
Part-25..pg-89
Last Part..pg-92