Link to Debate Contest: http://www.india-forums.com/forum_posts.asp?TID=1401117
Thanks to everyone who participated in the contest. My apologies to all participants and DM members for not organizing it clearly and efficiently like I should have. I have learned and hopefully next time around we can have a better turnout and better organization.
This has been long past due, but I appreciate all those who bear with me. Also Karan definitely did not let the extension go waste. First my assessment of the arguments and then the winners.
One point of confusion throughout the debate was if the lesbian parents child was adopted or conceived. This is why I clearly stated "BORN" in the debate set up, to clear up doubts if the child was adopted or not. As far as I know, no one really asked for this to be clarified, but just 'assumed' adoption. At the same time there was no mention of rape either. So such 'assumptions' on another side were equally incorrect. A very dangerous mistake of letting cultural assumptions setup the debate. Familial support in either case is also an assumption. Prudence would be in leaving unmentioned family out of the debate, unless bringing up good reasoning for the extrapolation.
Entries being disqualifiedQwertyesque -
No opening statement or post clearly stating POV and argument. Only jumping in and dissecting others arguments.
POH -
Randomly cutting into debate contest. Irrelevant participation.
My_View -
Concise opening post. Unfortunately, no follow up posts or supporting evidence.
Assessment of contestants:Gauri -
I know you asked to withdraw from the contest, but I am just giving feedback because you were a relevant contender. Otherwise you are not eligible for winning at all.
Firstly kudos to you for taking the first plunge. In fact the debate contest probably would not have carried if you did not dive in head on. The opening statement was very well thought out laying a good premise for your side. You were spot on in addressing the issues raised by others and pointing out argument from emotion.
My biggest criticism is the lack of citation. Secondly, don't let the need to make a sound argument make you appear mechanical. Being to mechanical can create disconnect even with the most objective judges. Feel free to express emotion and empathy, but then slowly and carefully cast them aside presenting other relevant information to be more important.
Another suggestion is to know your opposition and address it right away. I think you may have held of not anticipating much participation. But the best thing to do is anticipate what opposition you will have and how you plan to address each of them.
cuckoocutter -
I think you have single handedly launched the whole debate with your entry. You had a great opening statement that literally drew people into your argument. And your ongoing posts had the same effect. You raised great points about the value of mother and motherhood, struggles of the middle class and the value of society too.
However, on the flip side your argument was completely focused on emotions. Everything was an argument from emotion appealing only to ones attachment to mother, patriotism and pride in society. Such arguments make great political stump speeches, garnering followers, but really have no place in formal debate. Debate requires reason, and your argument would have been so much more effective if you could have backed up the emotions with some concrete statistics and logical counters. You did not address a lot of factual questions raised by other contestants.
Karandel_2008 -
Honestly, now that is what I call debate. Truly a job well done.
Decent opening. Very concrete coherent defense of your POV. Clearly and concisely addressed every opposing argument. You did the best job in raising questions and pointing out loopholes in the opposing argument. Your conclusion was well beyond outstanding. Biggest kudos to you to use well researched citations in your argument.
The problems with your argument was redundancy. I think you tended to repeat similar points over again. Also the same thing that I told Gauri, don't be afraid to bring in sentiments. Show that you are empathetic as well as reasonable.
*Woh Ajnabee* -
Thanks for participating. More importantly, thanks for giving Karan some worthy competition for the time and effort that he has put in.
You did well with your opening posts and closing. Your arguments were also coherent, well thought out and to the point. You did well to steer clear of the emotional argument or debating based on morals and values only. I must commend you for raising issues like hate crimes, and other relevant growth and development issues. You addressed many relevant issues raised by Karan and others.
On the down side, your arguments were not as well thought out or presented as you can. You really did not come strong on some of the points where you could have. You also lack citation. Something that would have seriously fortified the arguments.
The Winners:
The winners is based on my views as well as likes as we had earlier planned. I am also considering that Karan and Ajnu did receive extensions which others did not utilize.
First Place: Cuckoocutter
Your argument may have been emotional, but that did the trick. No one garnered as much crowd support, likes and following as much as you did. So despite lacking other aspects of argument, by sheer popularity with the DM junta and grabbing their support - you are the winner. I think you definitely did mothers and patriotic Indians proud.
Second Place: Karandel_2008
My personal favorite and to me the most committed, the most well thought and most importantly the only argument supported with citation and research. Unfortunately, I had to dock some points considering your extension as well as the fact that you could not get the junta to party for you.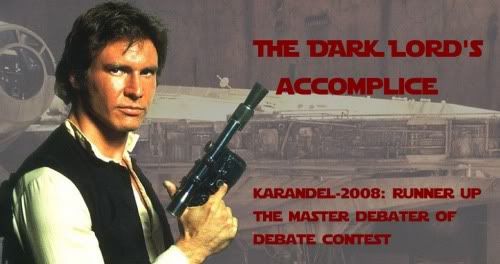 PS: Maybe not junta, but you did seriously impress the Dark Lord. A lot.

Third Place: *Woh Ajnabaee*
For fully following through with the competition completely and presenting some good quality arguments.
Thanks to everyone who participated and supported contestants. Again I apologize for the mismanagement and also if you feel my solitary judgment was not the best. Next time around I will also try to get a larger panel of judges to get the best consensus decision.


Edited by return_to_hades - 19 June 2010 at 1:02am