PART 6
Komal and Aarushi went into the shopping mall. They were passing by the shops and were looking for some dresses.
A pajero car stopped in front of the mall.
A guy wearing suit came out from the car. He stepped into the mall and looked around for someone. Then he dialed a number in his cell phone and start speaking,
-"Mr. Sharma, where are you? I am waiting for you here."
- (the other voice) Mr. Aadarsh, I'm here also. Did you complete that? [
- Yes, I have completed my documentary on the birds. I have the rush print with me. Where are you?
- I am near the ground floor's 121st shop Mr. Aadarsh.
Aadarsh was walking. He turned around and there a collision with Komal. His cell phone and Komal both were falling down. He grabbed Komal and his cellphone fell on the ground.
Aadarsh was looking at Komal. She's so beautiful. On the other hand Komal became furious.
"What a nonsense!" she said. "Can't you see while walking?"
Aadarsh said, "What I see? I can see something that I should have seen before." He was memorized by her beauty.
Komal thought, "Is the guy mad?"
She stood properly pushing him well. Then Aadarsh came to his sense. His cell started to ring again. Aadarsh picked up the phone and turned back to talk, "Yes, Mr. Sharma....."
Aarushi came to Komal running and started saying, "I've seen there a very beautiful dress which will suit you very much."
Komal went from there with her. After cutting the phone Aadarsh turned around but saw nothing there.
Whatever, he went to the producer Mr. Sharma whom he wanted to give the rush print of a documentary. Aadarsh loves animal very much. So he made a documentary on birds. This is his second documentary. The first documentary was also on birds. He also produced his first documentary and earned a lot of money.
Aadarsh's aim was to be a big director in film industry. His father didn't wanted that. So he quarreled with his father and left his house so that he could achieve his aim. He gathered his money by doing as assistant director. Arhaan wanted to help him in this case as he is Aadarsh's best friend. But Aadarsh wanted to stand by his own feet. So he didn't take help from any people. Now he's a director.
When he was making his first documentary, he liked cockatoo so much that he bought 12 cockatoos.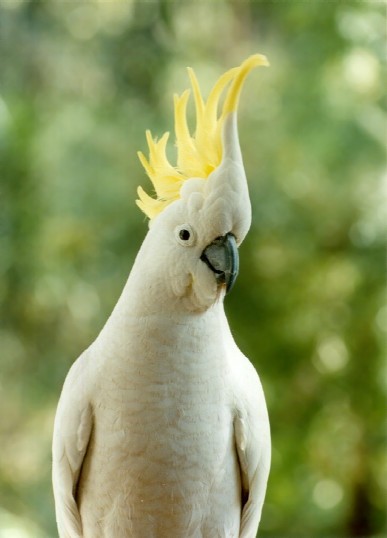 Wherever Aadarsh went, he always took them with him. So, many people called him as 'mad'. But he didn't mind. Because he always wanted to do what he likes.
At the shopping mall, Komal and Aarushi did their shopping till the evening. That not means that, they shopped many things. They bought a few things.
Aadarsh's conversation was finished by the time. So he was following them.
Komal stopped front of a jewelry shop. She was looking some rings there. She liked a ring very much. She asked the salesman, "How much the ring is?" "50000 rupees." He replied. She was disappointed and left the shop.
Aadarsh noticed it. So he came into the shop and bought the ring from the salesman. Komal didn't see this.
Aarushi and Komal saw that Aadarsh was getting in his pajero car. And the backside of the car there was a lot of cockatoos.
Komal showed that to Aarushi and said, "Mad guy."
They left the shopping mall laughing.
(That day in the evening)
Arhaan got some holidays after working nonstop shooting. He was so tired. It was a much needed break. He was thinking about Pooja.
"I didn't contact with her for a long time. Don't know what she is thinking about me." Arhaan thought.
He went out from the shooting spot and got into his car. He opened his laptop. But there was no charge in his laptop. So he couldn't contact with Pooja. He switched on his mobile and called Aadarsh.
When Aadarsh was driving the call came. He picked up the phone and said,
-Hey Arhaan, wassup? I called you so before so many times but your mobile was switched off. What happened?
- Actually I was too busy due to my shooting. I had to concentrate on my character wich is very challenging to me. So I didn't reply you. Anyways how're you?
- Doing well. What about you?
- I'm fine. What about your children (cockatoos)?
- They are also fine.
- Aadarsh, there's many things to say you.
- What a miracle! I have also an important thing to say you.
- Then please come to our house tomorrow.
- Okay than. See you tomorrow.
They cut the phone.
When Arhaan reached his house, he entered his house almost running.
"How're you, sir?" Umar bhai asked.
"Fine. What about you?" Arhaan said.
But before hearing the reply Arhaan went to his bedroom and charged on his laptop and opened his computer.
He sent a mail to Pooja, "Hello Pooja! What's going on? Sorry that couldn't reply you earlier."
"Don't know how she will react. I haven't contacted with her for so long time!" He thought.
Pooja replied very angrily, "I don't want to talk with you. You go to hell!"
Arhaan thought, "I couldn't imagine that she will be so much angered with me."
So he asked her,
- Why? What happened?
- What do you mean by 'what happened'? Krishna, you said that we are friends. Now you vanished without any news? What do you think yourself? A film actor?
Arhaan astonished that Pooja could understand film actor's attitude. He was amused. "She doesn't even know that I am a film actor but talking about that. Very funny." He said himself.
Arhaan replied,
- Oh I am so sorry. I was so much busy with my study. Actually I was following your advice and that worked.
- Oh that doesn't mean that you can take rest on my patience. You should have informed me at least once. Do you know that I have broken my favorite racket in this tension that what happened to you? Now I am not going to talk to you. Then you will understand.
-Sorry Pooja.
She didn't reply him and went offline.
Arhaan understood that he hurt Pooja very much. Because of him Pooja broke her racket.
(In Pooja's house)
Pooja became very upset. She thought, "Why I behaved with Krishna like this". She felt that she should say sorry to Krishna.
Komal and Aarushi came from shopping. When Komal went to washroom, Pooja told Aarushi about all these and asked her, "How can I tell sorry to him?" Aarushi gave an idea to her, "You can write very good poem. You better send him a sorry poem." Pooja said, "Thanks Aarushi, that's a very great idea!"
So she wrote a poem and posted that to Krishna,
I AM SORRY
I'm sorry for everything you've been through
It must've been very hard on you
I'm sorry for all that's been said and done
I was the moon, you were the sun
I'm sorry for not making everything right
But the situation I was in, was very tight
I'm sorry for not lending you a hand
If only I could be a better friend
I'm sorry if it seemed like I didn't care
Lucky for you, your special- someone was there
I'm sorry for breaking your heart
For forgiveness, where do I start?
Pooja sent this to Krishna and was waiting for his reply.