Hiii Kuriyon, Soniyon, Chhoriyon
& Naitik/Karan ki Pyaari-Pyaari Beheno
So, First of all.. thank you all so mch for the wonderful response you all gave for the "Yeh Rishta Kya Kehlata Hai ka Fan Kya Kehlata Hai ?"
Must say, you all were just Terrificc.... Awesome... You all are World's Best Fan of YRKKH
Well, Well, Welll.... So are you all ready for the results...?
To, Sahibaan, Kadardaan aur hamare pyaare Mehmaaanon...
Dil thaam ke baith jaieye...!!
Firstly, lemme answer all the questions here so that you all can just Tally ur Results that you all had sent....!!
So, here i Go...!!
1. The Date when "Yeh Rishta Kya Kehlata Hai" 's First Episode was aired ?
(12th January '09... very simple, hun.. lets move ahead..)
2. The Date when Singhania Family entered the show Yeh Rishta Kya Kehlata Hai ?
(6th March '09.. Yes dahlin's its 6th March when Singhania's entered the Show, most of you had answered 9th March '09
, on 9th March Naitik entered the show with her cute n dil to baccha hai ji smile
...
)
3. What was the name of the Akshara's Personal Grooming Teacher ?
(Divya Didi... no Devi, no Beti
)
4. Name of Mohit's Sister On-Screen ?
(Koyal.. jiii, kuch yaad aaya key ? On-Screen means in the show YRKKH)
5. Varsha's Bidaai song is from which Bollywood Movie ?
(Movie is "Hum Apke Hain Koun" & the song was "Babul jo tumne Sikhaya...", the movie wasn't "Babul" )
6. Name 2 things that Naitik had bought for Akshara from Shimla ?
(A Shawl & a Hand Bag... No Sweater & No Purse
)
7. What was Nandini's Pen Name ?
(Akanksha...
Pen Name means the Identity used by the Writer for Special Mention)
8. What is Bhabhi Maa's Real & Reel Name ?
(Reel name is "Kaveri" & Real name is "Medha"
9. Name of the Guy, who used to follow Akshara ?
(Alok... hmmm.... Yaadein yaad aati hai....)
10. First Ever song used in Yeh Rishta Kya Kehlata hai was Picturised on ?
(Picturised on "Akshara" .. Tu Pehli Kiran hai...)
11. The Real Name to which Rajshri Maheshwari in Real Life is Married ?
(Sanjeev Seth.. aka Vishambhar, No Jeev & No Jantu
)
12. What is Naitik's & Akshara's Fav. Dish ?
(Naitik's "Palak Paneer" & Akshara's "Gur ki Kheer", Desi Log hai Bhai, inhe Videshi vyanjan nahi bhaate
)
13. Name of the Shakespeare Play used in Yeh Rishta Kya Kehlata Hai ?
(Othello... Rem'ber tht Trust & Faith thing)
14. Name of Shaurya's School ?
(St. Thomas School....)
15. Name the Singer for the Yeh Rishta Kya Kehlata Hai's Title Track ?
(Alka Yagnik...
)
So, Aap Logon ne apne apne marks to calculate kar hi liye hongee....!!
So, do i need to say anything... i guess NOooooo!!
So Now lets come to the Winner, jo banega hamara
" Rishton ka Paarkhi"


yess.... thats what we call the Winner as... "Rishton ka Paarkhi"
so any guesses, who is the Winner ??
umm........ anyone...... say naaa...!
Achaa chal main hi bataa deti hoon...
the WINNER is none other than Our
Maheen
, our Newest Written Updater
her username is
honeey_16,
i guess she's sweet 16...
with only 1 wrong answer, i.e. with 14 Correct Answers
n
she herself wil answer ki Kaun sa Jawab galat tha !! So Maheen Tell us.... !!
Anyways, here's your Prize Siggy, Hope u like it & Do use it for a while
Hold On... we do have a Runner-Up too for this lil Quiz Contest Dear Friends !!
but.... to be quick... we have two
Runner-Ups
...
But they are one... guess who...? the one with 13 & a half answers correct,
arey they are the Twin Sisterz of YRKKH Forum
Ab To Samajh Gaye hoge naaa...?
Yes...
Snehal & Sonal
But Actually very smart duo haann..
both the Entries were same to same.. not a single alphabet was different..
but the text Color of their Answers were Different.. Smart Girls haan..!
Not Fair completely but we give it to you
.... we are not that strict... bt next time... Be Completely fair Sweeties....!!
here's a Prize Siggy for both of you.. you both can share it n enjoy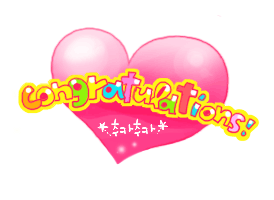 So, Congratulations to the Winners & Well Done to all the Others who Participated. Do Check out for your Marks in the Next Post just for your Satisfaction !!
We'll be back soon with Loadz more Masti, fun & Dhamaal
Till then Keep Rocking & Enjoy Life
Love & Regards
YRKKH Team