1st one....
I'm a pathetic singer but I love music : Hussain Kuwajerwala
By Srabanti Chakrabarti 5 May 2010 - 19:01
Hussain Kuwajerwala is back on the small screen and he is back in Indian Idol. The success and popularity he got as a host in the last two seasons, coupled with his squeaky-clean-guy-next-door image, there was no way the producers could have ignored him. This is the third time Hussain will be hosting Indian Idol and will co-host it with Idol winner Abhijeet Sawant. Being the style icon he is Hussain is sporting a new hairdo for the show. Excerpts from an interview.
This is the third time you are hosting Indian Idol.Aren't you bored?
Oh'not at all. On the contrary, I am really excited and it feels great to be back in Idol. I believe this is a huge platform for me to connect with viewers and the participants.
Every year a new set of people come to this show with a new set of dreams. It feels great to be a part of their excitement and happiness and also to lend them a shoulder to cry on. I am looking forward to being a host and dost on the show.
Are you comfortable anchoring shows?
To be very honest, I have never seen myself as an anchor. I always wanted to become a good actor. A friend of mine gave me the opportunity to host a show which I did. Eventually I started getting more offers to host shows and today, I seem to be doing a good job with it!
Which has been your best hosting experience?
I started with Kisme Kitna Hain Dum followed by Shabaash India, Khul Ja Sim Sim, Nach Baliye, Dance Premiere League and Indian Idol. I must say hosting Indian Idol has been the best experience so far.
The fun element which is attached to this show is very important for me. I am a pathetic singer but I love music and that is why I love to dance. In Indian Idol, you get to hear so many good singers that the atmosphere becomes very good. I do not feel I am shooting ' it is more like having fun and listening to good music. But, I hate the elimination round.
Your camaraderie with Meiyang Chang was very well received by the viewers last year. Chang has mentioned in various interviews how he was grateful to you for giving him a free hand '
I am no one to give him a free hand. It's about the opportunity you grab. Whenever opportunity knocks at your door, you should take it with both hands. For a guy who has just started his career, Chang is doing great job. I think he is very talented. He is already starring in a big film and I will see him on the big screen. I had told him once that if I were in his place I would not have achieved this much in such a short span.
We saw Prajakta Shukre hosting the auditions with Abhijeet. Was she dropped from the show?
I guess there is some confusion behind this. I have replaced no one. The format for Indian Idol has always seen different people hosting the auditions and the gala rounds. Even last year, I joined Chang from the theatre round ' I was never hosting the auditions! The reason to have Prajakta in the auditions was that participants would relate to her more easily, since she has gone through all this as a participant.
What do we see from you this season?
(Smiles) How different can one be? It is difficult, though not impossible, to be different every year. The writers also feel they are writing for the last five years so how different they could be.
But one sees new set of emotions come with a new set of people. You deal with them differently, and according to their emotional needs. So naturally, my dealing with the participants will be the difference. Plus, my chemistry with Abhijeet will also be different.
The format of the show is the same, but the judges and contestants are different. The criteria for judging contestants during the theatre round have also changed. They are giving different situations to the participants and judging on how they react. All of us want to do something new and unique so a lot of ideas are floating around. Just wait and watch!
How are the contestants this time?
They are much more confident. They know the format of the show and are well prepared for that.
Is your wife Tina styling you this time as well?
Yes! I feel she has done a good job with my looks and style. She knows me the best and is aware of what suits me and she can do the job well. She is also my biggest critic. There is a set format ' in the theatre round I will be wearing semi casuals, casuals in the piano round and formals for the gala rounds.
A lot of reality show participants get lost after their moment of glory in the show'
I won't deny it happens. Indian Idol is like a school for the participants. Once they are out of the school, it is up to them how they want to utilize the opportunity. In fact, most of the Indian Idol contestants are doing quite good. Chang, Abhijeet and Amit Paul are doing good work and most of them are doing a lot of events.
You are working on a musical play'
Yes. It's an experiment. It is called the Kingdom Of Dreams and is a big opportunity for me. I have started my rehearsals with the group. It's a big ambitious project from Wizcraft and will be taking Indian theatre to a different level. The drama part is being directed by Darshan Jariwala and there are different aspects to the play.
It will be choreographed by Shiamak Davar and Shankar-Ehsan-Loy will compose the music. It is going to be a big learning experience for me.
There is everything in the play from romance, drama, dance and action. Your body has to be conditioned to match up with that stamina and stress. When we perform for any show for four minutes, we get tired. In this case we have to perform for a much longer duration without getting tired. So I am feeling a bit jittery.
What happened to your film offers?
Frankly, it did not really take off. I was looking forward to it, but I guess in the film industry this happens to everyone. So I like what Javed saab said Jab sabke ghar mein andhera hota hai aapko bura nahin lagta hai!
Right now I am really looking forward to Indian Idol and the musical. That does not mean I will not try my luck in films. I will, but there is no hurry.
next one...
Chavanprash is the secret of Hussain's energy!
Hussain Kuwajerwala is all set to juggle between Indian Idol 5 and the play Kingdom Of Dreams where he will have to dance and act for 3 hours at stretch unlike where the actor has to perform for a 5 minute act on stage and get popped out. Also that it is going to be live so there is no luxury of retakes in the show.
He will definitely be able to cope up with the hectic schedule since the organizers for both are Wizcraft but question remains from where does the actor gets so much of energy.
He opens the secret of his fitness, "I never diet as I am a foodie. Hence I have to work out regularly to make up for my eating. But yes I don't binge on fatty stuff. Being a hard core non-veggie, I love non fried chicken. I also have been eating Chavanprash since my child hood days."
So kiddos cling to your favourite brand of Chavanprash!
http://movies.indiainfo.com/chavanprash-is-the-secret-of-hussains-energy-1191941.html
next.....
Indian Idol's favourite host returns for season five
May 06, 2010 15:21 IST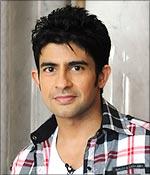 Hussain Kuwajerwala is back as host of Indian Idol season five.
Giving him company is co-host and first Indian Idol winner Abhijeet Sawant in the theatre and gala rounds.
Kuwajerwala tells Rajul Hegde what to expect this time around. Excerpts:
Are you excited to be the host of the show once again?
Indian idol is a fun show and the excitement is always there. It's the entire journey of the contestants from nobody to somebody. Of course we also feel sad when they they don't make it. It's a new bunch of youngsters with their dreams. As a host I will be their dost and host.
What was the reason for you to replace Prajakta Shukre [she had hosted auditions across the country along with Abhijeet Sawant]?
It's wrong to say that I have replaced her. If you watched last year's auditions, they had different anchors. I assume that it could be because they can give more chances to idol contestants and also the participants can relate to them easily.
Plus even the hosts can connect with the participants as they have also been through the same thing. I was not on board from the beginning, but talks were on and eventually everything fell into place.
How different are you going to be this time?
Though the format is same, presentation, judges and the participants are different. Obviously when you meet different people you tend to react differently because the situation and problems are not same.
The whole team works hard. The judges are also trying to be judge the contestants in a different manner. For example, they're asking them to sing in different rhythms. Even the chemistry I share with Abhijeet will be different from the one I shared with Mini Mathur and Meiyang Chang.
Do you think good hosts are born or they develop skills over time?
I think its built overtime. Here I can only speak for myself. When I started off, I was not inclined towards anchoring. A friend of mine gave me an opportunity and told me to try it out. I made the best use of it. I would say that I have grown as an anchor. It's a long process.
Which has been the best reality show you have hosted so far?
Idol has been my best experience so far and it's not just because I am hosting it. There is a fun element to it -- the atmosphere is lively and I don't feel like I am working. Everyone likes to hear good music and it's nice to listen to different voices. We do feel bad when people are eliminated but that's reality.
This season your wife (Tina) is designing your costumes...
Yes. Honestly she makes me look good. She designs according to the format of the show. She likes to experiment on her husband. She is her biggest critic, sometimes it works and sometimes it doesn't but that is okay.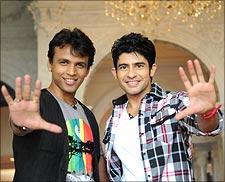 You are doing a musical play, Kingdom of Dreams produced by Wizcraft. Can you talk about it?
Kingdom of Dreams is a good Bollywood masala musical of two hour duration. It will be staged in Gurgaon and Delhi.
The crew consists of Javed Akhtar (writer), Shankar-Eshan-Loy (music), Shiamak Davar (choreographer) and Allan Amin (action director). It is a big opportunity and a leaning experience for me because all these talented people are involved in it.
We have just started the rehearsals.
How will you balance your Idol duties and the musical?
Wizcraft is producing both the shows, so they will manage it.
What about your film career?
I did expect a lot from it but it didn't take off. It happens to even the best of us. Right now I am looking forward to Idol and Kingdom of Dreams. But I will try my luck once again [smiles].
Was it a deliberate decision to stay away from daily soaps?
Yes. When you are working on television for so long you want to try different avenues. Luckily I got these offers. Otherwise I would have done more soaps.
How do you stay fit?
Its part of my profession and If I don't stay fit nobody will hire me. If you are a foodie like me you cannot afford to put on weight. Honestly speaking, I have never gone on a strict diet. I work out religiously so that I can eat whatever I want. I am a hard core non-vegetarian and I love chicken. I avoid fried food and eat more of tandoori stuff. I love fruits and that is also major part of my diet. Plus I have chawan prash and honey which works for me.
Rajul Hegde
in Mumbai
http://movies.rediff.com/report/2010/may/06/hussain-kuwajerwala-returns-to-idol.htm
next.....
Indian Idol: Hussain Kuwajerwala storms back to Idol
Fans of Indian Idol will be happy to learn that their favorite seasons 1 host Hussain Kuwajerwala is back.
Hussain, himself is also happy to grab the spotlight once again and giving the contestants the much needed support to go through this roller coaster journey.
He says that the fun element and exciting environment makes him feel like he is at party, though he confesses that everyone works hard here. Hussain also adds that everyone loves to listen to music and there is no better platform to catch some really cool music than Indian Idol.
As far as anchoring skills are concerned, Hussain believes that one needs to work hard to become a good actor. He admits that he never wanted to become an anchor and has become good over time.
Incidentally first Indian Idol winner Abhijeet Sawant will accompany him in the theatre and gala rounds. Hussain is absolutely positive that he will share a rocking chemistry with Abhijeet and the audiences would love the duo back in action.
Hussain is happy that this season his wife Tina has taken up the responsibility to make him look good. The proud husband claims that she loves to take risks on him.
http://www.entertainmentandshowbiz.com/indian-idol-hussain-kuwajerwala-storms-back-to-idol-2010050650252
next.....
Hussain returns with Indian Idol
Hussein Kuwajerwala is back and is doing what he enjoys i.e. anchoring; he will again be seen hosting the big ticket SONY reality show in the theater round. This good looking actor talks about the same.
As an anchor what do you feel about Indian idol?
"Host becomes dost as these young talented kids begin their journey to become somebody from nobody. I always enjoy the experience (3rd time) as every time we come across a new bunch of excited and talented singers. Indian Idol is a very big platform for them to fulfill their dreams."

You are replacing Prajakta in the theater round?
"I won't call it replacing. This had happened last time as well. The channel feels that having an ex contestant around makes the kids in the auditions more comfortable."

How different will you be this time?
"It is quite difficult to be different for the concept remains the same. But the writer has penned our dialogues differently. And we ourselves will try to make sure that we don't say what we said/ did last time. What makes our job a bit easier would be the fact that ultimately we react to what's happening on stage and hence a new lot of contestant will bring in their own situations."

One old question, very few Idol contestants have really rocked the world?
"Agreed, some may have failed, but you also have success stories. Meiyang Chang is one big example of the same. This ex dentist is successfully dabbling with other aspects of the entertainment industry, besides singing, i.e. hosting (Indian Idol 4 and recently in IPL 3) and now acting. Reality shows can only get you somewhere; rest depends on your hard work and luck."

Can you tell us a bit about your look?
"We follow a semi casual theme in the theater round which goes on becoming more formal as we get into the piano and gala rounds. Like last time, Tina (wife) is again designing my outfits. She loves to experiment. Sometimes it works, while at times it blows up. For what looks good in the fitting room may not work on TV."
Do you like anchoring?
"To be honest, I never thought that I could host, I just got an opportunity and made the most of it. Over the years, I have anchored many shows like Shabaash India, Kisme Kitna Hai Dum, Kuch Kar Dikhana Hai and Khullja Sim Sim (second season) Nach Baliye 3. I have picked up the required skills on the job."

You have replaced Vivek Oberoi in the bollywood musical Kingdom of Dreams?
"I don't know what caused the replacement. I did not even know who was doing it before I was offered the role. It would really be a challenge to dance and act for 3 hours live on stage. It has all the elements of bollywood pot boiler i.e. thumka, mardhar etc and being a TV guy, I am used to re-takes, but here you will not get a second chance. I am looking forward to this assignment, as it would be a challenge to work with names likes Shiamak Davar (choreography) and Allan Amin (Action), the best in the business."

Your bollywood journey crashed before it even took off?
"I am not the only person to have experienced this. I believe in destiny, hence if it has to happen it will happen, Insha'Allah."
Any chance of you breaking yourself imposed ban on fiction?
"Not for the moment, I want to try out something different. But I never say never, if in the future something interesting comes along, I just might take it up."

enjoy!!!!!!!!!!!!!!!!!
lov,
Tama