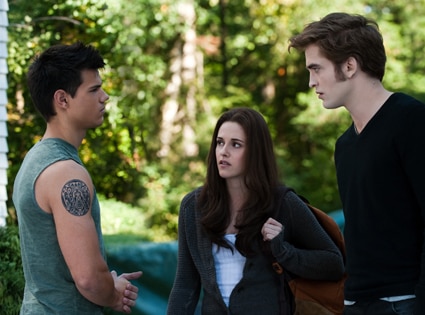 Kimberley French/Summit Entertainment
You're going to need your calendars for this one.
We know you already have huge red stars on June 30—that's the day Eclipse comes into theaters—but we have a few more big dates for you Kristen Stewart, Robert Pattinson and Taylor Lautner lovers.
Got a (colorful, sparkly) pen handy?
We hope you also grabbed a giant dose of patience.
Round four of the saga, Breaking Dawn, directed by Bill Condon as we well know, won't arrive for nearly a year and a half after we see Bella, Edward and Jacob have a showdown with Victoria and the newborn vamps.
The wedding release date is set for Nov. 18, 2011.
Still no word on if that will be the final flick or if there will be a second round from Stephenie Meyer's dense novel.
But before any of the big Breaking life cycle events can happen, Eclipse has to premiere. The red carpet style showdown is set for June 24 at the Nokia Theatre as part of the Los Angeles Film Festival.
Of course, a lucky selection of Twi-hards have already been there, done that. Yesterday, Oprah Winfrey treated a slew of huge fans to a special screening in anticipation of an episode on the fandemonium.