hey guys... i gound these instructions on google..and i thought of posting it cause many of u asked how to make glitter names..
these are the easiest steps there were so i hope there are no problems...because i had no problems either..
Now all of you smile.
.
.
.and begin..
How to make your own glitter tags, step by step.



Making your own animated glitter tags (names,sigs) is easy and fun. All you need to do is follow these steps and you will be able to create them on your own.


Getting ready

First, We will need to open 3 different windows on the desktop. All three will need to remain open during the creation of the tag.

Open a window with Image Magik Studio: http://net11.imagemagick.org/MagickStudio/scripts/MagickStud io.cgi

Now minimize it (shrink it down) on your desktop.



Open a second window with a glitter site. For this tutorial, let's use Bring On The Glitter:
www.wtv-zone.com/aylana/bringontheglitter/bringontheglitter- 1.html

Minimize it.

Open a third window with a text banner maker. For this tutorial, let's use Banner Generator:
http://linuxenvy.com/bprentice/Banners/Banners.html

Minimize it.


Now that we have all three sites open we are ready to begin.


Supa-dupa important! Please read...

If you plan on using signatures here on the forum, please keep in mind that you need to follow the guidelines:

http://forums.photobucket.com/showthread.php?t=3050


Quote:
Out of courtesy to our dial up users, signatures should be no larger than 60kb in size, and they should fall within the range of 500 pixels width and 120 height.


It would be a shame to go to the trouble of creating, uploading and posting a lovely sig and then having the Moderation team pull it.


If you do have an image that is too large, you can resize it using
www.gifworks.com/
www.myimager.com/
www.whitsoftdev.com/unfreez/

Step one. Making the banner.


Bring your minimized Banner Generator back up. (Maximize it.)

In Banner Generator...

Enter your text. (What you want it to say.)
Pick a font. (Arrow #1 points to where you can preview the fonts.)
Pick your font size. (I set mine to 100)
Set the border to 0.
Make your text color WHITE.
Make the background color TRANSPARENT.
Set your User type to REGULAR.



Now that we have all that filled out, hit the SUBMIT button.


A new page will open and now you will see your created banner. Right click on your banner. On the menu that pops up, select 'properties'.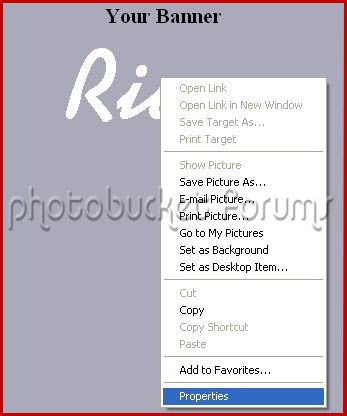 Highlight the url address by holding down the left mouse button and dragging it across the entire url code.Then right click on the highlighted url, and in the drop down menu, select 'copy'.

Step two. Putting your banner into Image Magik.

Go to (maximize) Image Magik.

Paste that url address code into the URL textbox. NOT the filename textbox. Press to view. (Arrow #2)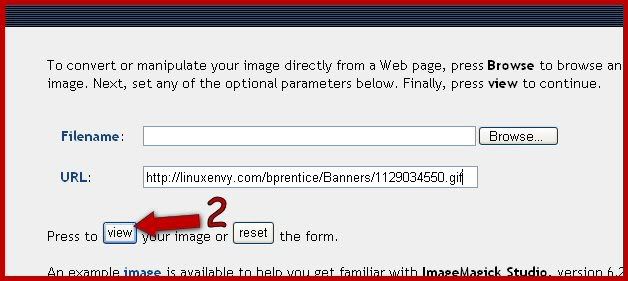 Now we see a page with the banner and a bunch of other information.

There are two rows of buttons across the top. Click the button that says 'composite'. (Arrow #3)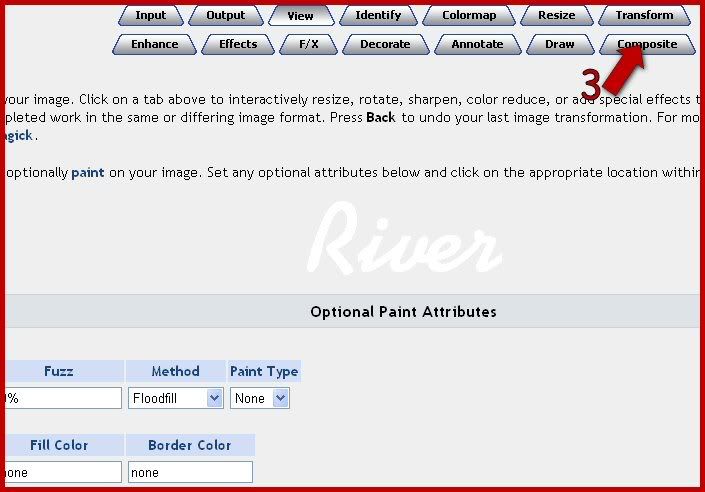 Step three. Grabbing a glitter.
Open (maximize)the Bring On The Glitter window.
Chose a glitter. Click on that glitter to open it on it's own page. Right click on the glitter image and select 'properties' from the menu.
Just like you did before,using the left mouse button, drag the cursor to highlight the entire url address code. With your right mouse button select 'copy'.
Step five. Adding the glitter.
Return to (maximize) the Image Magik page. Paste the glitter url address code in the url textbox.(Arrow#4)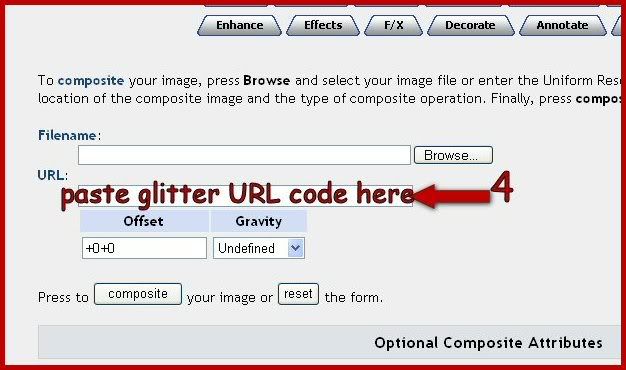 Underneath there is a section called 'Optional Composite Attributes'. Where there is a drop-down menu under 'compose', select IN.(Arrow#5) Where there is a tickbox under 'Miscellaneous options' put a tick (checkmark) in the box to indicate that you want to 'tile across and down the image canvas'. (Arrow#6)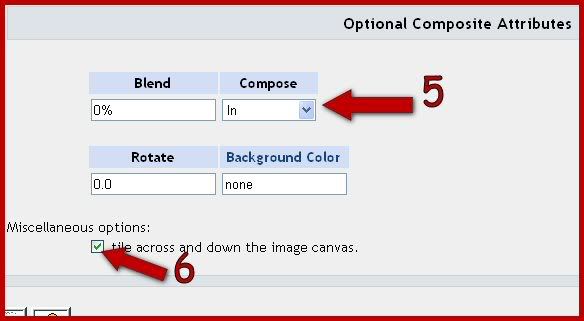 Then click the 'composite' button.(Arrow#7)
Step six. Finishing your tag.
On the page we now see a still image of the tag. Don't worry, it will sparkle in a minute! At the top of the page where the two rows of buttons are, press the 'output' button.(Arrow#8)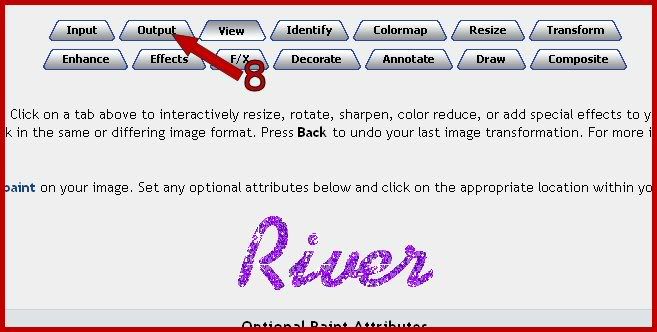 We are almost done creating our image! Make certain you save your image as a gif (Arrow #9) or it won't sparkle. Then hit the output button (Arrow #10).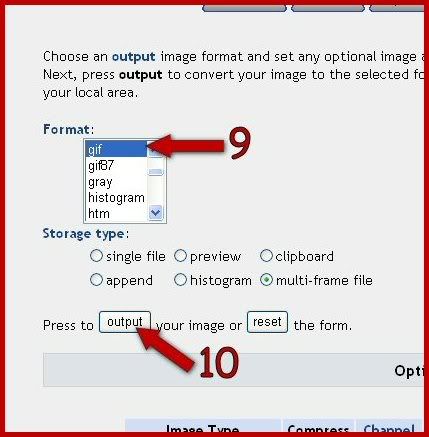 Step seven. Saving your gif image.
You can now right click your image and save it to your computer by selecting 'save as'. Again, make certain you save it as a gif file or it will not move. It looks so much prettier now that it moves, don't you think?
You can also upload it right to your Photobucket album.
To do that, open a new window: your Photobucket album, and sign in. Click where it says 'Add pictures from URL'. (Arrow#11)
Go to the output page at Image Magic where your completed tag is. Right click on your image and select 'properties' from the dropdown menu. Highlight the whole url address code by clicking the left mouse button and dragging while holding it down. Then right click the highlighted code and from the menu, select 'copy'.
Go to your Photobucket album page. In the 'picture URL' textbox, erase the ' http://' in the text box. You already have that in your url code. Paste the url code into the empty textbox. Hit the 'submit' button. Your image is now in your album.
***note***
Since all outputted images from Image Magik are titled 'animate', it is a good idea RIGHT NOW to hit the edit button and give your tag a new name. I am calling mine 'riverX'. WHY? Because if you want to upload another tag in this manner, it will be called 'animate' and Photobucket will tell you there is already an image with that title in your album.
**************************************************
There are a huge number of glitter sites out there. There are also many banner sites.You can also search for tutorials for Image Magik. Play around with them and see what you can come up with!
TIP: When you highlight, copy and paste, make certain that you get the ENTIRE url code. If you fail to copy the entire code, it won't work.
If you are having problems uploading, take a look at the tutorials:
http://photobucket.com/tutorials/
Good Luck and have fun,

_____________
Roshni