Raja Ki Ayegi Barat, Ghulam, Kuch Kuch Hota Hai, Mehndi, Hello Brother, Badal, Hey Ram, Had Kar Di Aapne, Bichhoo, Har Dil Jo Pyar Karega, Kahin Pyar Na Ho Jaye, Chori Chori Chupke Chupke, Bas Itna Sa Khwab Hai, Nayak, Kabhi Khushi Kabhi Gaum, Pyar Diwana Hota Hai, Mujhse Dosti Karoge, Saathiya, Chalo Ishq Ladaye, Chalte Chalte, Calcutta Mail, Chori Chori, LOC, Yuva, Hum Tum, Veer Zaara. Black, Bunty aur Babli, Paheli, Mangal Pandey, Kabhi Alvida Na Kehna, Baabul, Ta Ra Rum Pum, Laaga Chunari Mein Daag, Saawariya, Thoda Pyar Thoda Magic, & Dil Bole Hadippa. Only one person comes to mind with those movies. And that is none other than the queen of bollywood:

RANI MUKHERJEE



She was just like any struggling and aspiring actor or actress. She was often criticized for her husy voice. She was often termed as "chubby." She was made a part of a lot of rumors circulating within the film industry! She was ignored by top named Bollywood Stars for the stupidest and childish reasons ever! Yet she has professionally ever situation and obstacle with ease. She is a friend to all and an enemy to none. No matter how harsh people have been to her, she has always taken everything lightly! Very few today have that quality in them!

Rani's biggest breakthrough came from co stars and friends Aamir Khan (Ghulam) and Shahrukh Khan (Kuch Kuch Hota Hai)! She has stated in various interviews that without these two personalities she wouldn't have been able to reach the success the has today without them! These two films brought out the actress in Rani. Kuch Kuch Hota Hai gave Rani her first award (after receiving an award for Best Fresh Talent for RKAB) for Best Supporting Actress. This began the career for India's most successful actress today!




With the success of these two films, Rani's career began to soar. She began to give to hit after hit! And with each movie her performances got stronger & better! Not all the films soared and did exceptionally well at the box office. But that didn't shatter Rani's self confidence and belief that she could do better. She didn't stop then. She kept doing what she loved.

Saathiya gave her a role of a sweet & simple character. The magic of the character gave many nominations to Rani in various award functions! She acclaimed an award for Best Actress for this film! After that success shined upon Rani. She gave hits like Yuva (best supporting actress), Hum Tum (best actress), Veer Zaara (best supporting actress), Black (best actress), & Dil Bole Hadippa (best actress) all of which she received awards for! Her performance in Black captivated millions of viewers who saw the film!



After 32 years Rani still stands as the numero uno actress of Bollywood. Today as we come together to celebrate the day a Queen was born, we remember all the contributions that Rani has given to the film industry. Whether it be with Shahrukh or Saif; Salman or Aamir; Kajol, Kareena or Preity; Bobby or Arbaaz; Anil Kapoor or Govinda; Abhishek or Amitabh Bachan sir; Hrithik, Ajay or Vivek; Konkona or Hema Malini ji; Ranbir or Shahid Kapoor, she has made a place in every in everyone's hearts! She has shined with every co star & has always tried to maintain friendship and with each and everyone!

On this beautiful day of March 21st, we here at India Forums want to wish the queen of Bollywood all the success in life & a very happy birthday! Truly a queen was born on that day! Rani we all love you & will always continue to shower our love & support on you! HAPPY 32nd BIRTHDAY!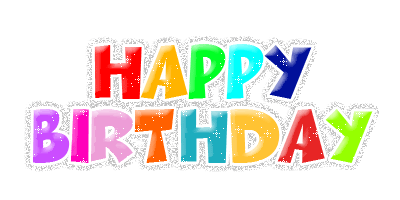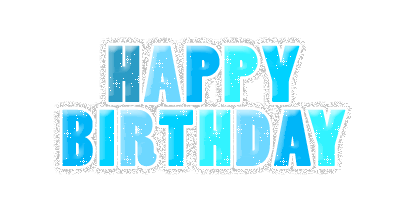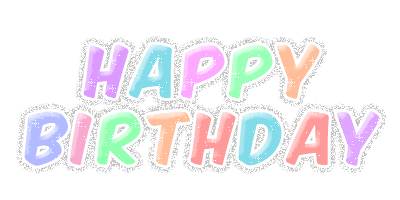 The Cake =]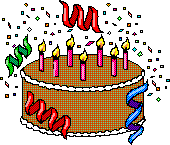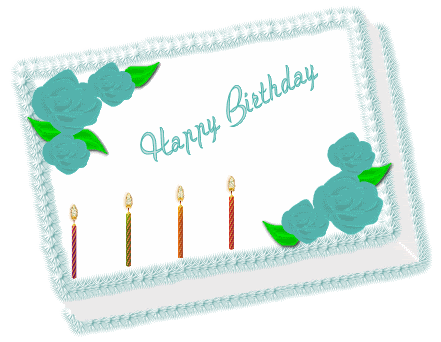 As most people know I'm a huge Rani Mukherjee fan. She truly is the queen of my hearts! These wonderful birthday sigs were made by two lovely friends and Rani fans, Patty & Sanjana! Thank you both for such lovely sigs!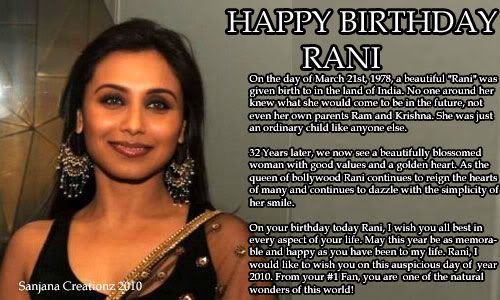 For the first time ever I decided to make a birthday video. It is not that great of a video because I'm not a professional at making such good videos. But I tried my best. I know the sound quality is poor. But this is made just exclusively for the queen. And there is a high chance that this could reach to her personally!


http://www.dailymotion.com/video/xclayl_ranimbirthday

May success continue to shine upon our queen! Her parents must be so so so proud of their daughter. And Raja & Jyoti must be so happy for all that Rani has done throughout her life! She loves her family more than anything! Well here's wishing the Queen of Bollywood, Rani Mukherjee, a very happy 32rd birthday! We love you Rani. Have a fantastic birthday!

Credit for the following pictures: Sussi Forums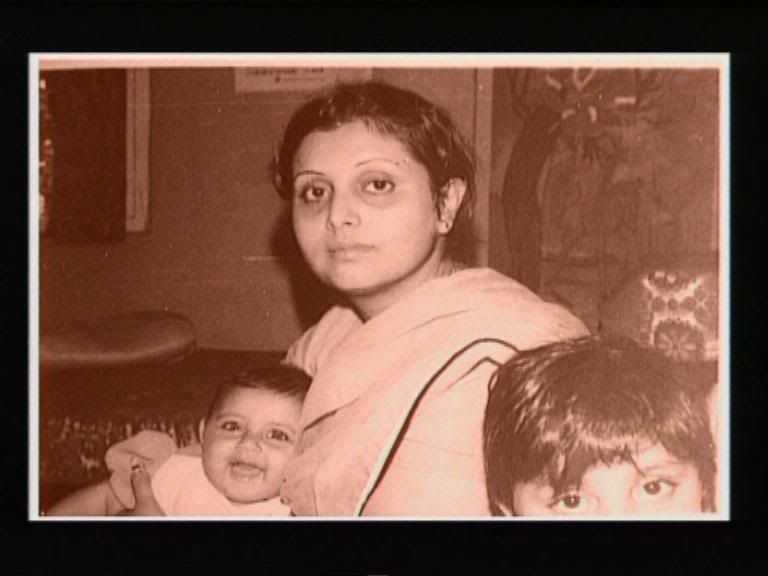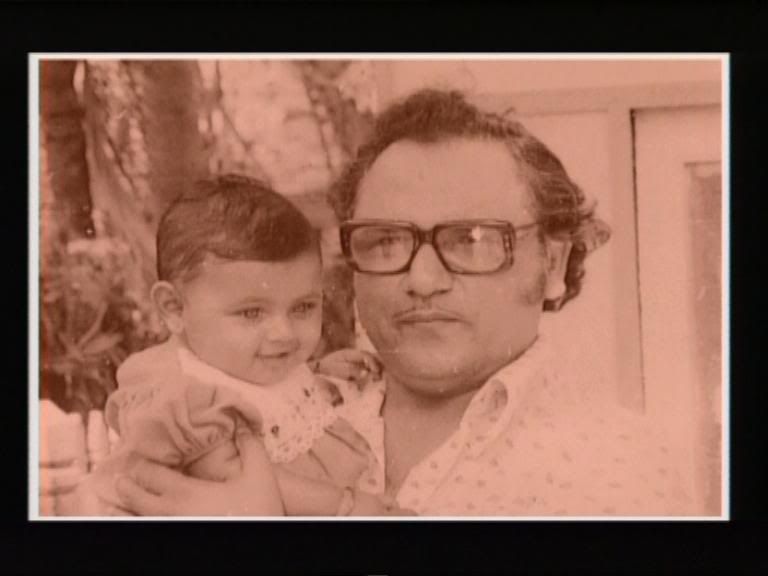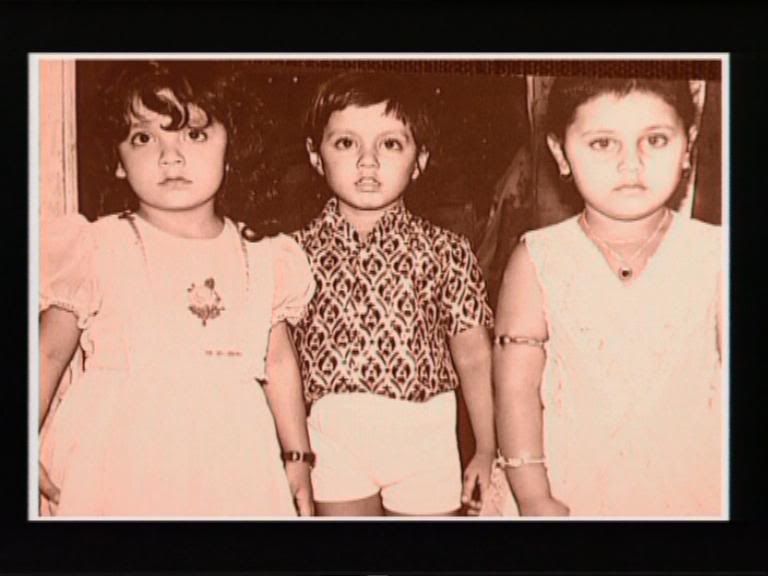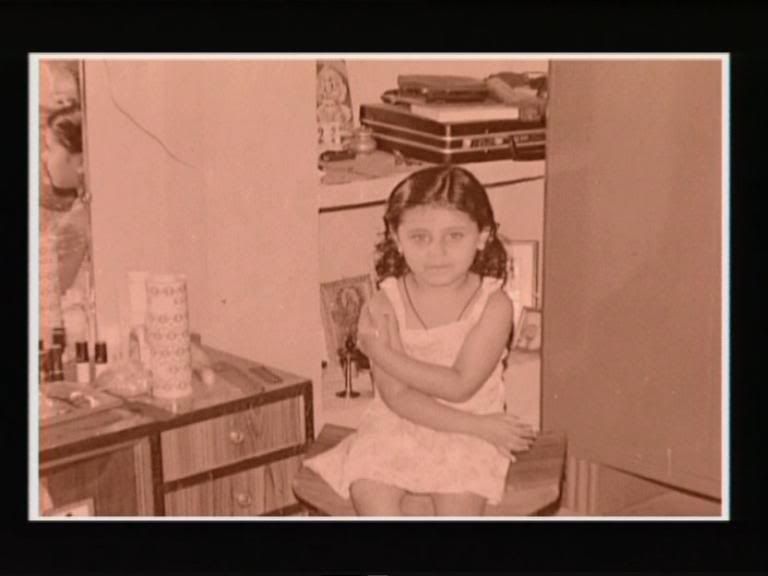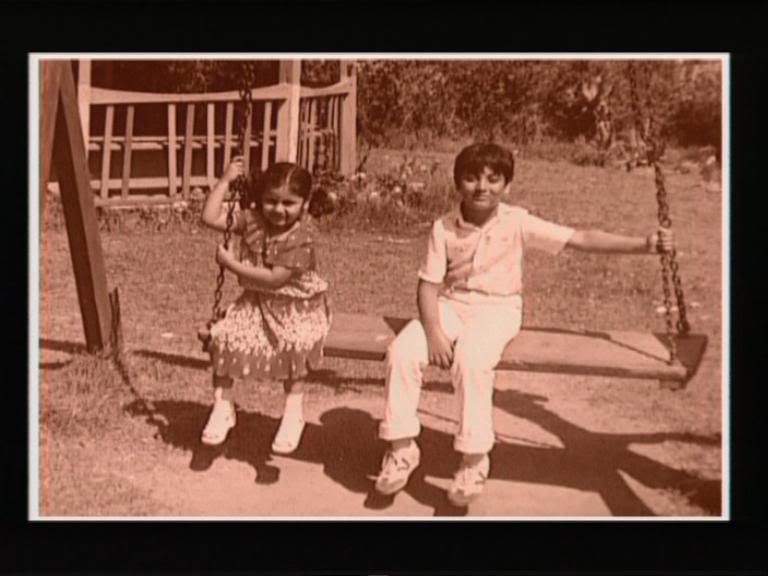 Tu jiye hazaron saal yeh meri hai aarzoo...

Sincerely & love,
The biggest fan of Rani Mukherjee
Cutiepie Rani


Edited by Cutiepie Rani - 17 March 2010 at 2:05pm