About The Show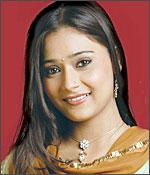 'Bidaai' is a show of an orphan girl 'Sadhna' and her life's struggle with her biggest asset, that is her own 'beauty' which becomes her biggest curse.
Sadhna, an extremely fair and beautiful girl is in complete contrast with her cousin sister Ragini, who is dark and unattractive. However the two sisters share a great camaraderie of love and bonding despite the differences in their physical attributes. Brought up by her Mama(Prakash Chand) and Mami (Kaushalya) in the beautiful city of Agra, Sadhna a humble and simple person, is left upon the mercy of her relatives after an early death of her mother.
Her father (Kishan Chand) works in America with the only hope to someday fulfill his wife's dream of seeing their daughter's 'Bidaai'. But all this is far from simple, as Sadhna's mami has always hated her for her beauty and simplicity, which becomes the ground to emotional upheavals in the family.
Meddled with complexities, Sadhna's life is a portrayal of the Indian society's two-faced attitude towards a woman's beauty which on one hand is her greatest asset and on the other, her greatest curse.
With its strong cast line-up 'Bidaai' will witness coming together of the veterans actors ranging from -Alok Nath (mama), Vibha Chabbir (mami) and Mahesh Thakur (Father), while Parul Chauhan (Ragini) and Sarah Khan (playing the lead character of Sadhna) are the fresh young faces on the show.
Beauty is more than skin deep...

Bidaai is a story of two sisters, Sadhna (beautiful) and Ragini (unattractive). Sadhna is the adopted child in the family.
Life is pleasant for Sadhna as she is beautiful but society is a bit rude and harsh on Ragini, who faces a lot more challenges because she is not good-looking.
Both the sisters love each other immensely and are good natured but society's approach towards them makes Sadhna's life difficult as her mother starts differentiating between them. Sadhna is treated like a step-daughter in the house and feels punished for her good looks but Ragini loves her unconditionally.
All-in-all, the story is about these two sisters whose \'looks\' determine their happiness. This unique story embarks the journey of two sisters and makes one question the belief - "Are beautiful people happier than ugly Bettys?"
http://www.starplus.in/pages/index.php?s=Bidaai&showid=17&pid=46
Pictorial Chart
Mamaji's Family



The Rajvanch Family


Video of Bidaai Ab Tak Ka Safar
This is the Story So Far telecast on Nov 10, 2008
This shows the summary from start to the Taj Mohatsav Episode
Thanks to Rahm for the links

Part 1
http://www.justupit.com/get.php?id=657d790e5db2b227b9711b35059490c7
Part 2
http://www.justupit.com/get.php?id=7a04e13065cfb4fe88568b5539da2540
Part 3
http://www.justupit.com/get.php?id=b2dd8d6b6a084c9135ecbf8bbe52ebde
Part 4
http://www.justupit.com/get.php?id=a71bd3ade38898ea2ad0a0911efdc914
Part 5
http://www.justupit.com/get.php?id=2cdbae326224c5713e94bd309363943f
Part 6
http://www.justupit.com/get.php?id=4baf03ad8260f07cbe7cec70806c545a
Part 7
http://www.justupit.com/get.php?id=9719b66757d2584c87046be611b0fe59
Part 8
http://www.justupit.com/get.php?id=528e989cb6be3961e548153b6a64312a
Part 9
http://www.justupit.com/get.php?id=b40f7e4b3ab64e24ae853143d162541d
Part 10
http://www.justupit.com/get.php?id=c0526bc5cf5058b72d970fd5dcac3e2b
Part 11
http://www.justupit.com/get.php?id=aad4034cc81bb8c61b7ce8ca69398907
Part 12
http://www.justupit.com/get.php?id=6edcd1e8a05d415c82c9b13e6bfd63ee
Links of Nov 10, 2008 on Youtube
(thanks to pinkykhan)
Part 1
http://www.youtube.com/watch?v=ZaZRdVBZrHc
Part 2
http://www.youtube.com/watch?v=JKBrRkf2DW0
Part 3
http://www.youtube.com/watch?v=ttFrBadfxfY
Part 4
http://www.youtube.com/watch?v=8x0Rd67hNRI
Part 5
http://www.youtube.com/watch?v=7OJOSeIwGW8
Part 6
http://www.youtube.com/watch?v=zUcdXyqKeQw
Part 7
http://www.youtube.com/watch?v=hIErOLllYlQ
Part 8
http://www.youtube.com/watch?v=QEZe5CKAu8M
Part 9
http://www.youtube.com/watch?v=LTFUeRDSG0M
Part 10
http://www.youtube.com/watch?v=txo8fBW5eNk
Part 11
http://www.youtube.com/watch?v=sGnqJKp1NtA
Part 12
http://www.youtube.com/watch?v=7ts_isblY30
Part 13
http://www.youtube.com/watch?v=6_yodTP8WPE
Part 14
http://www.youtube.com/watch?v=Vz2DcDxxwzE
Part 15
http://www.youtube.com/watch?v=rFHdjADe7Vo