4. Now this is a vvveerrryy important step. Follow very carefully.
* You need to now add the text. Use the text tool and click on the image. A new window will open and prompt you to write what you want on it. I will write Misty on mines. Click ok, and you should have something like: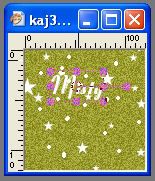 * Now, cut the text by pressing together "ctrl+x", then repaste it as a selection with "ctrl+e). Now without deselecting it, select the layer that has your glitter effect on it. Press "ctrl+c", which will copy the glitter below in the form of your text.
* Now open up your previous image again, with kajol. This time, press ctrl+L and your text will appear in the form of the glitter look (make sure you rename the layer for later use.
* Now go back to the glitter text and this time, move your selection to another location on the image, one that has different patterns on it. Again, select the layer with the glitter and "ctrl+c". Now return back to your avi and paste it again. Make sure you align it exactly with your previous text.
* Repeat this procedure as many times as you want for added effects.