Shahid Kapoor CC...Join In! (Page 7)
Post Reply
New Post
.Destiny.
IF-Sizzlerz
Joined: 16 December 2009
Posts: 13299
Dear
Guest
, Being an unregistered member you are missing out on participating in the lively discussions happening on the topic "
Shahid Kapoor CC...Join In! (Page 7)
" in
Chat Clubs
forum. In addition you lose out on the fun interactions with fellow members and other member exclusive features that India-Forums has to offer. Join India's most popular discussion portal on Indian Entertainment. It's FREE and registration is effortless so
JOIN NOW
!
.Destiny.
IF-Sizzlerz
Joined: 16 December 2009
Posts: 13299
.Destiny.
IF-Sizzlerz
Joined: 16 December 2009
Posts: 13299
Posted:

02 March 2010 at 4:28pm

| IP Logged

SHAHID KAPOOR MJ ACT PROMO..!! SHAHID JACKSON 2010





love Prachi


Edited by PrachiluvsKSG - 02 March 2010 at 4:28pm
.Destiny.
IF-Sizzlerz
Joined: 16 December 2009
Posts: 13299
armaankashridz
IF-Rockerz
Joined: 01 January 2010
Posts: 7548
Posted:

02 March 2010 at 8:15pm

| IP Logged

LUV THE PICS


The following 1 member(s) liked the above post:

.Destiny.

,
.Destiny.
IF-Sizzlerz
Joined: 16 December 2009
Posts: 13299
Posted:

03 March 2010 at 9:10am

| IP Logged

Shahid Kapoor has a huge fan following in India and abroad. Most are girls between the age of 13 and 25. Some of the younger girls have got fan sites where they exchange a lot of info and banter about him.

They keep abreast with all his daily social activities and award functions and appearances. Some of them sitting in Australia and UK have come up with these names:

Shanatics - fans who are fanatic about Shahid Kapoor. They all seriously refer to each other as Shanatics.
Shayanka - fans gave this name to Shahid and Priyanka?s jodi in Kaminey. This is the section that wants the jodi to do more films and make them happy.
Shanelia - fans gave this name to Shahid and Genelia?s jodi in Chance Pe Dance.
Sharashtra - all the places in the world where Shahid rules.
Shak - that's another name for him.
Sasha - that's a name that his friends actually use for him. It?s also very popular online, though this has not originated online.
Fafha - that's the F equivalent of Shasha.
Fahid - of course... that's hugely popular now thanks to the F language of Kaminey.
Shonamuni and Charlie Boy - are both take-offs from Kaminey too.
Shasome - is what they think Shahid is, so also Shantastic.
Sharricane - is the hurricane that is Shahid
Shanatics reside in Shashaland.

Incidentally, the girl fans are called Kaminies and Charlie's Angels.
.Destiny.
IF-Sizzlerz
Joined: 16 December 2009
Posts: 13299
Posted:

03 March 2010 at 11:14pm

| IP Logged

AOTHER SHAHID MADNESS


The Shahid mania was there for all to see when the actor recently visited Delhi to attend an event organized by a brand of jeans he endorses.

A lot of people, mostly the dealers and retailers of the brand, had turned up to see Shahid Kapoor. Security was in place and the actor happily addressed the crowd. However, things began to go out of hand when the organizers invited the winners of a contest to come up on stage to meet Shahid and have their photos clicked with the star.

What next? Scores of people rushed onto the stage. In a moment they were joined by more. And before the security could step in, a lot of people were on stage to meet Shahid.

As the wooden stage was not designed to withstand the weight of such a huge crowd, it collapsed.

Thankfully, before the stage came down the organizers had the good sense of whisking Shahid away from the crowd.

Yeah! and we thought Shahid's magic was on the wane.
.Destiny.
IF-Sizzlerz
Joined: 16 December 2009
Posts: 13299
Posted:

03 March 2010 at 11:36pm

| IP Logged

Masterji's a heart-throb!

(isn't he simply adorable in this picture, he looks more huggable than the kids
)



Kid stars teach Shahid Kapoor a thing or two on film sets
SHARIN WADER Times News Network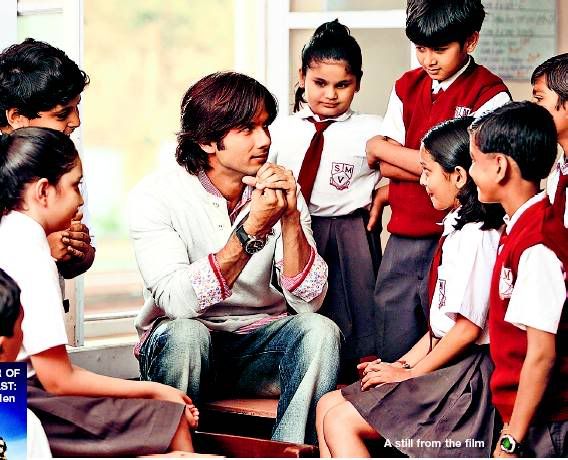 We kid you not, that's Shahid Kapoor playing a teacher in Ahmed Khan's film Paathshala.

The role, he admitted, took him back to his own days as a student in Delhi's Gyan Bharti School. Shahid told BT on the occasion of Chilrden's Day, My friends and I were called the pillars of our class because we used to be forever standing outside. I was a very naughty kid and often got punished by my teachers.
His naughtiness wasn't just restricted to school. At home, he troubled his mother and gave the neighbours sleepless nights. I used to play cricket in Delhi and have broken a lot of window panes,said the actor. But that was before Cupid struck the 12-year-old Shahid and he fell in love with a 16-year-old girl who lived two blocks away. But since I was only 12, she never took me seriously,he regretted, and an 18-year-old boy patoed her. I was heartbroken. He later had a crush on somebody else that remains till date. My next love was Madhuri Dixit and I think there's nobody like her,he blushed.
When Shahid's family moved to Mumbai, he got to know choreographer Ahmed Khan. They're friends now for 18 years and it?s natural that Shahid wanted to be part of his friend's first film. Paathshala also stars Ayesha Takia, Nana Patekar, kids Ali Haji, Dwij Yadav, Avika Gor, Swini Khara and others. Shahid is loved by the kids on the film sets. I bonded really well with them. They are professionals. On the first day, I thought I would teach them a thing or two. But they told me that they knew their job, so I just followed what they told me to do,he laughed.

Popular Search Terms: shahid kapoor in signature jeans
Post Reply
New Post
Go to top
Related Topics
Forum Quick Jump
Chat Clubs Topic Index
Please login to check your Last 10 Topics posted
Join India-forums
Today!
Be the part of India's biggest discussion portal.
Itís easy to Join and itís free.
Here's why members would love to be a part of India-Forums.com:
Interact with more then 650000+ members from all over the world.
Missed your favorite show? Read our Daily updates on different shows.
Get the videos of all your favorite shows.
Read the reviews of the latest movie released.
Know more about your favourite celebrity.
Get the latest news on bollywood and telly world.
Register now while itís free!
Already a member? Close this window and log in.