~Rishtedaars Adda~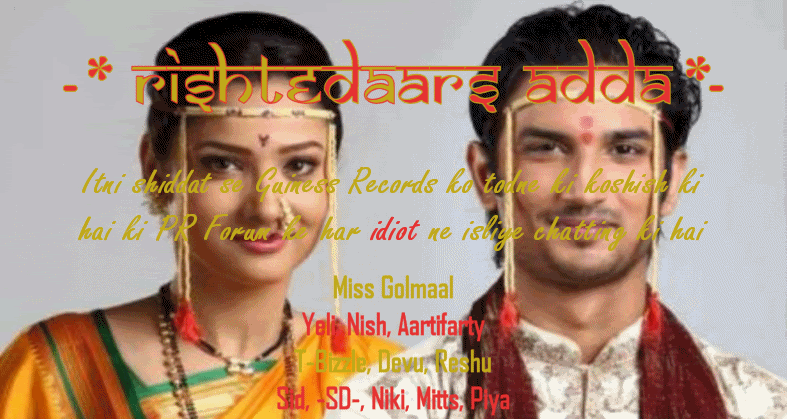 Hello, Salut, Salaam, Namaste Ji !

You are here at Rishtedaars Adda .. You are welcomed to discuss and chat about the show or anything else .. But ( yes there's always a but ..
) just make sure to respect the following rules :
Rules :
Avoid quoting as much as you can or long quotes .. the page will load more faster this way
Don't use fool language and make sure to follow the IF COC
Spamming should be (il)limited

No fighting/bashing/attacking actors/characters/members .. however you can criticize in a nice way the characters ..
the words "thanks" nd "sorry" are banned here ..

Rights :
Avoid saying "My Sushant" or "My Preet" .. only I can .. .. chalo Piya, you can say "My Sushant" too
Rasika belongs to Ali ( Yeli ) only !! his dear Mom ( I was literally forced to write ths ! )

Enjoy and have fun ! See how nice I am .. I don't impose you too many rules
ps : credits to
Meeti ( Mitts ) for the title
Aarti ( Aartifarty ) for the banner
Yeli ( -Ali- ) for the punchline/tagline
myself for the idea, the topic nd the presentation
nd everyone for the contribution !

I never knew that RA would be such a hit .. thanks to all the participants ! I think we should make our entry to the guiness book as we finished the RA ( Rishtedaars Adda and not unfortunately Rasika Aai
) .. and now we are already on the sixth one !!
So congrats PRians .. you guys are amazing and too fast !!
Enjoy and rock this thread as well .. let's see if we can break our record

Have fun !

Keep On Rocking !


In addition, we need your support to make the Pavitra Rishta Members Awards a success just like this thread .. we count on you and we hope you all will participate and rock it !! Do vote for your favorite members !

IMPORTANT : We've been really working hard on the Members Awards .. Now we want all of you to go and vote ! And comments are also welcomed !


Edited by tasnime - 27 February 2010 at 12:15pm