The fun isn't over yet!
Now here are some special birthday messages!
rpmenon
"Many,many happy returns of the day,Bee.I hope you have a blast on this special day.May all your dreams come true,May you meet DM one day too
"
Radhika
chalia
Its time to confess,
Its time to acknowledge,
A person i've never seen or met,
Effervescent, invigorating, creative and cute
Its time to dedicate some space
Its time to send some blessing
For my "virtual" friend - UMA!
Happy Birthday!



fuzzyface

Uma is a cheerful, fun loving, very considerate and warm person.
I wish all the happiness in the world.
God bless her soul and family
anu_cooldude
To my dear Uma didi,
Happy B'Day.........Wishing you loads of happiness,health,prosperity,success and peace.
On your birthday, let me wish you plenty of joy,
I know you're too old(joking)
, but I still bought you a toy! I hope you liked the teddy.:):)
I also got you a poem written by someone--

Birthday Reminder
It's your birthday, so don't feel down;
Don't think bad stuff and frown;
Your life should be filled with mirth;
Just look what you've done since your birth.
You started out really small,
Now you're really filled out and tall.
In the beginning you would just cry,
Now you can laugh if you try.
You've done quite well since your start,
So as you grow older take heart;
Keep up the good work and don't be a jerk;
Stay happy life long
Loads of love,
anu
love2211
Each year your birthday reminds me
That I really want to say
I'm very glad I know you;
I think of you each day.


I hope you enjoy your birthday,
All the pleasures it has in store,
And because I appreciate you,
I hope you have many more!
s000
HAPPY BIRTHDAY UMA DI - I GOT YOU A PERSONALISED CAKE HOPE YOU LIKE IT!!!
HAVE A WONDERFUL DAY AND HAPPY LONG LIFE!!
LOVE SAPNA XXX




*Piku*


Happy Birthday Umaji
Close your eyes and make a wish!!
May all your wishes comes true!!!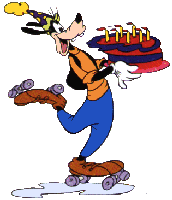 On your birthday I wish you happiness, laughter, and joy.
May all your wishes be fullfilled
Have a wonderful year filled with lots of love, prosperity, wealth and Masti.
Happy Birthday to you
I hope you have many more to come
Three cheers to you
Lots of best wishes and love
Piku
soap-critic
Dear UmaWishing you A Very Happy Birhday!!!Enjoy your Special Dayand May Everyday be Good and Kind to You Today & Always
Hema
nikita_88
Dear Uma,
Have a fabulous birthday.
Hope all your dreams and wishes come true
Here is a little present for you (all credit to Dew-Drop)
Love
Niki
Thanks to everyone who sent in messages, if your message is not up here please send me a PM to let me know
and a Sorry to all those I did not get round to PMing!


Edited by nikita_88 - 19 February 2010 at 6:11pm