Model, not role model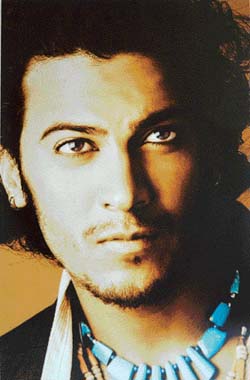 Rayo Bakhirta. Photo: Anil Dayal
Most of you must have seen his face and his elegant swinging figure on the screen. Rayo Bakhirta, born in a middle class family in Jubbal, is now an established model in Mumbai—well on his way to stardom. Much will be heard about him in times to come.
You can now match his picture in this column with the big brand television ads.
Rayo figures in ads for Limca (along with the famous Riya Sen, Moon Moon Sen's daughter), Timex watches, Sugarfree Delight, and with the biggest of them all—Aishwarya Rai—in the Lux ad among three males. He is currently shooting for Onida, Nokia, and was on the sets for Amul when we phoned him at Mumbai. You may also recognise him as the lead man in the Punjabi album, "Atma".
Gossip lines have started ringing in the tinsel world—a sign of someone's success. Recently, a tabloid attached to Mumbai's leading daily carried their picture together and is fairly excited: " Out of the three models who shot with Ash for the film, it was Rayo who seemed to have caught her fancy the most… So much so, Ash gave the other two the royal ignore and was seen chatting up Rayo at restaurants. Arise Sir Rayo, you may have just joined the ranks of the privileged few to have won the Queen's favour". Of course, as expected, our good boy Rayo laughs it off, in response. He has been a quick learner! His friends claim that negotiations for major movie roles are in final stages.
Rayo was least interested in formal education, though his family wanted him to become an engineer. He loved singing, and playing guitar especially in the forest areas of Jakhoo. "Rock is my life ", sums it up. The turning point came in June 2004 when he went to Delhi to see the singing star Brian Adams' show and moved on to Mumbai. Hardships included sleeping on the floor in a studio for months, "thanks to the chowkidar". He did menial jobs to survive. The bright journey began with selection for a ramp show and passing the screen test for Tata Tea, Hutch etc ads.
But his urgent, fervent plea rings out on the phone: " Please, please tell our youngsters in Himachal not to chase this glamour dream…it's so terribly risky and frustrating. They shouldn't make me their role model. I have been just lucky, but you don't know what all I had to pass through…"
Maybe, Rayo will one day share it all with us.