part 1
Its a story of a small town near ajmer. police commissner vijaypal n his wife snehlata are very good people.
lets go into te past to continue the story vijaypal was very young when his mother died his father marry another woman she was very very nice n lovable to vijaypal.she has a son jaimal that is vijaypal's step brother but vijaypal loves him very much.after sometime their mom dies. vijaypal got married with snehlata n he was a inspector that time. jaimal married a dancer which upset vijaypal's father as they belong from a royal family n its against the family rituals. vijaypal's father give all his property to vijaypal's son and died after sometime this upsets jaimal n his wife. the story moves n vijaypal's daughter in law give birth to a girl. the girl was very pretty n uska naam rakha jaata hai ananya. but the girl lost her parents in an accident. vijaypal after loosing his son n daughter in law become very protective towards her as she is the only daughter to them now.snehlata is a very kind n loveable to her but vijaypal due to his protective nature dnt allow her to talk with any1. he sent him to hostel for sometime n today is the day ananya ariving home.
preparation going on.
snehlata:jhumru kahan hai tu ye rooms abhi tak clear kyu nhi huye.
jhumru:dadima bas ho gya aap chinta na kijiye
vijaypal enters n he is very happy n forgot to wear his shoes n get fully dressed.jhumru sees n laughs
sneh: kyu has raha hai re
jhumru:dadima vo dekhiye
vijay:are sneh jaldi karo anu ko lene nhi jaana kya
sneh:jaana to hai ji par aap
vijay:are vo sab chodo jaldi karo
sneh:are suniye to
vijay:sab baad me abhi chalo
sneh:rukiye
vijay turns
sneh:pehle shoes to pehen lijiye beti ke aane ki khushi me vo bhi bhool gye
thy laughs
vo ready hokar aata hai n thy rush towards airport
at airport vijay eagerly waiting to see his daughter
sab nikal jaate hai but vo nazar nhi aati vijay n sneh got tensed
vijay mving here n there suddely a girl comes peeche se n hugs vijay n shouts dadu
vijay turns n got a big smile he hugs her tightly she's ananya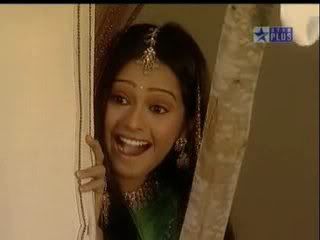 sneh:saara pyaar apne dadu se hi karegi ki mere liye bhi kuch rakhegi
ananya:dadimaa aapko bhala bhool sakti hoon mai she hugs her
sneh:kitni sunder ho gyi meri bachi
ananya:matlab pehle hum ache nhi lagte the
sneh:haan thodi moti thi na
ananya:dadu dekho na
vijay:acha chalo bas karo n ghar chalo
they sit in the car n reach home
vijay:sneh mai office ja raha hoon anu ka dhyan rakhna koi aaye to milne na dena n akele kahin mat jaane dena
sneh:aap itni chinta kyu karte hai kuch nhi hoga humari bachi ko
vijay:tum sab janti ho sneh
thy looked at each other like thy are hiding sumthing from every1 n sply ananya
ananya:dadu aap ja rahe hai
vijay:haan bache jaldi aata hoon phir hum apni raj kumari ko bahar le jayenge
ananya:ek shart par
vijay:kya
ananya:pehle in body guards se kahiye humare peeche ghomna chode ab to hum apne ghar me hai
vijay:acha theek hai
he orders the guards to stay outside the house n leaves
ananya:dadi maa jhumru kaha hai
sneh:yahin hoga
jhumru:lo hum aa gye
ananya:kahan tha tu humse milne kyu nhi aaya
jhumru:aapse milne aa jaate to aapke pasand ka khaana kaise banate
thy laughs
a day passes in the morning thy r having breakfast
jaimal enters
jaimal:namaskar bhaiya
vijay:aao jaimal kaise ho
jaimal:hum to theek hai bhaiya bas suna ki ananya beti aa gyi to unse milne chale aaye
sneh:akele hi aaye bahu ko bhi le ate
jaimal:pranam bhabhiji
vo actually minister sir ke ghar me function hai to sab wahin gye huye hai
vijay:anu beti chote dadu ko pranam karo
ananya dnt like him but still she talks to him coz of vijaypal insists.
jaimal leaves
ananya:dadu aap kal hume bahar le jaane wale the but nhi gaye hum abhi chale
vijay:abhi
ananya:plz plz dadu chaliye na
sneh:le jayiye na
ananya:aap bhi chaliye na
sneh:nhi tum dono jao abhi hum phir kabhi chalenge
thy both goes out
roam at various places do lots of shopping n njoys a lot when after returning home ananya jid karti hai to hv icecream vijay use car me bithake ice cream lene jaata hai n suddenly some goons came n holds her hands takes her out she shouts but before vijay comes to her the goons take her with him.
part one ends
plz do comment
thnku
precap:entry of prithvi


Edited by khushi909 - 21 February 2010 at 11:23am