HAPPY VALENTINE'S DAY!!!!
Yup!! The hot favorite of all the lovers. Who would want to miss this day. Going out with your special someone, giving them gifts, expressing your love - this day is totally romantic.
A lovely day, for sure! And for those who are single and are happy with their status, it's a day to express your love for your family and friends! This day may be overrated and true that we don't need a day to express our love. But think, with our busy life, this day asks us to pause and take the time to make our special people feel SPECIAL.
Isn't that great?? Today you must let your friends, family or your someone special know that they mean a lot to you! Send them gifts, chocolates, e-cards or write a poem for them, do something different!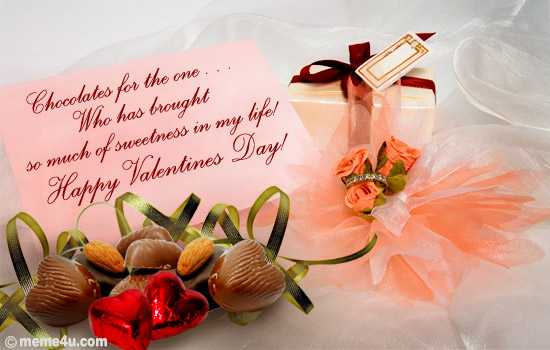 If you loved someone, how would you confess your love?
What characteristics do you want in your partner?
If you were allowed a totally filmy or 'made for each other' type first meeting, how would you like it to be?
What are the best ways to let someone know that you care?
Which is your all time favorite romantic movie?
Which is your all time favorite romantic song?
And what song would you sing for them(special someone/family/friends) today??

What's the best thing to do on Valentine's day?

So guys, once again!! A very very happy Valentine's Day. May you have a wonderful day!!