Welcome Back Friends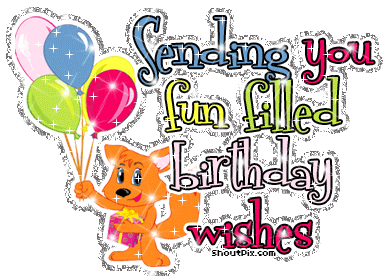 Special Thanks:



HB Iqbal!
Your hotness increases the room temperature, n i so blame you for global warming! :P
i loved you in KYPH n ur jodi with Kripa is unforgettable..i hope u do return to the TV screen..would love to see u again, n if its with Neha, it'll be even more awesome!
enjoy ur day to the full ;)
-aish






Happy Birthday Iqbal!!!
May u hav many many more!!!
May all ur dreamz and wishes cum true.....
May Allah bless u with lots of happiness nd watever u wnt in your life.......
Hav a funfilled day......
Sidra




Hope lovely surprises are coming your way
To make your Birthday a Wonderful day
Smiles and laughter, joy and cheer
New happiness that stays throughout the year
Hope your birthday brings all these and more
Filling life with surprise and joys galore!
So on this very special day
I would like to say to you
I hope you'll always find happiness
In whatever you may do.
Another candle on your cake
Well there's no need to pout
Be glad that you have strength enough
To blow them all out!

I Wish you success and prosperity, keep rocking!

With loads of Love,
Nadz



Many many have returns of the day...Wishing u all the happiness in life....May u have many many more..Ameen....May ur all dreams and wishes come true.....Happy Birthday Iqbal!!!!
With lots of Love
Iqra!!!


MANY MANY HAPPY RETURNS OF THE DAY...HOPE WE SEE YOU SOON ON TV. MISSING YOU A LOT


"May your special day be filled with memories and flowers, friendship and happy hours.
Because you're you, I'm celebrating today! Happy Birthday
Go you, its your birthday, we're going to party like its your birthday!
You're older today than yesterday but younger than tomorrow, Happy Bday!
Have a wonderful day and fabulous year. "
~Luv Fam#1~


Hey Iqbal..
Many many happy returns of the dayy..
may all ur wishes and dreams come true..wishing u all the happiness in ur life
hope to see u back on screen soon..and with kripa LOL
hope u have an amazing day..
Luv u.
~Zunni~



Well here is someone's special birthday who came in our lives and filled it with happiness and joy'
Who made me drool over him as ROCKSTAR ANGAD and showed us that love is a feeling from which no one can escape' and who made us fall in love with SHIV KAPOOR'
Who made me think of him 24/7 for the beautiful portrayal of the responsible and dedicated ABHIMANYU ADHIKARI who taught the true spirits of patriotism and love for one's country' He made me laugh on his antics as Raghu and made me cry with him giving up his love as SHOURYA'
It one and only IQBAL KHAN'
Just wanna say that may he lives as long as the stars and with life full of joy and happiness and a whole bunch of beautiful surprises'
May you lead a peaceful life with prosperity surrounding you and your family'
Hope that success always follow you and you achieve what you want and get everything you desire for'
Hope you enjoy your birthday with you family and friends and have a beautiful year filled with joy and fulfils your heart desires'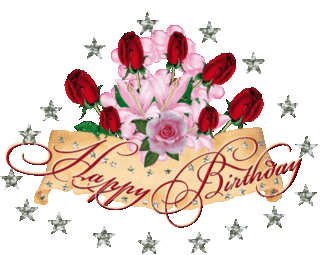 Take Care
Zoya


hey all,

a famous man once said...

"Our birthdays are feathers in the broad wing of time"

so yeah... i didnt get what he tried to say... but i anyways thought of adding this... coz i feel wordy expressions put nice impressions...
hmm... usually we wish birthdays to people who we know personally like friends and family and after landing on this wonderful place called IF, i have also learned to wish birthdays to my IF buddies, the people whom i have never seen but they form a part of my life for a couple of years...


but this is my first ever time to wish a person to whom i must be a total stranger but he holds a special place in my life...
i have no experience wishing birthdays to celebs... so please hun friends ignore if i type something really weird...


hmm... from where should i start... may be first impression is appropriate ting to go with... ok i was never so much into these TV serial things... i used to watch few of them but never regularly... until the day my sis introduced me to a serial called Kaisa Yeh Pyaar Hai... i saw a promo and instantly went flat over the awesome guy Angad,till then i didn't even knew his real name...
then i started watching the show and my madness for the guy kept on increasing... and today i can confidently declare myself as one of the biggest fans of his....

my last para must have told you all that the person in limelight is non other than our ROCKSTAR,the ultimate hottie of the telly world



what do i say about him??? i can go on and on in his praise... in short i can say he is the most wonderful actor i have ever seen on Television... and yes he is also my longest crush till date... i still fantasize about him...ok without any further chattering i should directly come to the point...

and the point is It's Iqu's Birthday....

oh wow.. he and I share the same birth month FEBRUARY...
see gals... two great people are born in the same month... i think Feb should be officially declared the month of ROCKSTARS
... one being our IQBAL and the second, no points for guessing... MAIN HOON NAA..
IN SOFT GLEAMING NIGHT OF STARS
MAY ALL UR DREAMS COM TRUE
MAY EVERY STAR OF EVERY NIGHT
BRING LOV N JOY 2 U
HAPPY B'DAY 2 U...
ok guys i am such a big fan of Iqbal that i can go on and on talking bout him... but i better don't share my weirdest Iqbal thoughts with you all... coz then you all will definitely thing i am crazy... so better stick to the point... i mean conveying my Birthday messages to him...
A greeting on your birthday
For a very happy day
And then a year
That brings the best
Of everything your way

Enjoy your special day!
i really wanted to make a very special message, but seriously time is the essence... my exams are going n that's the best i can offer... even today i just came after giving my Mathematics paper... and now i am sitting in front of PC... typing this out...
Hope all that you do
Turns out happy for you
And all that you wish
Comes your way,
So each hour will bring
Every wonderful thing
You could ask of a wonderful day
ok i believe words cant express my fondness and craziness for the guy... so i better not try to do... i think i should rely on other person's words... hahaha... the best idea is to copy paste greetings from other sites... see i am smart...
You're always very special
And you should know today
That you are wished the nicest things
That life can bring your way
Like warm and loving wishes
And happiness and cheer
And everything you need to start
Another happy year...
ok thats it... got to go now, study time...
so once again...
Hope lovely surprises
Are coming your way,
To make your
Birthday a
Wonderful day.
HAPPY BIRTHDAY IQBAL!!!
loads of love,
Suhana (the biggest Iqbal Deewani)