Welcome to the 1st Fan Club of Aditi Gupta!
Aditi Gupta plays the character of Heer (female lead), in Balaji's Kis Desh Mein Hai Meraa Dil.



Nickname: Lavi
DOB: 20th April 1988
Hometown: Bhopal
Studies: Pursuing Fashion designing from Symbiosis
I-F Profile:
http://www.india-forums.com/celebrity/2554/additi-gupta/
Aditi Gupta on About herself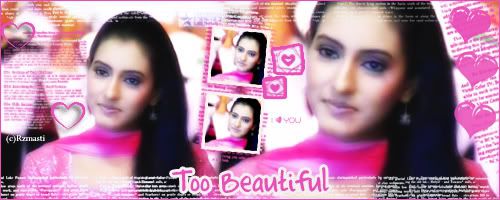 "I am basically from Bhopal. I am doing my second year in fashion designing at Symbiosis University. I have an elder brother who is an IITian and working in Noida."
"Acting was never on mind as a career option. In fact, I myself don't know how I bagged the role for this show. Balaji was having auditions in Pune and I just decided to go for them. I was quite surprised that I got selected. But I was very happy to get an opportunity to start my acting career with such a great show and production house".
"I have taken a year's break from my studies. I would definitely like to move further in this industry, but I will also continue with my studies as and when time permits."

Extra 'D' added to her name

"Ekta has been consulting us for ages, and we have numerically corrected all her serials. With regards to Aditi, the lead girl of Ekta's new show (Kis Desh), I found that as far as her DOB is concerned, she is well placed. She is ruled by No.2 which gives gifts of imagination and makes a person creative. In Aditi's case, her DOB is powerful, but her name had vibrations and could be sorted out with a spelling change. Hence I asked her to add an extra 'D' to her name." --
Sanjay B Jumaani
"I have no clue as to why the name change was made. In fact I did not even know that Sanjay B Jumaani was consulted for the entire affair. Ekta Kapoor asked me to change my name and add an extra 'D' to it, and I gladly obliged." -- Aditi Gupta, now christened as Additi Gupta


Moment of fame: Heer in Kis Desh Mein Hai Meraa Dil
Sex appeal: "My figure. It's good to be in shape."
Starry nakhras: "One day my shoot got unnecessarily delayed. I said, 'I'm going. My head is all blocked now'."
Make-up tantrums: "I don't know anything about make-up, so I have to rely on my make-up artist only."
Bad hair days: "I ensure my hair stylist makes my hair look nice."
Catfight: "It happens not only between girl and girl but also with boy and girl."
Fuss factor: "I hate when I have to sit idle. I'd like to go out and flirt with boys."
I'll be a good wife because: "I'm very romantic, emotional and totally filmy by heart."
Mr Right: "Shahid Kapur."
Success mantra: "Only hard work pays in the long run."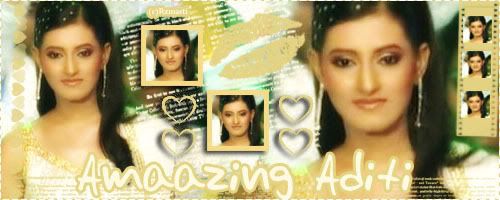 Kasauti Zindagi Kay (2008) - Special appearance in last episode
Kis Desh Main Hai Meraa Dil (2008) - Main Protagonist, Heer
Kayamath (2008) - Cameo as Heer
Godrej Khelo Jeeto Jiyo (2009) - Game show; Celeb special along with Harshad



Awards
Star Parivaar Awards 08: Best Yogya Jodi (Prem & Heer)
New Talent Awards 08: Best New On-screen Couple (Prem & Heer)
Star Parivaar Awards 09: Best Jodi (Prem & Heer)
SBS Jashn-e-Hafta 09: Ab Toh Milado Award (Prem & Heer)



Events & Appearances
'Kya Aap Panchvi Paas Se Tez Hai' Exam/Party - Took exam
Jo Jeet Wohi Superstar 'Love Theme' - Celeb guest along with Harshad; Performed
Star Parivaar Awards 2009 - Red Carpet, & Main Event; Performed & Won an award
New Talent Awards 2008 - Won the New On-screen Jodi along with Harshad
Rang De India (Indepence Day Special) - Performed
Superstar Concert - Special Celebrity guest along with Harshad
Promotion of Kis Desh.. in Delhi along with Harshad
Diwali Rishton Ki 2008 - Performed
Li'l Star Awards 08 - As audience along with Harshad
Love Ne Bana Di Jodi (Valentines Day Special)- Performed
Star Plus Fan no.1 - Gone to Chandigarh along with Harshad to search for SP's fan no.1
Star Parivaar Awards 2009 - Red Carpet, Main Event -- performed and won award
Godrej Khelo Jeeto Jiyo - Game show; Celeb special along with Harshad
Diwali Rishton Ki Mithaas 2009 - performed an act along with Harshad
Indian Television Academy Awards - Nomination; Performed
'Mere Pratigya' Campaign - Support against disrespect and mistreatment met with women


Her Ranking: guys i dont know why but are there any loyal fan of AG we said we loves her but cant we able to show our love to her by taking her rank on NO.1 shes on No.7 this week please guyz comment on her pics n her profiles like hell and mahe her on NO.1 please go guys please
*layout,banner & info by:khushi*


Edited by xoxpunkxox - 06 April 2010 at 8:35am