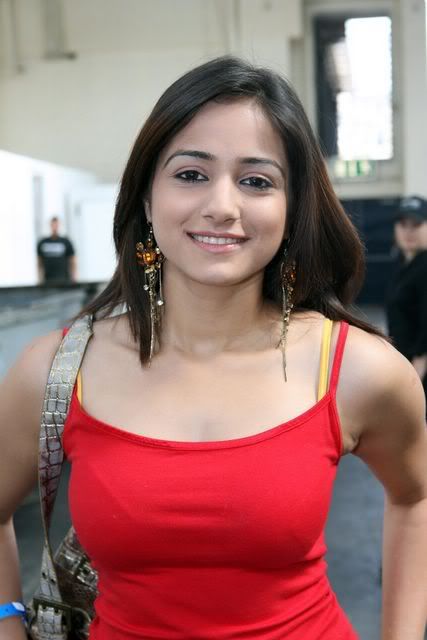 Biography:

Full Name:: Neha Bamb Zaveri

Date of Birth:: 9th May, 1985

Current Age:: 24

Born on May 9th 1985, in Mumbai, India, Neha completed her studies from Podar College. After completeing SYBCOM, Neha prepared her portfolio and sent it to the media agencies. Neha is a very out-going and social person. She is very hard working, as she said: " Work Hard, Party Harder! " On December 6th '07, Neha got married to the love of her life, business man, Rishi Zaveri.

CAREER:

Neha Bamb Zaveri rose to fame with her first mega hit soap, Kaisa Yeh Pyaar Hai. Neha became the heart of millions as the singing sensation, Kripa Sharma. Moving on, Neha also did a special appearance in a successful soap, KavyaAnjali. Neha gave another special appearance in Popkorn as a host. Followed by Kaisa Yeh Pyaar hai's one and half year of success, Neha was offered to become a Host for Star Plus's Gharelu Nuskey. Neha is currently charming her luck on Zee Tv's SUPERHIT opera, Maayka. Neha also done leading role in Maayka as, Maahi Sareen.

About Neha Bamb:
Siblings:: 2 Sisters & 1 Brother
Marital Status:: Married
Husband Name: Rishi Zaveri
Favorite Perfume:: Chanel No.5
Height:: 5ft 4inch
Birth Place:: Bombay
Zodiac Sign:: Taurus
Hobbies:: Photography
Favorite Clothes:: Plain and simple Ganjis with Denims
Debut Serial:: Kaisa Ye Pyar Hai
Fav Actor:: Anil Kapoor & Shahrukh Khan
Fav Actress:: Sridevi & Juhi Chawla
Fav Colour:: Black
Fav Designer or Brand:: I like Tommy Mango.
Fav Movie:: Hindi, I like dil to pagal hai coz those were my teenage years .... I just came back from my teenage days six months back ... those were my proper teenage days and it was like a dream world to me dil to pagal hai I adored that movie.
Fav Music:: Hip Hop
Fav Hindi Show:: I used to like a show called Khichidi. I was very fond of it. It used to come on Star one and for a short time on star plus.
Fav Romantic Scene From Kyph:: The fav scene in when angad meets kripa for the first time.
What's your views on love and marriage:: marriage! love and marriage. love is... marriage for me is with someone who will never bore me. He has to be my best friend becoz I think when you know the person thoroughly when you know everything what he wants how he wants how would he feel when I do something like this tht's the time the person know you with quite well and u both are ready to marry each other and love is the question.....for me marriage is not the end of love its the beginning the both. They are interrealated
Is acting a passion for you or a profession. what do you see acting as?:: for me its both. its one passion i had which i have converted into a profession.
What is the best proposal you have received till date and if you want to propose to someone how would you propose to him.:: The best proposal I received was 22nd of last month which was near a sea side. I always had a dream that someone would bend down on their knees and propose to me and that's what happened and the man actually told me that I would spend the rest of my life looking at your eyes which was quite flattering.and if i had to propose a guy i dnt think i would do it thoughbut i would just go tell him tht i like you ur damn cute u feel the same.
Do you believe in astrology?:: umm not really.
About Iqbal Khan & Amit Tondon:: He is very hot tempered and when it comes to amit he is a darling to be with he is like a baby you have to pamper him a lot and what I hate about amit is he is so obessesed with himself. He is too obssessed with himself in life like he needs a mirror throughout the time, he needs a water split through out the time he neeed to keep looking at himself and about suvarna one thing I like about her is that I like her command over literature she is just too good with literature, I just adore that thing in all. She is quite a mother. She loves mothering.
What name would you like to give to your baby girl if you ever thought about it:: I would call her Diya. Yeh, yeh she would be like the diya in my life.
Wat do you think about Iqbal?:: He is... one word ..helpful that's one word that came to my mind.
Tell something about Neha the person and how close are you to your family:: Oh well I live on my family. Like as in I cannot live without them. I actually perpetually cannot live without seeing them and I still live with them and I still stay with them I dont stay alone like most of the people do and that's like they made me to. They are a part of my life.
How did television happen to you?:: I got the first call for auditions from Balaji productions after someone noticed me at their office, when I went to meet a friend of mine who is a part of the team. But I could not give the auditions as I was down with jaundice. After my recovery, Balaji called me again for an audition. I appeared for it and was selected for the role.
Apart from television, what other projects have you been involved with?:: I have done a considerable amount of work in the South Indian film industry. Apart from commercials, ramp walks and teleserials, I have done one film in Kannada and five in Telugu.
How did you feel when you faced the camera for the first time?:: I was petrified! I wasn?t able to say a single line of my dialogue. My make-up and hair itself took 3 long hours! I was only 15 years old then and was doing a South Indian movie with big stars. It meant a lot to me but I was so nervous that I could not utter a word.