To Brand New year 2010
Wish you all a very Happy New Year. A brand new beginning that brings you lots of luck health wealth and prosperity. Let us all make effort to make this world a better place to live this year.
for cards like this and other occasions plz visit www.meme4u.com
Happy New year in Hindi(India)
Naya saal Mubarak Ho
Happy New Year in Spanish
Feliz Ano Nuevo (fell-EEs anyoh noo-evo)

Happy New Year in Turkish
Yiliniz Kutlu Olsun (pronounced as its spelled
Happy New Year in Japanese
Akemashite Omedetou Gozaimasu! (ah-keh-mah-shteh oh-meh-deh-toe go-zah-ee-mahss)






Happy New Year in Italian
Felice Nuovo Anno! (Fell-ee-che noo-ovo ahn-o)
This also translates to 'congratulations for the New Year!', and accompanies a grand toast and feast.
Happy New Year in Finnish
Onnellista Uutta Vuotta! (On-el-eesta oota vu-oh-ta)

Happy New Year in Swahili
Nakutakaia Heri Ya Mwaka Mpya!

Happy New Year in German
Prosit Neujahr (proezit noy yahr)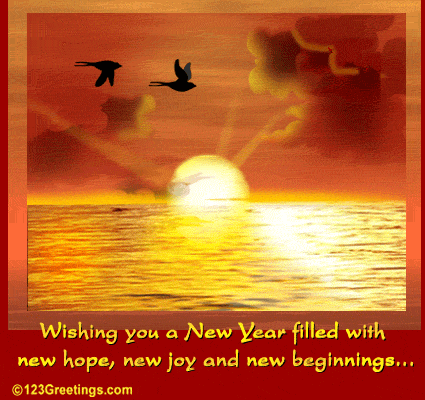 Happy New Year in Chinese
Chu Shen Tan (choo shen taan)


Happy New Year in Hawaiian
Hauoli Makahiki Hou (how-OH-lee mah-kah-hee-kee ho)

Happy New Year in Norwegian
Godt Nyttar (got newt or)
****************************************************
The events, fun game and contests coming this month are confession day for the mistake made in 2009. Mini year book, share happy sad memories of 2009, Hug day, Send Thank you cards, Makar Sankranti, Pongal, Puzzle day, send compliments Day. Some telly bolly contests. Some fun games, Take a poetry break contest and lots and lots of other fun activities are on your way from us the Crazies. So look for them begining today.
Look forward to great month and year ahead.


Edited by ramas - 31 December 2009 at 4:46pm