You're always very special
And you should know today
That you are wished the nicest things
That life can bring your way

Like warm and loving wishes
And happiness and cheer
And everything you need to start
Another happy year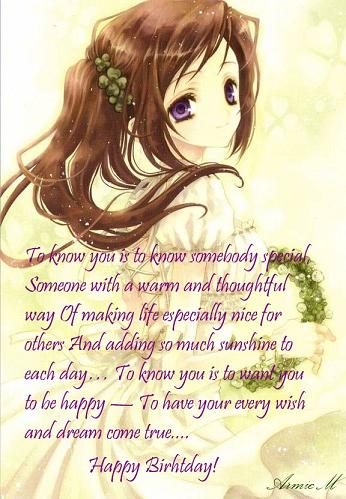 ~Amarasigamani sir~ (amara_50 )
(Tellyactor from the show Uravugal)
Indru pol endrum vaazha en idhayam kanintha nalvaazhththukkal.
Anbudan
Amarasigamani


~Gurubaran sir~
(One of the creativehead of Sun Media)
Atina Akka,


HAPPY BIRTHDAY
To my wonderful sister'
Who is also a special friend!
Sending you warm &
Loving wishes
for today and always!
Many many Happy Returns
Of the day!
Have a Great Day

gurubaran



~Rojapoooo~
( Maddie sis
)
Dear Atina ,
Well well, you made sure to get a new heart - well, not fully new but augmented by 2 stents - so this birth day is special. Won't it be great if we can wear our hearts on our sleeves - like a new dress or a new hair style - so the rest of the world can see how special we are ??? And go grrrreeeennn out of jealousy????
Guess we understand each other so well as we share this feature in our hearts
Rojaaaa, birth day kku wish panna sonna, athai mattum seyya maattiyaa??? EppO paarthalum oru digression !!!! Look, Meli and Aishu are waiting with bated breath - "eppO thaan intha kirukku nera matter kku varumO??" Ok, kiddos, Roja
is in a benevolent mood - athanaale.... awww, ithu Christmas Eve illiyaa??? Happy Christmas wish pannittu Birth day wish aa ??? Roja kku oru chinna confusion... by now the lounge hears a pronounced "nara nara nara" - Aishu and Meli are loosing their cool slowly....
Ok ok here goes Roja - Wish you a very happy Birth day Atina - may you live a 100 years and update serials like Uravugal ( Roja sees Atina picking a uruttu kattai - "adi paavi, ithu wish aa curse aa??? banana needling aa?? Atina's dioalog by Roja) Roja gives
a side long glance - Shree is sweating, Meenu is boiling, Eljay is vexed, Daisy is restless, Srima nondhufies her vidhi...... well, all of them are waiting to wish Atina and this Roja kirukku is ......
Ok ok folks - "Atina, have a great stress free birth day. Hope Srini spoils you rotten today. Wish you very many more happy
returns and may your dream of shedding Roja as bad habit come true
" -
love and hugs from the one and only maddie


~Aisha~


~Nithya~
HAPPY BIRTHDAY DEAR ATINA

Wishing you a day that
pops with delight
bursts with joy and
rings with laughter all through!



~Eljay~
Hi Atina,
Double celebration-aa? Wishing you a very, very happy Birthday and many, many more to come. May all your dreams come true this year and the years to come!

Have a great Christmas and a happy new Year!

Love,
eljay


~Meena~
Wish U Many More Happy Returns of the Day Atina ma!!
She is the mother of IF tamil thread!!
She is the one who cares for one and all!!
She will be there to sort ur probs..
She will be ready to help anyone known or unknown..
She will get u out of the troubles..
She along with many others has made this Forum a wonderful place to stay for everyone!!
Thanks for being there!!
We all love U!! Without You I would have missed such great friends!!
Happy Birthday Atina ma...
May all ur dreams and wishes come true for ever!!


~Migan~
Dear Atina

It's your birthday and I can't be there
But I'll send you a special birthday wish and a little prayer
Have a happy birthday
I hope that all of your birthday wishes come true
May you have a great time today and find happiness in everything you do.

Have a wonderful sweet birthday.

Love
Migan

my msg
Dear Atina maa( I know you will be
coz I rarely call u that..only onces in a while
but I love to call you Atina
)
Where do I begin? Ermmm…it has been a long journey for you and me here on I-F as you are one of my oldest friends here. I still remember that PM you sent to me a random day and ever since then, no way back. I always used to think you were a little kid and but after getting know to you…I got the biggest shock
…LOL.
Words can not express how great of a human being and friend you are
…you are one of the few friends whom I could always count on, you are always there whenever I need a help
..so Thanks for being always there dear
You always works hard for the forum, everyday you put your heart into every little thing you do
..one exp is those pictures, no way I will do it after I tasted the pain of uploading them
but you always use hours to post them without missing any single episode…hats of to that!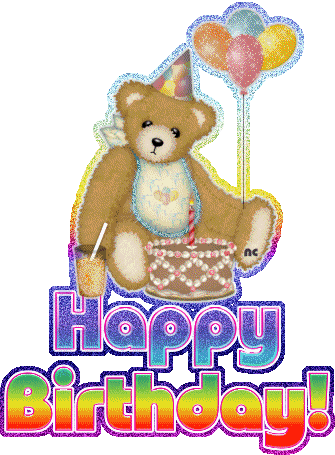 This poem is for you..
Thanks for being the friend you are
you're my best friend, an angel by far
everything in you is an inspiration to do great
and you'll be loved by all cause that's your fate


~A lot of kiss and hugs from Minnie and Pucca~


Edited by meli - 24 December 2009 at 4:29pm