Early life
Gomez, was born in Grand Prairie, Texas to Ricardo Gomez and Mandy Teefy (ne Cornett), a former stage actress who was 16 when she gave birth to Gomez. Gomez is an only child. Gomez' birth parents divorced when she was five years old, in 1997.Her mother Mandy remarried in 2006 to Brian Teefy. Gomez was named after Tejano singer Selena.Her father is Mexican and her mother is of Italian descent. Gomez stated that when she was a child she'd developed an interest in acting from watching her mother perform in theater productions. "My mom [Mandy] did a lot of theater, and I would watch her rehearse. When she got ready for the show and put on her makeup, I would sit behind her and color. She said, 'You have my lines memorized better than I do! One day I said [to her], "I want to be like you!.
Career
Acting
Gomez on the studio set of Wizards of Waverly Place before filming an episode for the show's first season in April, 2007.
Gomez began her acting career at age seven, playing Gianna on Barney & Friends. She said that she learned "everything" about how to act while on the show. Season 7 of Barney & Friends, when Selena Gomez was on the show, was held up for some time. Because of this, the episodes featuring Gomez did not air until she was in 5th grade. This resulted in some mild controversy/confusion as to whether she was on Barney in the 5th grade or the 1st grade. She later had minor roles in Spy Kids 3-D: Game Over and the TV film Walker, Texas Ranger: Trial By Fire. In 2004, Gomez was discovered by the Disney Channel in a nation wide scouting.Gomez appeared as a guest star on The Suite Life of Zack & Cody and had a guest appearance - that later turned into a recurring role on - Hannah Montana from season's two to three. In early 2007 Gomez was cast in the Disney Channel series Wizards of Waverly Place as one of the three main characters, Alex Russo.
In 2008, Gomez appeared in Another Cinderella Story, the direct-to-DVD sequel to the 2004 Hilary Duff film, opposite Drew Seeley. She also had a minor voiceover role as one the Mayor's ninety-six daughters in Horton Hears a Who! which released in March of that year. In April, Lacey Rose, of Forbes ranked Gomez as being fifth on their "Eight Hot Kid Stars To Watch" list; and Rose described Gomez as having been "a multitalented teen". In June, 2009, Gomez appeared in the made-for-television Disney Channel movie, Princess Protection Program with her best friend Demi Lovato. On August 28, one month after appearing in Princess Protection Program, Gomez appeared in Wizards of Waverly Place: The Movie, a made-for-television film based on the show.
In 2009, Gomez did a guest appearance as herself in one episode, of Lovato's Disney Channel television show Sonny With a Chance, entitled "Battle of The Network Stars". Gomez, along with two cast members of Wizards of Waverly Place appeared in a television three-way cross-over episode with Hannah Montana and The Suite Life on Deck, entitled Wizards on Deck with Hannah Montana. In February 2009, Gomez signed on to star as one of the two female leads in Ramona and Beezus a film adaption of the children's novel series by Beverly Cleary. In October, 2009, it was confirmed that Gomez was to attached star as the lead in What Boys Want.
Music
In 2008, Gomez recorded a cover of "Cruella de Vil" -which included a music video for - for the compilation album DisneyMania 6. Gomez recorded three songs for the Another Cinderella Story soundtrack, which Gomez appears in. Gomez also recorded "Fly to Your Heart" for the 2008 animated film Tinker Bell. In July 2008 - before Gomez' sixteenth birthday, she signed a recording deal with Hollywood Records, a music label owned by Disney. In 2008, Gomez appeared in the Jonas Brothers music video for "Burnin' Up". During an interview with Jocelyn Vena, of MTV in August 2008, she said of her future music career that: "I'm going to be in a band ? no Selena Gomez stuff. I'm not going to be a solo artist. I think that I don't want my name attached to it. I will be singing, and I'm learning drums and playing electric guitar. In 2009, Gomez recorded "One and the Same" for Princess Protection Program as a duet with Lovato - they both appear in the film. Gomez recorded four songs, one of which was a cover, for the Wizards of Waverly Place soundtrack, only one single (Magic) from the album was released. In May, of the same year, Gomez was featured - with Forever the Sickest Kids, on a duet version of the non-album song "Whoa Oh!".
Gomez with her band, Selena Gomez & The Scene released their debut studio album, Kiss & Tell on September 29, 2009. The album debuted at number nine on the Billboard 200 with the sales of over 66,000 copies in it' first week of release. The album's first single, "Falling Down" was released on August 21, 2009, and the song's music video was premiered after the world premiere of Gomez' TV-movie Wizards of Waverly Place: The Movie on August 28, 2009. Gomez stated, via her Twitter that she is currently preparing to release her second single, Naturally. Gomez confirmed that she co-wrote one song on the album,titled "I Won't Apologize. She is currently doing her House of Blues 2010 Tour.
As a Child:
Offscreen:
In Wizards of Waverly Place:
In Another Cinderella Story: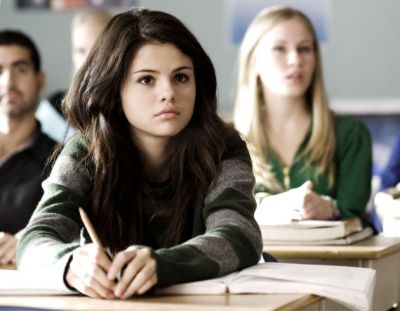 In Princess Protection Program:
Her New Album Kiss and Tell:
In Ramona and Beezus:
Taylor Lautner and Selena Gomez both met in the Canadian city Vancouver. Selena was shooting for her upcoming movie Ramona and Beezus and Taylor was shooting for the Twilight Saga: New Moon. They both started hanging out during their shooting breaks and became very close friends. The cute bond that they sure has won many peoples hearts till today. The rumors were that they were dating each other and broke up because Taylor was done his shooting and had to leave to Italy. They both say they are still very good friends.
Here are some pictures.
Their sushi lunch date:
Hanging Out:
Buying Frozen Yogurt:
Bowling:
Hanging Out With Friends:
( Just love how hes looking at her!!!
)
Rain Date:
Other Pictures:
( hehe with taylor's dad
)
( he always stares at her... dont blame him.. she so pretty
)
MY OPINION:
This is my personal opinion guys no need to comment or bash if you do not agree.
I honestly feel that both of them were never more than friends. Just because they hang out together and get so close dosent mean that they were dating... maybe they are just really close friends
. I will always support them no matter what... love both of them seperatly and together!
If selena ever decides to date as well as taylor i hope they choose each other... i would totally be over cloud infinity
. And about the thing that he stood her up i think thats all just rubbish
Taylor is such a gentlemen
. Keep hoping that TayLena will happen in the future guys!!!! xTayLena Foreverx
Would love to hear your guys opinions as well
.
Lovely banner made by: fizii_girl aka fizii
Beautiful labels made by: --LoveSD-- aka jagavi
Descriptions: Wikipedia
Layout: Me
WANNA JOIN?!
please introduce yourself:
Name:
Age(if u want):
Why you love TayLena:
A bit more about you:
HAVE FUN!!!
Pavi