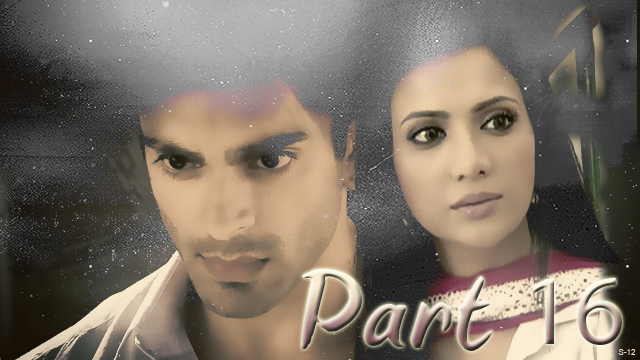 Two Months Later...
"Armaan!! naashta thunda ho raha hai!!" Riddhima shouted on top of her lungs to call him for breakfast...
"A raha hun!!!" He shouted back while wearing his shoes... he was getting ready for the hospital as usual in the morning and she was behind him to have his breakfast first...
"Roz deir karna zaroori hai??" she frowned as she saw him coming towards the table...
"Roz chillana zaroori hai??" He mocked at her face...
"Very Funny!!!" She rolled her eyes, "Mein kahan chillati hun??" She pouted...
"Nahi nahi!!! tum bohat pyaar se awaaz deti ho... Armaan!!!! Naashta thunda ho raha hai!!" He laughed...
"Naashta karo..." She almost ordered glaring at him...
...
"Nikki!!!!" Abhi called out her name loudly while buttoning his shirt...
"jao!! jhelo apne pati ki kharab adatein!!" Annanya giggled at her...
"Kya maa?? koi cheez jo yeh aadmi apni jagah pe rakh le..." Nikki shook her head and stopped cutting the vegetables...
"Kya hai???" He arched her eyebrow while drying her hands with her dupatta...
"Tie!!" He looked at her helplessly...
"Kisi din gala he daba dungi tumhara!!!" She narrowed her eyes and started knoting his tie...
"Uss ke liye bhi jaan lagani paregi!!! Tum to wese bhi baat baat pe behosh hojati ho!!" He teased her about their wedding night...
"Urghhh!!!!" She hit his chest...
"Wese ghalati ki meine, honeymoon thoda lumba plan karna chahiye tha, kaafi sudhri hui thi tum wahan..." He held both her hands and pulled her closer...
"Choro mujhe... kaam hai!!" She tried to freed herself from his grip...
"Aise kese???" He winked at her and pinned her against the wall...
"Tch!!! Kaam hai mujhe kitchen mein!!" she whined...
"Kaam kab nahi hota tumhe???" He arched his eyebrow...
"Jab tum office mein hote ho tab..." She giggled...
"Ahan!!" He nodded with a grin moving his lips closer to hers when she turned her face and pushing him away ran off...
"Dekh lun gaa tumhe mein!!" He warned her...
...
The Gupta House went a bit silent after the three marriages but as soon as Muskaan came over from her sad mode, everything fell right on its place... She realized that her three sisters because of whom she is sad are enjoying, laughing and giggling at their respective homes and it is very unfair for her to look sad and roam around doing nothing...
Now, she was allowed to keep her pets and she was happy with it... Her chirpness was the life of Gupta House now...
Shashank and Padma were not worried about Nikita and Riddhima much as they knew about Nikita's molding and sweet nature whereas Riddhima was a bit tough and stupid sometimes but she was with Armaan after all and they knew he can handle her, he was handling her since long...
The one they were worried about was Anjali... Anjali and her ego can creat a fuss at times... She can be the most mature and understanding person on earth sometimes and sometimes not... They were worried that now its a life time commitment and she has a family to deal with in which Atul's bhai bhabhi are also there... So, a little they were worried about her that she shouldn't do anything which was hurt them or cause fight...
...
Shashank and Padma were not wrong about Anjali... House hold chores can be fun for a day or two but as a routine??? No!!
Anjali did felt agitated when it comes to kitchen and this is where Keerti felt like "Okay!! Ab wo waqai dewraani ban gai hai!!"
The best part about Anjali was that whatever is in her heart! Its in her mouth as well and that did helped Keerti.. Anjali straight away talked to her about the things she dislikes and why and that helped both as they divided their works and householding became easy...
As far as AtulAnjali's relationship was concern, it was doing really well... They weren't so lovey dovey but they were realistic and cute!!
Atul knew he has to give Anjali her space and Anjali knew all he demands from her is respect and Love..
It was just the beginning of these three couples and it happen to be nice...

"Umar bhae!! Yahan ke phool nahi badle Aapne ab tak?" Riddhima said who was passing by the dining table to attend a call...
"Arre Betiya!! Wo phool wala aya he nahi ab tak phool le kar..." Umar Bhae replied...
"Oh!!" Riddhima nodded in a yes.. "Acha mein phone dekh lun! Aap please doodh dekh lijye, meine stove pe rakha hua hai!" Instructing Umar Bhae about the milk, she picked up the call...
"Hello?? Mrs Riddhima Mallik??" She heard from the other side...
"Yes!!" She said.. As soon as her conversation started with the person on other side, her face started getting pale with each passing second...
Flash Back..
"Mujhe ek baat samajh nahi ati... Tum MBA kyun nahi karna chahti??" Armaan asked her while driving...
"Tch!! phir wohi baat!! Mein yahan se nahi karna chahti MBA... i wana do it from Harvard..." She made a face getting irritated with that question...
"To Uncle tumse kab se pooch rahe hain!! bola kyun nahi?? Ab to admissions bhi close ho gaye honge..." He frowned at her...
"Meine bola tha! Aurr admission k liye apply bhi kiya tha!!" She broke a news to him...
"Huh??? Aur yeh kab hua??" He arched his eyebrow...
"Tum apni medical conference k liye kahin bahar gaye hue thai tab... Lekin ab iss baare mein baat karne se koi faida nahi hai! mera admission nahi hua!!" She passed a sad look...
"Hhh... to phir?? Ab?? Yahin se kahin se karlo.." He suggested..
"Nahi!! mein karungi to wohin se... warna nahi karungi!!" She acted stubborn...
"Ufff!!! Tum sirf apna carrer barbaad kar rahi ho... Abhi tum free ho, koi responsibility nahi hai sar pe, humari shaadi ka bhi kareeb kareeb koi ata pata nahi hai, araam se kar sakti..." He tried to make her understand...
"Armaan mujhe nahi baat karni iss topic pe... Please!!!" She passed a pleading look and he left the topic knowing its useless...
...
Just after an year, Riddhima applied again and it was time when Anjali's wedding discussions were on and some how misprinting on cards took place and she got married to Armaan suddenly... Their wedding wasn't well planned, it just happened with a click... Just before they were about to leave for their honeymoon, Riddhima was checking out the mails and got to know about her admission conformation... The news came as a surprise and made her hell excited..
That day when Armaan came back from he hospital and she was about to disclose him with the news, he kept the flight tickets in front of him and that is when she realized this isn't working anymore...
"Armaan ko kese bataoon???" a fear wave hit her...
"Nahi!! Abh nahi... honeymoon se wapas ane k baad baat karungi!!" She decided and went along...
Flash Back Ends...
Now the person on call was asking her about the conformation and details so he can process further about Riddhima's departure...
"Ab kya karun?? Iss tara iss mauqe ko jaane to nahi de sakti... And i am sure Armaan mana nahi karega!!" She tried to console herself...
...
"Abhi!! yeh tum kya kar rahe ho???" Nikki arched her eyebrow as she saw him messing up the whole wardrobe...
"Meri blue shirt nahi mil rahi hai mujhe..." He told her without looking back...
"Kal he to laundary meinb dhulne di thi... kahan se milegi??? Aur yeh kya kar diya hai tumne poore wardrobe ka??? hatto!!" Gritting her teeth, she pulled him away and astarted arranging everything cursing him under her breath...
"Arre... to pehle bolna tha naa...faaltu mein itni mehnat ki meine dhoondne mein..." Abhi said taking a deep breath...
"Mehnat ki??? Mehnat meri lagay gi ab isko sahi karne mein.." Nikki arched her eyebrow at him...
"To??? koi cheez dhoondna bhi ek mehnat ka kaam hai..." He gave his stupid justification..
"Mein waqai tumhara sar phor dungi ab agar tum chup nahi hue to..." She warned him with a glare and that alerted him about the lady hitler coming out...
...
"Tum itni sober, serious parhaku kab se hogai??" Rahul asked muskaan arching hie eyebrows.. Since long he was trying to plan an outing with her but each time he makes a plan, she destroys it saying "I am busy!!"
He was bearing it since a month but then loosing his patience, oneday he directly picked her up from her university and took her for a lunch giving her lectures all the way to a restuarant...
"I was just testing your patience, thats it!!" Muskaan smiled cutely raising her shoulders which sudeenly filled his heart with a desire to shout at her publicly..
"Testing my patience???" He gritted his teeth...
"Yeah!! Isn't it great???" She added more fuel to the fire...
"Great!! You want me to test your patience??" He plastered his face with a sarcastic smile...
"Ummm...nahi!! bad idea!!" Muskaan bit er lower lip knowing now he will took her class seriously...
"Lunch karwane laye thai tum mujhe...order bhi nahi kiya abhi tak!!" She quickly grabbed the menue card and hide her face behind it...

"Di!!!" Muskaan hugged Anjali as she saw her geting inside the gupta house...
"Sab theek hai naa??? tum itna excitedly mujhse mil rahi ho..." Anjali looked at her with widen eyes...
"Hadd hogai!! pyaar se milo tab bhi problem hai!!" Muskaan frowned...
"Hahahaha!! kesi ho??" Anjali laughed at her expressions and hugged her...
"Ek dum theek!!" Muskaan smiled...
"Arre Anjali tum??" Padma smiled coming out of her room...
"Mom!!!" Anjali hgged padma tightly and sat down next to her on the sofa...
"Keerti bhabhi dehli gai hu hain! Apne kuch relatives se milne.. so ghar pe iss waqt koi tha nahi, i was getting bored to yahan agai!!" Anjali explained everyone abot her sudden arrival...
"Chalo acha hai, Niki ka bhi phone aya tha keh rahi thi shayad chakkar lagaye.." Padma told Anjali happily...
"Haan meri subha baat hui thi usse... Lekin yeh Riddhima kahan gayab hai?? Armaan se he baat hoti hai, Riddhima se ek hafta hogaya meri baat nahi hui.." Anjali complained...
"Arre haan!! meine bhi uss din apni saari ego maar k phone kiya to she said mein busy hun baad mein baat karti hun aur wo baad phir i he nahi!!" Muskaan pouted...
"Ghar ke kaamon mein busy hogi apne... tum donow bhi naa! " Padma shook her head...
"Arre mom!! Itna bhi kya busy??" Anjali frowned...
"Di!! Ek kaam karte haina... Abhi agar Nikki a jati ai adhe ghante mein to phir hum chalte hain!!! ekh kar atay hain kitna aur kya busy hai!!" Muskaan came up with an idea...
"Chalo eyh bhi theek hai!! bal k aisa karna usse bhi le ana phir raat mein yahin par dinner arrange kar leyti hun mein..." Padma smiled at them.. "Aur Riddhima mujhe roz phone karti hai!!" she added at the end to put a full top on Muskaan and Anjali's questions...
...
Riddhima was still in her delimma about the step she has taken nd not informed Armaan about it... "He will be happy for me!!" She was constantly telling her heart which wasn't relaxing a bit..
Umar bhae was out for some work and she was all alone, sitting n front of the TV on a sofa in the lounge lost in her own world... The chain of her thoughts broke down when she heard him calling her name out and saw him entering the house...
"Arre... tum aj itni jaldi agaye??" She passed a surprised look to him...
"Kyun??? tum darr gai thi???" He smiled and then sat down opposite to her...
"Tumhare liye paani le kar ati hun.." She was about to get up when her held her hand and made her sit down again...
"Yeh kya hai Riddhima??" He kept a folder in front of her... she frowned and then opened it up which made her stop her breath... All the documents and ticket and ther details were there in that folder and here they were with Armaan...
"Ummm... yeh, mein tumhe batane he wali thi..." She said looking at him with a heavy heart...
"Kab??? wahan pohunchne k baad??" He asked her calmly like before...
"Wo... yeh sab, mujhe samajh nahi araha tha tumse kese baat karun... aur.." She looked away and that made him angry...
"Baat??? Tum mujhse baat karne wali thi??? Ya sirf apna faisla sunane wali thi??? What did you think haan??? Tum jaane se ek ghanta pehle mujhse a ke kaho gii k mein MBA karne k liye do saal k liye havard ja rahi hun???" He shouted...
"Aisa nahi hai!! Mujhe samajh nahi a raha tha mein tumse yeh sab kese kahun?? Aur yeh sab achanak he.. mein yeh opportunity nahi miss karna chahti thi Armaan!!" She tried to explain...
"Meine tumhe kabhi kisi cheez k liye nahi roka... na shaadi se pehle ya shaadi k baad!! Pichle do saalon se mein tumse keh raha tha k Riddhima MBA karlo karlo lekin nahi!!! Tumhari apni zidd thi doosre ki baat to sunni he nahi thi... Aur ab bhi mein tumhe nahi rokne wala tha lekin tum mujhse iss baare mein baat karna pasand karti tab naa..." His anger went on its peak...
"Lekin mujhe yahan se nahi karna tha MBA aur yeh meine tumhe pehle bhi bata chuki hun!!! Aur ab jab mujhe yeh apportunity mili thi to mujhe pata tha tum mujhe nahi roko gay...isliye..." She tried to give her side of explanation...
"Have you lost it??? Tum sahi ho mein umhe MBA k liye kabhi nahi rokta lekin tum harvard jane ki baat kar rahi ho... wo bhi do saal k liye!!! Don't you think mujhse poochna zaroori tha??? Ya tum yeh bhool gai ho k iss relationship mein hum do log hain!!! tum akeli nahi ho jo har tarah ka faisla leyti phiro..." He yelled..
"Mein keh rahi hun naa mujhe samajh mein nahi araha tha tumse kese baat karun?? Meine apply shaadi se pehle kiya tha... achanak se shaadi hogai warna yeh sab hota he nahi..." She too raised her voice a bit...
"Kya nahi hota???" He asked in a loud tone...
"Yeh sab un cards ki misprinting ki waah se ho raha hai... warna na humari shaadi achanak hoti aur na mein iss tarah..." She shouted but Armaan cutted her in between...
"You mean to say you are regretting this marriage???" He shouted feeling hurt inside...
"Haan!!" She shouted back getting irritated and thats when he lowered his volume...
"Do whatever you want!!" He said in a low voice and went upstairs without even looking at her...
"Armaan!!" Riddhima just realized what she has done and fell down on the sofa with her head in her hands...
"Mein aur do minute yahan ruki to isska zaroor kuch kar dungi!!!" Anjali said slowly gritting her teeth and went out followed by Muskaan and Nikita who entered without ringing the bell as they found the door open and then became witness of that whole fight...
"I don't believe this!!! Di aisa kese kar sakti hai??? " Muskaan hit her palm against the staring of the car...
"Ussne shuru se Armaan ko for granted le ke rakha hai... lekin meri baat tab bhi kisi ne nahi sunni thi... Aur kyunki Armaan ne usse sar pe charha k rakha hai, wo humesha usse handle kar leyta hai aur baat kabhi bhi kisi k saamne nahi ati... par aj to hadd kar di ussne!!" Anjali yelled...
"Mujhe to samajh mein nahi araha hai k kya hogaya hai di ko..." Nikki too passed an irritated look...
"Anyways... hum ghar pe kisi se kuch nahi kahenge... Mujhe bhi dekhna hai ab agay kya??? Kyunki wo to poori tarah se pagal ho chuki hai... shaadi k baad usse do saal bahar rehna hai!! And that too without Armaan's consult!! jese uski koi responsibility he nahi hai yahan... apni marzi se kuch bhi karti phire..." Anjali huffed..
"Par dinner ka kya??? mom ko kya bolenge??" Muskaan asked...
"Mom ko bolenge... wo khud phone kar k keh dein!!" Nikita glared at Muskaan...
"Nahi!! Phir wo humse poochne lag jaengi k hum leyne gaye thai usse kya hua... ek kaam karti hun, thodi deir mein Armaan ko call kar k bol deti hun kyunki Riddhima se to mujhe koi baat nahi karni hai!!" Anjali decided...
...
Today, she have hurted him like never before... She was her world and today it just broke into peices... She wants to leave for harvard and that too for 2 years wasn't the fact that disturbed him or was hurting him... The fact that made him angry was that first she didn't told him anything about it and when he confronted her, she just told him she is regretting their marriage...
He knows her since childhood and her habbits aswell.. She was the girl who once get involved in some work then she forgets the world.. He can't even count how many times he felt ignored when she used to involve herself in any type of work.. She was his love, his life, his wife but today he just found it out that she wasn't his best friend with whome he could share everything... People used to admire them and their relationship but Anjali always warns him about the missing peice to which he never paid any attention and now when he noticed it, it broke him into several new peices...
All these years, she talks, listens what she wants, what she feels but when there is something he wants to talk about and she doesn't, she backs out and he ignores for her sake but there is a limit and todays the limit got crossed...
The flaws which were unseen were now clearly visible to him...
"Alright!! She regrets this marriage and it has became an obsitical for her.." He laughed at his own fate... This marriage means everything to him and how easily she said she regrets it.. He never thought she will take this like that...
His eyes were red with anger and sadness... he was roaming around here and there behind the locked door of the guest room thinking about all this over and over again...
Wiping away his tears, he looked down at his cell phone where Muskaan's name was flashing...
"Hii Muskaan!!" He said trying not to show any pain in his voice..
"Hii Jiju!! wo... Aj Anji di aur Nikki ay hue hain... so mom keh rahi thi k ajj raat ka dinner app log bhi yahan karo..." Muskaan bit her lower lip saying these words to Armaan while looking at Anjali and Nikita who were sitting on the couch with angry faces...
"Ummm... Muskaan!!" He held his head thinking of an excuse..."Chalo theek hai!! we will be there at the dinner!!" He said as something strike his mind...
"Okay!!" Muskaan smiled weakly and put the phone down...

"Muskaan ka phone tha... tayyar ho jao wahan dinner pe jana hai!!" He told her getting insid their room...
"Armaan i didn't mean that!" Riddhima tried to explain...
"Bilkul!! Ek hafte baad tumhari flight hai, wahan pohunch k phone karti tum mujhe lekin ghalti se mujhe pehle he pata lag gaya... Pressure mein agai thi naa tum... isliye wo sab tumhare mu se nikal gaya!! haina???" He taunted her calmly...
"Please listen to me... ek baar mujhe bolne ka mauqa to do.." Riddhima pleaded with tears in her eyes...
"Riddhima!!! Mujhe iss topic pe koi baat nahi karni hai!! tayyar hojao!!" He gave his final words and went inside washroom to get ready...
...
Journey till Gupta House was quiet... Armaan's quietness and calmness was becoming n bearable for her...
"Tum nahi chahte to mein nahi jaoongi!!" She yelled as they got out of the car...
"Ehsaan hoga mujh pe... And i am saying this last time, mujhe iss topic pe tumse filhaal koi baat nahi karni hai!!" He said in a stern voice and headed inside towards the main door of Gupta House...
They both were late... Atul and Abhi were already present there and even Rahul was invited...
"Hey!!" Armaan smiled and greeted all like always... Riddhima was quiet all the time looking at Armaan with confused eyes where as Armaan was busy in chatting with everybody like he usually do... Anjali, Nikita and Muskaan were stealing glances of them...
They did met Riddhima and tried to behave normal but soon goot up to find something else as Riddhima was quiet only nodding in a yes and no... Her eyes were constantly on Armaan and wrinkles on her forehead were showing her confusion...
Soon after the dinner, when everyone was having icecream in the hall, Armaan just broke a news in front of shashank and padma that Riddhima has got selected and will be leaving after a week for harvard to do her MBA...
"Armaan tumhara dimagh to nahi kharab hogaya hai??? Tum do saal k liye usse wahan bhejne k baare mein soch bhi kese sakte ho??? aur tum yeh mujhe aj bata rahe ho??" Shashank scolded Armaan...
"Pata hota to batata naa... abhi bhi cover kar raha hai usko..." Anjali shook her head...
"Sab kuch bohat jaldi mein hua... Riddhima ne mail he itni late check ki... Aur phir yeh to wo humesha se chahti thi.. phir mein kyun rokta???" He lied sweetly to Shashank who was getting angry but somehow controlled his anger infront of Atul, Rahul and Abhi...
" Tum jaane ko kese tayyar hogai???" Padma looked at Riddhima with questioning eyes who was in a state of shock right now that after all what happened in the evening, he was supporting her here...
"Mein..." Se was unable to find the proper words...
"Riddhima k pass time kahan tha yeh sab sochne ka??? Achanak se jab admission ka pata chala to harbara gai!!" Another shrap taunt came from Armaan's side...
"Aisa kuch nahi hai!! Aur mein kahin nahi ja rahi!!" Riddhima spoke up...
"Fuzul baatein mat karo tum... aur zyaada confusions create karne ki zaroorat nahi hai!!" Armaan warned her...
...
"Yeh kya pagal wagal hogaya hai???" Atul thought looking at Armaan with narrow eyes... He too knew about Riddhima's nature and except Abhi everyone was well aware of the fact that if Riddhima will leave and get busy with her MBA, Armaan will be terribly neglected...
"Iss baare mein baad mein baat karunga tumse..." Shashank let go of the topic for a while as he didn't want any arguments in front of others... Before anybody else will leave, Armaan made an excuse about an emergency and left along with Riddhima saying he will drop her home on the way... And soon others too left but before that Anjali took a promise from Muskaan the whole thing to Shashank and Padma...
"Kya??? Wo pagal hogai hai???" Shashank got up from the sofa as Muskaan told him everything what she, Anjali and Nikita heard...
"Lekin phir jab Riddhima jane se mana kar rahi thi to Armaan ne kyun usse chup rehne ko kaha??" Padma asked out of her confusion...
"Mom!! Phir wo kya karte??? Di is tarah unke mu pe bol gai k wo ab iss shaadi ko regret kar rahi hai just beacuse she is feeling bounded to jahan tak mein unhe jaanti hun wo saari zindagii to yeh sab jhelne se rahe... Aj agar wo usse nahi jane deinge to kahin na kahin yeh baat dobara uthegi hee.." Muskaan kept her point of view infront of her parents...
"Bus to phir baat he khatam hojati hai... hum beech mein bol k kya karenge??" Shashank shook his head with frustration...
"Armaan ne he sab se zyaada iss ka dimagh kharab kiya hai..." Padma too became angry now...
"Armaan ko blame mat karo... Humari ghalti hai! Humne socha he nahi k uski yeh adat shaadi k baad uske liye masle paida kar degi!!" Shashank was feeling hurt with Riddhima's behaviour...

"Armaan ka dimagh to sahi hai??? kyun bhej raha hai wo Riddhima ko aise??? wo bhi ab... shaadi k baad??" Atul asked Anjali who was quiet since long...
"Ek to mujhe samajh nahi ata k sab usko he kyun blame kiye ja rahe hain??? Iss sab mein sab se zyaada suffer wohi karega! To tumhe kyun lagta hai k khud k pair pe jaan boojh k kulhari maare gaa???" Anjali gave her lecture...
"OMG!! Tum to kuch zyaada he emotional hogai!! aisa kya hogaya hai??" Atul looked at her with widen eyes...
"Kuch nahi!!! mera dimagh kharab hogaya hai!!" She shouted out of her frustration..
"Relax!!" Atul thought to stay quiet and ask later as Anjali's mood was telling him about some up coming strom...
...
"Tumhari behn pagal hai kya??? Yahan se kyun nahi kar rahi MBA??? Ab shaadi k baad usse harvard jaane ki kya pari hai??" Abhi asked Nikki out of his curosity...
"Abhi!! wo un donow ka masla hai... can we please avoid this topic??" Nikki's head was aching thinking about all this fiasco since morning and now when she was going home, she wanted to leave the topic behind knowing more shocking news will arrive soon to disturb everyone...
...
"Tum sabit kya karna chah rahe ho??? kyun sab k saamne mujhe iss tarah apni baat kehne se rok diya??? mein nahi jaana chahti ab!!" Riddhima questioned him way back home...
"Agar nahi jana chahti thi, to baat itni agay kese pohunch gai k tickets ghar tak agaye???" He glared at her...
"Khair!! Mujhe iss baare mein ab kuch zyaada baat nahi karni hai... Apne decisions tum pehle he le chuki ho so now go with it!!" He said raising his shoulders...
"Armaan please!!" She cried...
"What Please Riddhima??? Jaane se mein tumhe wese bhi nahi rokta... agar tumne poocha hota to!!!" He told her calmly in a low voice...
That Night, the two were in the same room buit completely like strangers.. His eyes were closed and his back was facing her whereas Sleepwas miles away from her eyes, she knew she has done a blunder but she never wanted things to get open up like this, she lost his trust and without his trust and love, she was nothing...

Comments please...
Love,
Sameera