*|
|Dec 2
||*
Happy To Yous Birthday Indra(
IndraDaga
)


[color code/font style:-
Me=aditi
Anonymous person
]
Yep dec 2'19**
("oye!" comes a loud voice from back muting the year
)
it was when this chweetest of all girly-angel-moddy landed up on earth right from the heavens
Don't belive me?
("whatchu mean kiddo?"
shoooooooooo am not talking wid/abt ya
)
Then you have to ji
("putri says it right" quotes the voice from back in a whole nish kindda way
)
because am telling you she is an angel...
("yeah she so is
")
the most beloved angel who is cho friendly and helpful that you'll be left thinking about her, wondering that you can blend with her so well irrespective of your age or of hers
"oyeee!!..." but thich time the voice was shh-sh-ed and i was allowed to go ahead
Okay so where was I before this strange background voice made me to pause
("glares"
glares back
)
Oh ya sope this girl is not only being a genuinely pure hearted person but a top class rapchip friendoos...
along with
("carry on i know there is more")
... a super duper IF DT Mem who is always there to plant new ideas and work for the development of the site for all of us(the proud hommies). Be it about IF upgrades, contests,prizes
("there you go!")
or any celebs ki profile, she is as spicy as bolly curry is!
("yum"
You know i was about to bring choci glaced cakes with diff flavour icing but since you already said yum you are shoooed again hehe
"no am not! infact shooo you away after posting the cakes and YOU know what Indra wont mind sharing these cakes with me hehe"
jealous muh
"hahaha gottcha!"
shuddap okie ju getting on my nerves already.Am going to give these cakes ONLY to Indra secretly huh
)
Now before thich strange "bg" person knocks in between again Indra you pleej show up and play this vid before cutting your cake(cakes)
["yum yum yum
" Indra common be quick and click the vid down]
[
"hahahaha see see now what is the 'sense' of cutting a "cake" with this song. you know Aditi you are a nut case"
embarassed... fumes...sorry Indra THIZZZ person knocked my skull hard with constant poking that's why in a rush posted this song
apologies...'ere is the actual wala song i wanted to post for you:-
http://www.youtube.com/watch?v=pqugQHtRI0c ]
Okie-Dokie Now Time For Some
::BIRthDay MeSSageS::
(atleast here anonym wont have a say in any
)
***
Vijay
Dear Indra,
Wish you a very happy Birthday and may you get all the happiness in the world
Keep smiling and have a great day. And dont forget to invite me for the birthday party.
Cheers,
Vijay
*:*
*Shruti*
Smiles and laughter, joy and cheer
New happiness that stays throughout the year
Hope your birthday brings all these and more
Filling life with surprise and joys galore!
Happy Birthday Indra
May this birthday be just the beginning of a year filled with happy memories, wonderful moments and shining dreams. Wishing you a Happy Birthday and many more to come.
In the end I would just say:
Count your life by smiles, not tears.
Count your age by friends, not years.
Loads of Love,
Shruti
*:*


-Nadii-
HEy Indra
Many happy returns of the day,...:)
I dont know u much, but may this day bring u lots of happiness..
Love Nadia
*:*


-Preeti-
Hey Indra
Wishing U Many Many Many Happy Returns Of the Day sweety
God Bless You and hope u have a great and wonderful life



Loads Of Love and Best Wishes
Preeti

*:*

mona081187
Many Many Happy returns of the day
Only 4
Indra
just from
Mona
Happy B'day to u yaara.....
We are ready to chant B'day saga
coz special day has come with future Raga
it's none other than the B'day Girl
IF di shaan
"INDRA DAGA"
God bless your day with sunshine,
And a birthday hug for you.
May He send to you great blessings,
And lots of love to see you through.

He made you very special,
So as we celebrate this day,
Remember God is smiling down ,
Because He made you this way.

This greeting comes with love inside,
And before this day is through,
May Heavenly greetings come your way,
And may all your dreams come true.

Happy Birthday.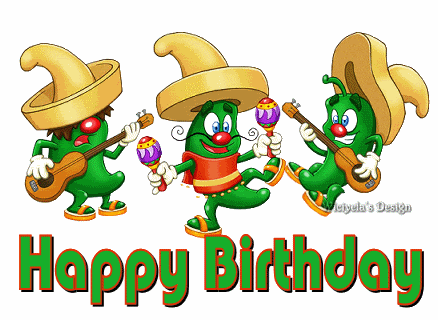 Happy, happy birthday!
I hope your day is special,
with many things bright.
I hope you have a celebration
that's out of sight!
I really wish that I could be there,
to share the day with you,
but even though I can't,
I want you to know
that I'll be thinking
about you, and sending some
birthday wishes your way
and hoping you have a wonderful day.

*:*


Tomiko
HAPPY BIRTHDAY INDRA!
A very small message from Aunty Nibbles wishing you a wonderful day filled with lots of blessings, laughter and cake!
And from my side, a yummy one to get your started:*:*


*Shifali*
Hi India di!
Happy birthday to you and hope you have all the wishes and fun of the world. Have an awesome day!
Love,
Shifu
*:*


niveditha
Special Regards to You Indra
*:*


ammoos
Many many happy returns
INDRA
*:*


skeptical
~ Skep ~

*:*


Saher
_9
0
Happy Birthday Indra honey MAy You have many's more..Hope you get what all your desires are..Have a blast Enjoy your day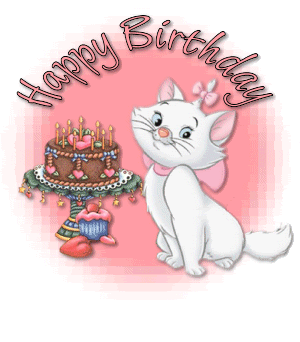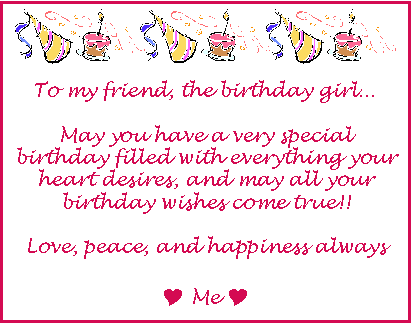 *:*


Aditi (Moi)
("duh
"
grph... i knew am your only target and you so cannot stay quiet for long
)
hello Indra(*waves*)
how you doing ji? It's your day and see am bugging you THIS way now haha each time gonna find a new way to reach out for you and bug you even more
and what's better than bugging you on your special day haan?
hehe. many many many happy returns of the day
may godji gives you all the happiness in life
know ishy, shikoo bro, shreya...might be a li'll away these days so wishing you a very happy birthday from their side and from entire bv sec side aj well
you'd been a great pal to me and am blessed to have you as a friend. love you loads.
Aditi and ummm anonym(stranger/bg voice?)