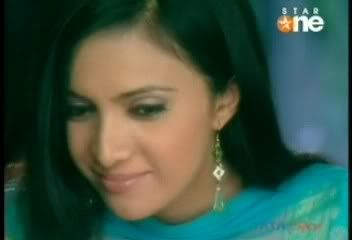 RECAP
AR recives tia from the airpot. this part is dedicated to all of the readers .
aa wedding night part
sorry for posting late
PART 158
(Much awaited atul-anjali wedding night)
AT AA HOUSE
anjali was sitting in her room & was thinking something&
blusing too.atul was busy planting his new plant in garden.
big smile appeared on angi's face as remembered her wedding night.
*flashback*
Angali was sitting on the bed.
Atul enters the room as being pushed by the girls.the girls r giggling & laughing. Atul closes the door of the
room & comes & sits on the bed.he was sweating badly.
an(angali)& at(atul):
an: tumhe paseena kyun a raha hai.
at:actually mein nervous ho raha hoon.
an:angi laughs a bit & says nervous hone wali kya baat hai.(she sees thatatul is hiding something on his back)
an:atul kya chupa rahe ho.
at:woh tumhare liye present laya hoon.mom ne bataya tha ki shaadi ki pehli raat ko biwi ko taufa dete hai & he gives it to her(guess wats the gift
)
an: she unwraps the gift & finds that their was a small cute baby rose plant.tears begin to fall from angis eyes
she was extreamlly happy& says oh atul "i luv u"
at: i luv u too
then atul stares at her.she is feeling all shy & starts blushing.the lights in the room were dim. the room was decorated with candels & flowers all around.
atul comes near angali.their hearts are beating really fast.atul starts coming more closer, closer & closer.
soon they can feel each others breath.atul wanted to kiss her lips but is hesistant. angali understands this
&she begin to kiss him.he responded back enthusiastically. soon they began to hav a long passionate kiss.then atul bends over her & starts removing the jewellery& kiss the part from where he removes the jewellery. first the earing he kissis &bites the ear.then her neck , then the anklet and so on.angi was feeling good. she was feeling out of the world.angi begans to unbutton his kurta & kisses his chest & neck. atul slowly opens the strings of his top
& then removes it. he was astonished & amased to see angi like this & nervous also being atul.He obsereved her carefully.. she was blushing & shying badly. he pulls her closer & kisses her everywhere. they both are enjoyinh themselves. he takes the sheet& pulls over both of them . the night goes on & candels melting & aa melting in each other.
*flash back over*