NUTS ki Masti ki Paatshala....Our Very Own KPS!!!

"Love knows no limit to its endurance, no end to its trust, no fading of its hope; it can outlast anything. Love still stands when all else has fallen."
From Armaan to KPS:
Bane chahe dushman zamaana humara
Salamat rahe dostana humara
Naa bichdein ge mar ke bhi hum KPS
Humein dosti ki kasam KPS
Pata koi pooche to kehta hain hum
KPS ke dil mein rehte hain hum
Nahin aur koi thikaana humaara
Salamat rahe dostana humara
(Credit Meghu..........@Mainu
)
*WHOOSH*
Share here your madness, undying love and support for KSG with fellow KPSians...whether you're going gaga over Dr. Armaan, whistling and blowing flying kisses at the television for KSG's;Jhalak performance or pretty much having a heart attack after looking at this Greek God
From DMG to Jhalak to Bollywood........its KSG heaven right here
We celebrate our friendship, our love, our passion for life;our GL ideas from CDs to apples to playing peak a boo
, our rofl sessions on the most random stuff;from Sushila jee to buying anything that could be remotely related to KG to our signature nut moves
; our Whoosh sessions
......it is time to reminisce about all that has made us a family over the last 30 CCs.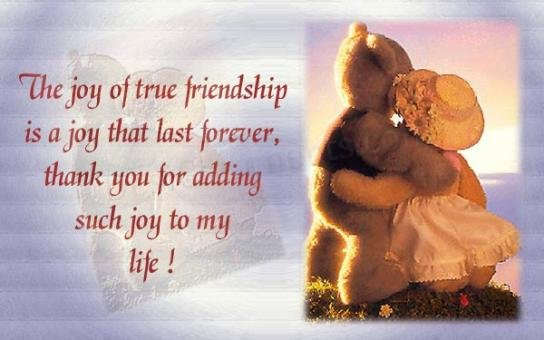 Most importantly we are here to celebrate DMG
Our real puraane wala DMG with our original Jing Bang;
Miss DMG....Don't say Alvida



(Credit karakisbjk.....Youtube)

ARMAAN, RIDDHIMA, RAHUL, MUSKAAN, ATUL AND ANJIE
WE MISS YOU ALL DHER SAARA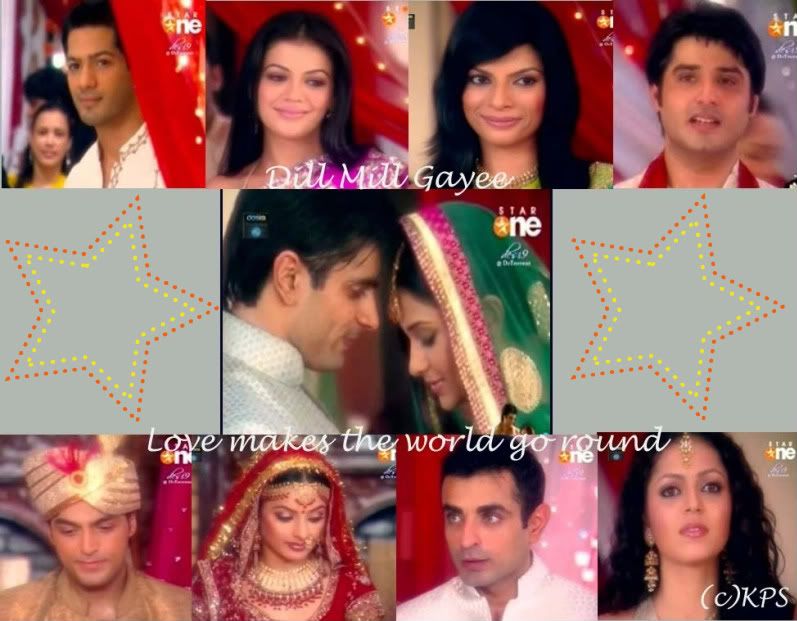 (Credit Veenzy@ dmg07)
Dil Mill Gayaeee....

DMG and all about DMG..
Why do we love DMG..

Because we love the Interns..

We love Atul..
We love his unexpected love for Angie..
His Brotherly love for Armaan.. He is Armaan's champ..
His love for environment.. his random songs for every situation
And for him being such a loving person..
We Love Angie...
for being a loving sister..
a good doctor..
having good hair (this one is for Anu!!LOLL!!)
And for still sataooing Atul... and not feeling the way he feels for her..
(ok.. for this we are still waiting..... hurry up Angie!!)
We love Muski..
for her being so spunkieee..
and fataa faaatt!! LOLL!!
for being so breathtakingly gorgeous
and a complete paghal khanna
Bet she'd fit in well with the KPS NUTS
We love Rahul..
haai.. because he is cute..
because he is Armaan very good friend..
understands Armaan..
his angrezi accent and his punjabi is tooo dieee for.. hwaaat maannn!!!
and he is a hawttiee !! LOLL!!
We love Niki...
for being Armaan's friend..
for being there for Ridz when needed..
for being confused with Abhi right now.. LOLLL
but over all a good friend...
We love Abhi..
for being a good doc..
loving Niki.. he does love her.. becharaaa...
for he is a good person..
lets give it to him..
We LOVE Ridz..
for being Ridz..
for being Armaan's love..
for loving him...
for making Armaan happy..
for making Armaan's day..
for being there for Armaan..
for being with him thru thick and thin
for being strong.. for Armaan..
(yaa.. yaa.. it is all about Armaan!!! LOL!)
 
Now for the main part...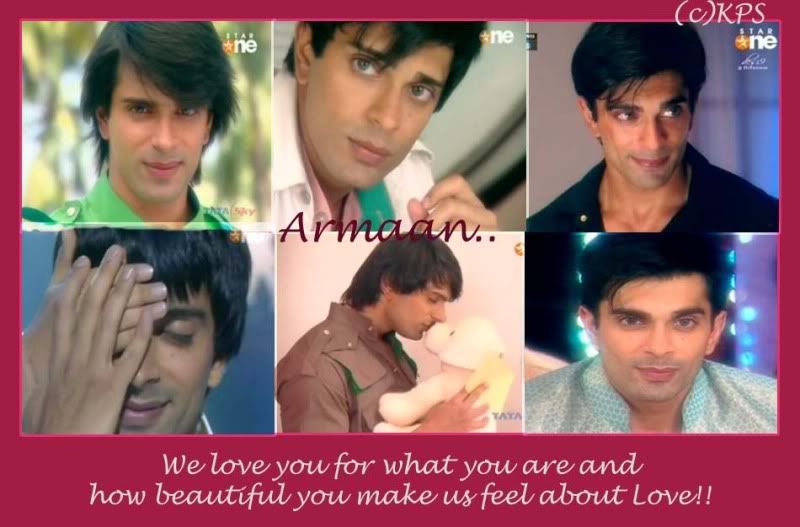 (Credit Veenzy@ dmg07)
WE LOVE ARMANN!!!
For Armaan is OUR ARMAAN!!!
we love him because he is KG.. muuahh..
love him for making us believe in love..
love him for showing there is undying love..
Love him for showing .. how to fight for love..
Love his..
beautiful smile..
his awesomeee dimples..
his hair .. long or short.. Go BKs and BMKs!!!
his beautiful gool gool eyes that express without saying a word..jin mein dubki lagane ka mann karta hai 
his tears..that make us cry our eyes out 
his laugh..that makes us laugh
his lips.. omggggg to die for..
they make a heart shape when looked from the sideee.. ck it out..
his dance..
his nose.. teekhi teekhi Greek God style 
his ears..
his hattaaa kaataa body
his shirt with buttons down
his chappals.. muuuuahh..
his clapping of hands..
his frustration
his anger.. ooh Ghussa baby on Fire!!!
his loveee.. did i say that...
his way of wanting Mithai... uufff.. i can do it right now KG just ask!! LOLLLL!!
LOVE LOVE LOVE ARMAAN...
he makes our world go round.... that is what DMG is for us ..
Armaan and every thing that comes with it..

Lets not forget to mention...
Lovee.. Shank.. Padmaa.. Vicky(oyyee what would we do without him!!)..
 Billy.. Annie.. Omar bhai,.. Sister lovely.. the nurses.. the other
interns.... all the other extras..
Amitabh jee for being the sweetest captain of this love ship
Pappu Da...wah kya camera hai kya nazar hai. .. The spot boys (especially the KG massage walas).. the makeup people.. and all othersss.....


With this being said.. ALL this Makes DMG....
The DMG we love
The DMG we are so passionate about...
DMG rocks..


loveee u DMG!!! DMG ROCKS!!!

(Credit @dmg07..Veena, for so beautifully portraying our love for DMG
)
Our Motto
To encourage KSG all the time against all negativity
.
We defend him in a fun way at IF
and
refrain from engaging in unnecessary bashing and arguments
because that only spoils the situation and brings a bad name to KSG fans
and we want Karan and Shraddha to be proud of us their fans!
Our Anthem
karan jahan kps wahan sang sang yun chale tere jaise tera aasma
jo bashing ki dhoop nikli KPS;teri protection ban jaye gey
jo tum hoye akele KPS tumara saaya ban jaye gey :)
jo haters aye KPS une bhagaye gey
tum aa gaye ho tau jeena aya hai
addiction ka tumne yeh jal bhechaya hai
koya khud ko ya sub kuch paya hai
From KPS to Karan
(Composed by @gia0005)
And finally at the risk of sounding cliched
......here's a shout out on behalf of the entire KPS
WE LOVE YOU KSG!!!!!!
Welcome and Enjoy!!!!!
With lots of love to all the NUTS


Edited by anitamalik - 16 December 2009 at 1:37pm