Today the 11th of November happens to be very Special for me... It is Special because it is the day when my Bestestttttt Friend was born... A friend whom i came across five long years back at the India-Forums.. and even today our friendship is going strong... Today it is Shrutu's (shruti11) birthday... and this topic is dedicated to her from all my heart....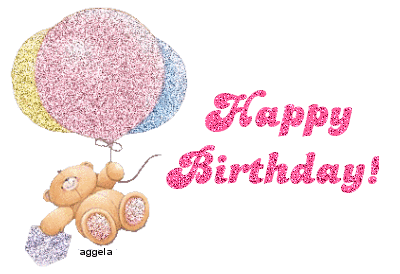 Shrutu Happy Birthday yaar..... I wish and hope all your dreamz come true.... Feel on topn of the world... It is your day.... Have a great day and a wonderful year ahead.... Shrutu keep smiling always because you know your smile matters a lot to me.... love you loads yaar.....

Today is indeed a lucky day for me.because on this day you my best friend were born.I have to thank my stars that they have given me the best friend I always wanted in you.you have always been there for me.your birthday is the special occasion where I can express how special you are.your are special to no bounds.the love you give, the care you show can never be measured.I'am lucky that God blessed me with a friend like you on this very day.Happy Birthday shrutu.you are a gem of a person.you are a rare diamond to find. I hope all your dreams come true.close your eyes and wish for all that you desire and the stars will grant you whatever you want.may you achieve success and prosperity in every phase of your life.I have one more wish on your birthday I wish we remain friend's forever. your friendship is very important to me.the fun we have talking to each other.the secrets we share with each other.the laugh , the sadness we share all are secure in my heart.and every moment with you I'll treasure all my life.the first time I heard your voice my happiness knew no bounds. you have been a friend when I needed a friend, a sister when I needed advice.you have always been there for me.thanku for being there.HAPPY BIRTHDAY.As you celebrate your special day here's what I wish for you , "MAY YOUR BIRTHDAY GROW HAPPIER BY EVERY MINUTE…and GIVE YOU REASONS TO SMILE ALL THE YEAR THROUGH." Shrut i have told this to you many a times but i will still repeat it whenever you need me i'll always be there standing by your side... Shrutu you sometimes seem like my twin, we both are Scorpios and jaise tune kaha tha kii either they click or don't click.. But we definitely and hands down cent percent click.... kyun sahii hai na.... Waise like in between all friends even we disagree at certain instances but that can never ever tare us apart... I really love the phone conversations we have.. I always know with the slightest change in your voice that you are happy or sad.. and the same thing goes to you.. you are one of the people who knows me inside out... you know everything about me.... it really feels great to have a friend like you.... you are really a gem of a friend and you deserve nothing but the best.. love you for being there for me always.... and shrutu as i always say this, and now i'll say it again you and me will always remain "Best Friends".... Happy Birthday Dearest...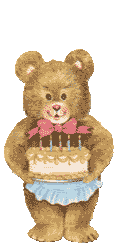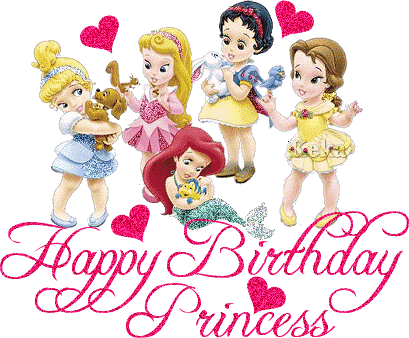 A brand new day is dawning And as it gets its start, I want you know I am thinking Of you with warmth in my heart. I hope your birthday is special No one deserves it more than you! You are such a kindhearted person, It shows in everything that you do. So, have a perfect morning And an even lovelier day... May happiness surround you Always.... not just for today!
Happy birthday to a special friend! Although I haven't known you many years, Perhaps because you've dried so many tears, Pleasure reigns as I these greetings send. Your happiness should last till all things end! Because you've been so sweet and understanding-- In toughest times you've made me laugh and smile-- Rejoice in your own specialness awhile: This I'm not requesting but demanding! How else to make yourself the celebration, Doing what does not come naturally? Always your concern has been for me, Yet now you must endure my adoration!
Ever since, the day we talked,
It was just a mere coincidence...
From that day
Our friendship blossomed, like a rose,
We suddenly became, very close.

Trust and support; mutually rely,
Lessons learned, we did apply.
Experiences taught, courses on life,
Mistakes were often, common and rife.

Looking back makes me smile,
You've always displayed, plenty of style.
On this day, when you were born,
The sky was filled, with stars adorn.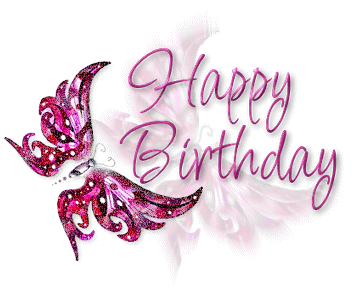 It's so good to know someone special, who shares,My secrets, my laughter, my dreams and my cares,Someone through good times and bad, when there's tears,It's so good to know you , my friend through the years.. On this day i would like to tell you you mean a lot to me..Happy Birthday...
Happy birthday, My precious friend, My love for you, I wish to extend.Experiences filled, with joy and laughter,Special memories, I shall recall after.From the beginning, you made me smile,Accepted me, without any trial.Never judged or jumped to conclusions,Exciting friendship; random infusions.I cannot ask, for anything more,So many things, I simply adore.Hope this birthday never ends,In my heart, time transcends.Happy Birthday....Happy Birthday my dear friend You have come so far along I know you expected something grand Like a CD of your favorite songs But I couldn't make that this year I decided to take more time To put more thought into this gift To write you a beautiful rhyme We've been through a lot together Through good times and bad But you always stuck by me Sometimes you were all I had You've done a lot for me And I've done some for you All those times you felt sad I was there to pull you through Not only are you helpful A laugh, you always bring Even though it's usually stupidity It's all the same thing We've really come far In this friendship that we made You mean a lot to me my friend I hope our friendship doesn't fade I hope this poem makes you smile But I really tried my best Happy Birthday to you my friend I hope you don't fail your permit test Happy Birthday My Best Friend!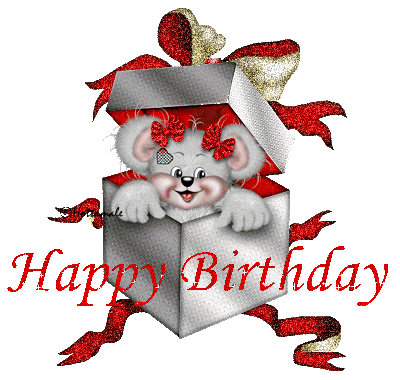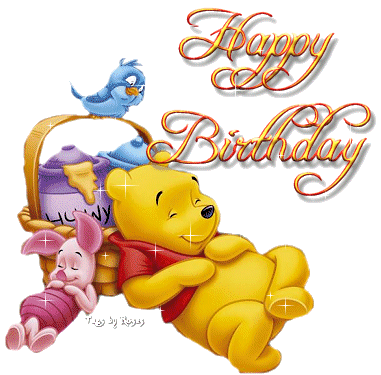 "A true friend is hard to find, Someone who is always kind.Words of advice; freely share, Helping hand, always spare.A true friend is hard to find, Someone always on my mind.Listens, cares, and understands, Hardships; mutually withstands.A true friend is hard to find, Someone like you! Let me remind. Birthday greetings, from my heart, This celebration, we must start".
"Happy birthday on this beautiful day, There's so many things, I just want to say. You inspire many, with your thoughts and actions, We're all so grateful, for your calm reactions. Happy birthday on this beautiful day, You've always been there, when we needed you to stay. Kindness and thoughtfulness is your forte, Our love for you, we wish to convey. Happy birthday on this beautiful day, We wish you the best, without any delay. Hope you enjoy it, from beginning till end, Here's a hug and kiss, we're ready to send"."Today is your day, and you're wished the best, I hope you celebrate it, with a lot of zest. For today though you are a year older, Store away your many wishes, until you feel bolder. So let the drums roll and horns toot, Now make a wish for a lot of loot,Happy Birthday"...
Friends will come and friends will go,
The seasons change and it will show,,
I will age and so will you,,
But our friendship stays, strong and true.,

Happy Birthday, Shrut....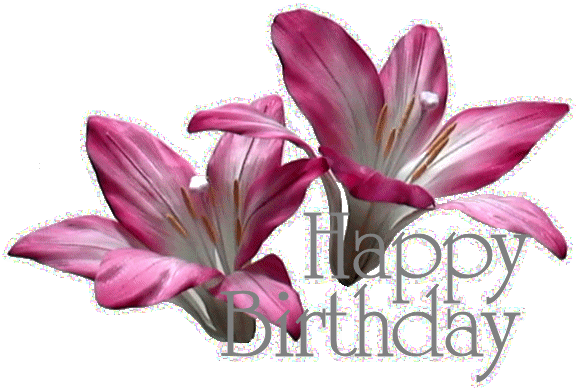 Today is your birthday, it's really true, A fantastic birthday, let me wish you. What's inside that box? It might be a fox! As for this day, I want to say Happy Birthday. Let's have a cake that we bake, For goodness sake.
Today is happy It most certainly is Shake a pop And make it fizz Fly a kite Or take a nap Slap a knee And pat a back Run or skip Without a care Or fly a plane If you dare Swim or skate Take your pick Hit a mailbox With a stick Fall or trip Laugh or play Do whatever Its your Birthday ... "Happy Birthday" means much more Than have a happy day. Within these words lie lots of things I never get to say. It means I love you first of all, Then thanks for all you do. It means you mean a lot to me, And that I'm proud of you. But most of all, I guess it means That I am thinking of you on this very special day, Happy Birthday".
"Make a wish and give it wings Dreams of bright and beautiful things Dance through all the fun filled hours Don't forget to smell the flowers Share some love and birthday cake All life joys are yours to take And when evening comes to view Thanks your lucky stars you're you"
Each year your birthday reminds me
That I really want to say
I'm very glad I know you;
I think of you each day.

I hope you enjoy your birthday,
All the pleasures it has in store,
And because I appreciate you,
I hope you have many more!

God gave a gift to the world when you were born
a person who loves, who cares,
who sees a person's need and fills it,
who encourages and lifts people up,
who spends energy on others
rather than herself,
someone who touches each life she enters,
and makes a difference in the world,
because ripples of kindness flow outward
as each person you have touched, touches others.
Your birthday deserves to be a national holiday,
because you are a special treasure
for all that you've done.
May the love you have shown to others
return to you, multiplied.
I wish you the happiest of birthdays,
and many, many more,
so that others have time to appreciate you
as much as I do.
Once a year I get the chance
To wish you birthday cheer.
It pleases me no end to say,
I wish you another great year.
So happy birthday to you ,
From the bottom of my heart.
And may your good times multiply,
Till they're flying off the chart!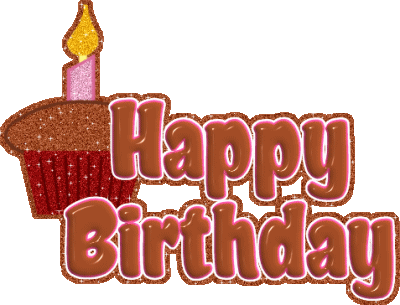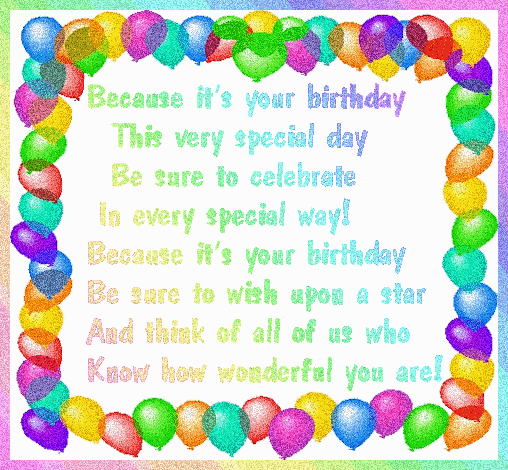 Some people give the gift of peace and tranquility to every life they touch. They are always who they really are. They are blessedly reliable, dependably good, predictably pleasant, loved and treasured by all who know them. You are one of those people. You are a gift of peace and tranquility in my life.Every year, on your birthday, I think about how glad I am that you were born, how thankful I am to have you in my life. Every year is another year filled with the special joys you bring just by being yourself. Every year, when you open your birthday gifts, realize what a gift you are to everyone who knows you, especially me. Happy Birthday!
On your birthday,
I wish for you the fulfillment
of all your fondest dreams.
I hope that for every candle
on your cake
you get a wonderful surprise.
I wish for you that
whatever you want most in life,
it comes to you,
just the way you imagined it,
or better.
I hope you get as much pleasure
from our friendship as I do.
I wish we were sisters,
so I could have known you
from the beginning.
I look forward to
enjoying our friendship
for many more of your birthdays.
I'm so glad you were born,
because you brighten my life
and fill it with joy.
Happy Birthday!

It's your birthday...
and I'm thinking how glad I am
that you were born.
You have given me so much--
supported me, encouraged me,
cared for me; I didn't even need to ask.
I celebrate your wonderful self!
I am in awe of your boundless generosity,
your infinite kindness--that gentle inner glow
that you so freely use to warm my life.
Your birthday is as much a celebration for me
as it is for you, maybe more,
and I wish for you the best of birthdays,
the best one ever.
May each birthday be better than the last.
Most of all, I hope you will always be
As happy as you have made me.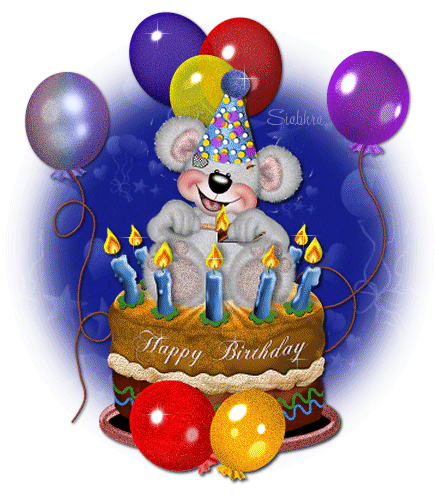 Happy birthday my dear friend, A special birthday to attend.Wouldn't miss it for the world, Laughs and stories we shall record.Our friendship began, long ago, Support and sympathy, mutually bestow. Never envious or neglect, Always listen and reflect.Cherish everything we share, Hope you know how much I care. Just want to wish you all the best, On your day, what's your request? Happy birthday my best friend, Amazing times, we always spend. Laughter and jokes are common place, Since we built that solid base. Special friend that I hold dear, Always wish to have you near. We get along, like bread with honey, A friendship worth, much more than money. If you stumble, count me there, Gratitude; no need to declare. Your thoughts are clear, in my mind, Understanding we always find. Happy birthday my best friend, I'm excited to attend. This birthday poem, is just for you, A great big smile is overdue.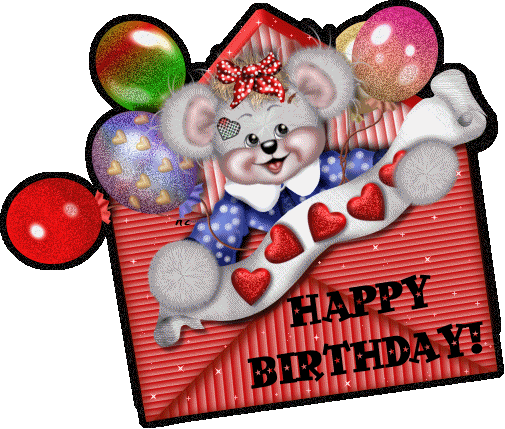 Shrutu here are some very special gifts for your birthday from my side...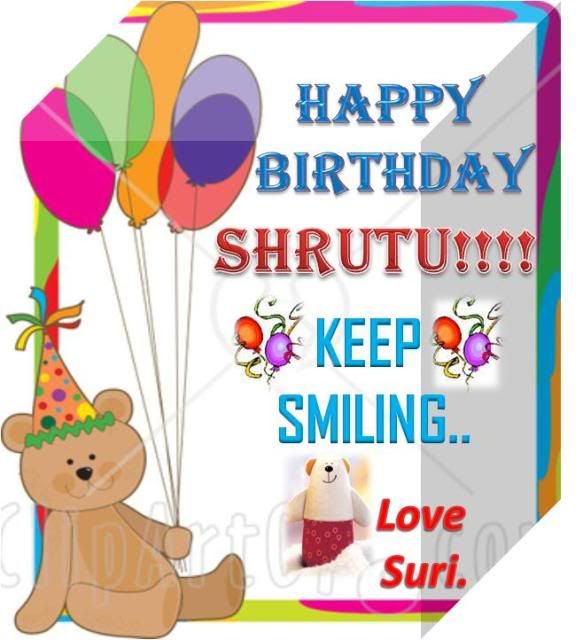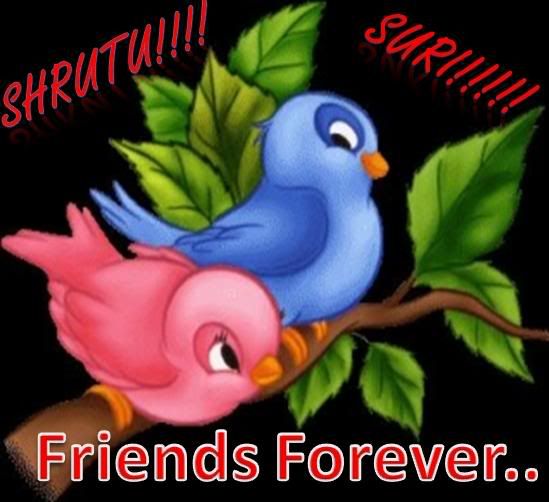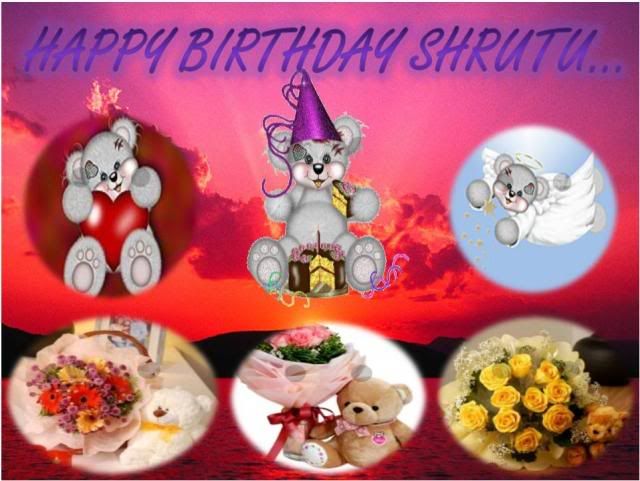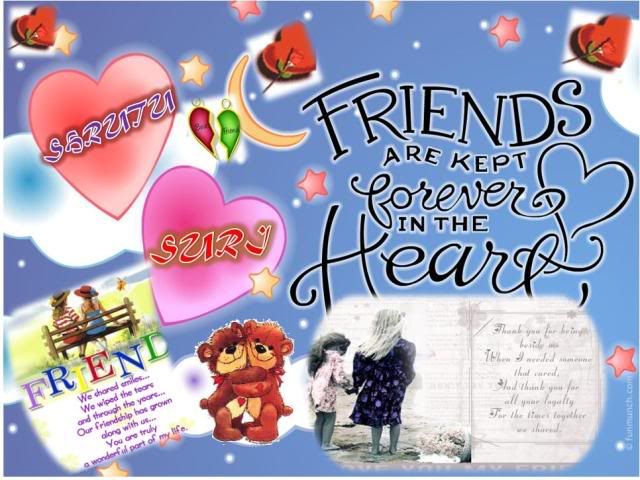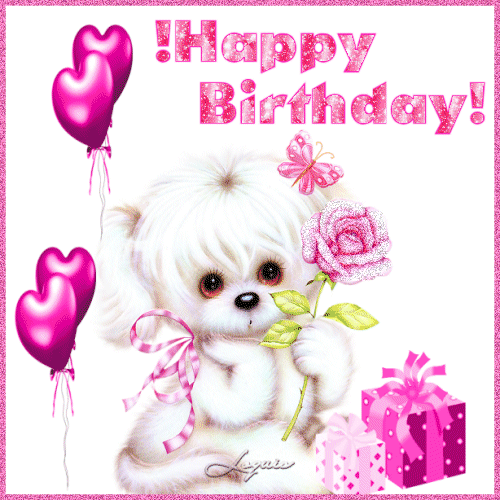 Happy Birthday Once Again Shrutu... Thank You For Everything... Loveeee Youuu Loadsssss... Muaahhhhhhhhhhhhhhhhhhhhhhhhhhhhhhhhhhhhhhhhhh...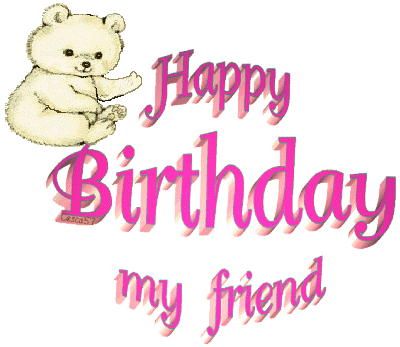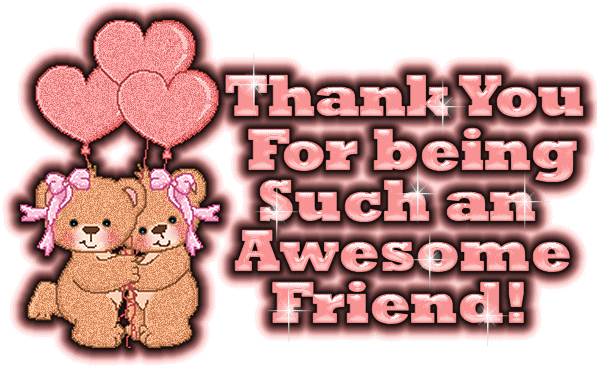 Loveeee Youuu Loadsssss... Muaahhhhhhhhhhhhhhhhhhhhhhhhhhh... Suri....