Kabhi kabhi kuch faisle dil pe chordene chahiyen, kyunki;
Dill
Hai ke maanta nahi'
Part 1
Kasauli
You see a bedroom' and two people sleeping on the double bed, actually one sleeping and the other tossing and turning' as you zoom closer you notice a small petite female figure tossing and turning in her space'
"I love u, kripa' tumse pyar karna mereliye ibaadat ki tarhan hai"
"you will always be mine' because I love you"
"Tumne aisa kyun kiya?" you hear a girl crying and saying this.
"Wo ek bohot bura insaan hai, usse bhool jaa"
"aaj se yehi tera bhagya hai"
"Wo bohot bura hai, wo bohot bura hai, WO BOHOT BURA HAI USSE BHOOL JAA"
all these words ring in her ears and she gets up' sweating profusely.
It's a beautiful young lady in her 20s' dressed in her silky night gown, long, black silky hair tied up in a bun' small beautiful eyes speaking words' words of pain' she wipes the sweat and gets off the bed, she heads to another room' the room says "Past'Present and Future" she enters in it' it was dark just a side lamp was on, lighting the dull room' the room had loads of books, photo albums and pictures hanging on the walls' she takes a diary and sits on the rocking chair' she sits there and Writes in the diary' she had written her lifes story in it'
"hi diary, I'm back' phirse wohi yaadein, patanahi kyun aisa lag raha hai phirse ek toofan aane waala hai meri zindagi me' itne samay baad maine apni shaadi ko maanliya, apne sabse acche dost ko pati ke roop me accept karliya, lekin ab aisa lag raha hai meri nayi khushiyon pe phirse nazar lag gayi, shayad mere ateet ki' isme sirf meri galati hai ke main apne ateet ko bhula hi nahi paati' kya karoon, koshish to bohot ki lekin 'dill hai ke maanta nahi' meri book ka title" she laughs a bit, "apne ateet se bhaagne ke bajaaye uske hi baare me likhti hoon, pata hai main paagal hoon lekin kya karoon? Uss ateet ko bhulaane keliye usse yaad karma zaroori hai, iss dill ko yeh manaana ke wo insaan mere pyar ke kaabil nahi hai, mujhe yeh sab phirse yaad karma hai, kyunki ab bhi dil nahi manta ke wo pyar' wo vaade' wo lamhe saare jhoot the' nahi manta yeh pagal dil, actually dil to aisa hi hota hai' lekin main isse samjha ke hi rahoongi" she looks determined, she takes a huge diary from one side, it said "Dill hai ke manta nahi" she opens it "I am kripa sharma now Mrs Mahi Sareen' yes I changed my name, there was a reason for that, the reason that changed my life' I try, I try my best to hate him but I just cant" she has tears in her eyes as she reads the beginning but then rubs her tears and gets lost in her thoughts of the past;
***Flashback***
Almost a year ago,
"maa main yeh shaadi nahi kar sakhti' aap jaanti ho ke main usse pyar karti hoon, main usse bhula nahi sakhti" she told her mother with tears in her eyes.
"beta wo accha insaan nahi hai, usse bhool jaa, apni zindagi ko naye sire se shuru kar, Beta Shabd tera dost hi nahi ek bohot accha insaan bhi hai, usse shaadi karle, please kripa naa mat kar agar tere papa ko pata chala to" gayatri shivers at the thought.
"lekin ma' main usse kaise bholaaoon?"
"beta waqt har zakhm bhar deta hai, tub hi usse bhool kar shabd se pyar karne lagegi, bas tu haan karde" she told her and left.
"Kaise bharega yeh maa? Yeh koi zakhm nahi mera pyar hai' I still love angad" she said to herself and started crying once again.
***Flashback ends***
She smiles and opens her eyes "ek wo din tha jab main shabd se shaadi bhi nahi karma chahti thi aur ek aaj hai ke main unke bina apni zindagi soch bhi nahi sakhti" she smiles, then touches her stomach, it was flat but there was a life in it.
"Aaj shabd aur meri zindagi ka sabse bara din hai, Doctor ne mujhe bataya ke main pregnant hoon" she smiles "aakhir shabd ka pyar aur dosti jeet gayi, usne mujhe jeene ka naya matlab sikha diya" she smiles, "lekin aaj phir wo mere khayalon me aagaya' kyun?" she cries "kyun tum mera peecha nahi chorte?? kyun?" she cries and looks at a pic of angad and her.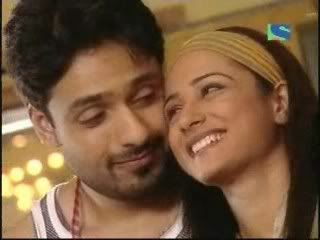 "wo aankhein, wo muskurahat, wo pyar, sab ek jhoot tha, aura b main yeh samajh jaana chahti hoon, apni zindagi ka ek naye sire se shuruwaat karma chahti hoon, shabd aur humaare iss naye aane waale mehmaan ke saath" she thinks and tears the picture and throws it in the bin, she picks the picture frame that was on the table;
"ab tumhi meri life ho' ab tumse hi meri har subha hogi aur shaam bhi" she smiles.
****************
The scene shifts to Shabd, he was sitting outside the balcony, it's the same room that kripa had walked out off, he sat there and looked outside, inhaled the cool air.
"jaanta hoon kripa' ek saal hone ko aaya lekin tum ab tak usse bhula nahi paayi ho' main jaanta hoon pehle pyar ko bhulaana kitna mushkil hota hai, lekin maine koshish ki aur tumne bhi' Mahi ko bhulaana aasan nahi tha lekin tumhe mahi banaa kar tumse pyar karna usse bhi mushkil' par ab dheere dheere sab theekh hojaayega' im sure sab theekh hojaayega' tum hamesha meri mahi ban kar rahogi aur main tumhaara pati' par kya karein yeh dil hai na dil' Maanta hi nahi, Mahi I still miss you, I still love you" he looks at the moon and says "dil me jab be inteha pyar ho kissikeliye wo itni aasaani se bhlaaya nahi jaata, mot bhi hume judaa nahi kar payi dekha mahi'" he laughs "bhagwan ne mere liye kripa ko tumhaare roop me bhejdiya' I reli like kripa' main usse bohot pyar karta hoon lekin mere dil me jo jagah mahi ki hai, wo hamesha rahegi' aur ek din hum milenge, hum sab' shayad mot ke baad, phir kya hoga? Phir to iss dil ko tum dono me se ek ko chunna hoga" he says "lekin uss raat jo hua, usse main kabhi bhi nahi bhulaa paaoonga, aur naa hi kissi ko bataa paaonga ke kya hua tha uss raat" he says and kripa enters.
"Shabd aap' aap ab tak jag rahe hain?" she asks feeling bad that she was here, he turns around with the fear that she heard something but smiles "haan wo neend khul gayi to khuli hawaa khaane aagaya' tum theekh to hona?"
"haan bas pyaas lagi thi" she lies and sits on the bed "chaliye ab sojaayiye, kal aapki meeting hai subha saath baje" she reminds him.
"Oh yess, main to bhool hi gaya, Thanks, tum nahi hoti to main kya karta kripa?" he says with a smile and lies down on the bed' there was a distance between them but kripa filled it, shocking him a little, she takes his hand and puts it under her head, he just stares at her in disbelieve.
"tum theekh hona wifey?"
"ab theekh hoon" she says and closes her eyes, he smiles and kisses her forehead.
*************
Scene shifts to America' you see a huge pant house, with glass all over' you see a young boy in his late 20s sitting on a sofa and looking out the window' it was raining, as the drops of rain fell on the window he smiled'
"Angad Khanna, The rockstar' Angad khanna yes that's me' sab meri life jeena chahte hain" he laughs "but little do they know that meri life mein khushiyan iss rain ki tarhan hai' jo drop hoke vanish hojaati hain' zindagi me pehli baar pyar kiya, lekin wo pyar bhi chin gaya" he smiles "what a life" he says sarcastically, you see a girl behind him rolling her eyes annoyed.
"Stop it now angad, kab tak wohi baatein doraate rahoge? Okay I agree tumhaari life waise nahi hai jaise tumne picture ki but atleast appreciate what you have" the girl says.
He turns "actually you are right kanan, absolutely right" he says sarcastically "mere paas bungalow hai, gaari hai, paisa hai aur, dosti karne keliye yeh chaar diwaari hai, pyar karne ke liye apna guitar hai" he taunts and she looks annoyed.
"God angad u and ur witty comments, taunts and insults, that's all you knw right" she says annoyed.
"ya' that's Angad khanna Right?" he smirks.
"Tumse baat karma is useless im outta here" she leaves and he smiles.
"Main aur meri tanhaaiyi aksar yeh baatein karte hain, tum hoti to kya hota, agar tum hoti to kya hota" he smiles and looks at the rain as he slowly drifts into a rail of memories'.
***Flashbacks***
"angad nahi' angad" she ran back in the shed as he pulled her back out.
"Kya angad kya kar rahe ho?"
"Tumse pyar" he said and she blushed both getting wet.. he pulls her closer almost in a hug.
"Angad choro na" she says and tries to flee but he doesn't let go and asks her to dance, she looks at him confused but eventually agrees' they dance romantically' then he starts kissing her, she inhales the love and lets him carry on, but suddenly he stops and she looks shocked.
"kya hua?" she asks surprised, he smiles and pulls her in the shed.
He stands there and stares at her "pyar to bohot hai but lust nahi' tumse pyar karna mereliye ibaadat hai aur main iss pooja ko ganda nahi kar sakhta" he says and she stares at him with love, suddenly she hugs him tight.
"I love u angad"
"I love u too"
"I love u three, four, five"
"I love u nine ten eleven" they both laugh and as the voices echo angad is back in his room.
***Flashback ends***
"I love u three, four, five"
It rang in his ears as he smiled, suddenly the smile turned into a frown.
"Yeh mujhe hamesha kya hojaata hai? I've excepted my destiny, usse alag hona hi mere naseeb me tha' hum dono ek dusre ke liye bane hi nahi the' uss din ke baad main uski shakal tak nahi dekhna chahta lekin phir bhi yeh khayal, wo yaadein, wo pyar kyun gari gari mujhe yaad aajaata hai? Kyun meri zindagi me problems create karta hai'" he laughs and thinks "oh yes, its this Herat, yeh dil' yeh dil kabhi nahi samajhta kya sahi hai aur kya ghalat, bas pyar karta rehta hai' pagal' wo kyat ha? Haan Dil hai ke maanta nahi, so true" he smiles and then remembers something;
***Flashbacks***
"angad chalo na, hum rohit se kehdenge meri tabiyat theekh nahi, kitna time hua hum saath kahin nahi gaye" she insists like a child.
"Kripa' tumhe chahiye na humaara band sabse successful ho? To chalo hume jaana hoga and besides Rohit will get really upset, last week bhi tumne yehi kiya tha" he says and she makes a puppy dog face.
"Please angad, please' kya karoon mera dil hai ke maanta hi nahi, it wants more and more" she says and he laughs.
"Tum aajkal filme bohot dekh rahi ho na?" he laughs and they walk hand in hand.
"whatever"
"haan really kitni nautanki karti ho" he said the voices going further.
"nautanki? Tumne mujhe nautanki kaha?" she hits his shoulder, they laughs and go out of sight.
***Flashback ends***
Her words once again echoe in his ears "Kya karoon dil hai ke maanta hi nahi' it wants more and more"
"enough okay' come on angad khanna, stop it now, stop thinking of her" he tells himself but when he fails to do so, he takes the help of alcohol' he gets fully talli and in his drunk state also thinks of her, just that he doesn't know it!
Three of them with there thoughts:
Angad
"I love u 10, 11, 12" he laughs in his drunk state and falls off to sleep.
Kripa
She was laying there not asleep, her thoughts still confused and lost in between the two men in her life.
"shabd tumne mereliye kitna kuch kiya hai, kitna kuch saha hai, mahi ke jaane ke baad' I knw tumbhi meri tarhan uljanon me ghire ho, dil aur iss pavitra rishte ke beech, lekin main jaanti hoon ke tumne mujhe chunliya hai aur aaj main bhi tumhe chunti hoon, mere aane waale kal ko'"
Shabd
"mahi ab maine maan liya hai ke tumne kripa ke roop me phirse janam leliya, and I'm realizing that I love kripa a lot' kal main usse bahar dinner pe le jaaoonga, she deserves an outing'" he thinks as he tries to sleep.
Shabd thinks of when he got married to kripa

Dil hai ke manta nahin
Mushkil badi hai rasme mohabbat
Yeh jaanta hi nahin

Kripa thinks of shabd' all the moments they spend together and when the doc told her that she was pregnant.

Oh, dil hai ke manta nahin
Dil hai ke manta nahin
Yeh beqaraari kyoon ho rahi hai
Yeh jaanta hi nahin
Ho, dil hai ke manta nahin
Dil hai ke manta nahin

Angad looks at her pics in a drunken state

Dil to yeh chaahe har pal tumhe hum
Bas yunhi dekha kare
Marke bhi hum na tumse judaa ho
Aao kuch aisa kare
Mujh mein sama jaa, aa paas aa jaa
Hamdam mere hamnasheen

Kripa thinks all the moments with shabd' al he had done for her

Dil hai ke manta nahin -
Teri vafaaye,
teri mohabbat
Sab kuch hai mere liye
Tune diya hai nazraana dil ko
Hum to hai tere liye
Yeh baat sach hai, sab jaante hai
Tumko bhi hai yeh yakeen

Shabd thinks of Mahi and then of kripa'

Dil hai ke manta nahin -
Mushkil badi hai rasme mohabbat
Yeh jaanta hi nahin

Angad crops in Kripas thoughts again and she realizes her heart wouldn't forget him

Oh, dil hai ke manta nahin
Dil hai ke manta nahin
**********
Hope u liked it! Okay guys plz don't kill me for this, but there is gonna be sum suspense on what happened, it will be revealed a little later that what happened to mahi? Who was she? Why did shabd marry kripa? What happened between AK? All ur questions will be answered soon!
Luv u
Nadz


Edited by nadz_J - 10 November 2009 at 5:09am