The Vampire Diaries Synopsis

Four months after the tragic car accident that killed their parents, 17-year-old Elena Gilbert (Nina Dobrev, "DeGrassi: The Next Generation") and her 15-year-old brother, Jeremy (Steven R. McQueen, "Everwood"), are still adjusting to their new reality. Elena has always been the star student; beautiful, popular and involved with school and friends, but now she finds herself struggling to hide her grief from the world. Elena and Jeremy are now living with their cool-but-overwhelmed Aunt Jenna (Sara Canning, "Smallville"), who is doing her best to be a surrogate parent.
Elena manages to find some comfort with her familiar social circle ' best friend Bonnie (Katerina Graham, "17 Again"), frenemy Caroline (Candice Accola, "Juno"), and former boyfriend Matt (Zach Roerig, "Friday Night Lights"), but Jeremy is on a more dangerous path, hanging out with the stoners and using drugs to hide his pain. Jeremy is also trying to figure out why Matt's sister, Vicki (Kayla Ewell, "The Bold and The Beautiful"), is suddenly rejecting him and hanging out with Jeremy's rival, Tyler (Michael Trevino, "Cane").
As the school year begins at Mystic Falls High, Elena and her friends are fascinated by a handsome and mysterious new student, Stefan Salvatore (Paul Wesley, "Fallen"). Stefan and Elena are immediately drawn to one another, although Elena is puzzled by Stefan's increasingly bizarre behavior when he appears suddenly at the cemetery where her parents are buried. What she doesn't realize is that Stefan is hiding a dark, deadly secret of his own ' the fact that he's a vampire. At a bonfire party the next night, Elena and Stefan are just getting to know each other when chaos erupts after Vicki is attacked and left bleeding from a savage bite to the neck.
Fearing that he knows who is responsible for the attack, Stefan returns home and finds his older brother, Damon (Ian Somerhalder, "Lost"), whom he hasn't seen for 15 years. Damon is also a vampire, and the two brothers have a long and bitter history. Damon ridicules Stefan for rejecting their legacy of violence and brutality, but he understands his brother's obsession with Elena, since she looks exactly like a woman Stefan loved more than a century ago; a woman that Damon tried to make his own. Now these two vampire brothers ' one good, one evil ' are at war for Elena's soul and for the souls of her friends, family and all the residents of Mystic Falls, Virginia.
Based on the series of books by L. J. Smith, THE VAMPIRE DIARIES is from Alloy Entertainment and Bonanza Productions Inc in association with Warner Bros. Television and CBS Television Studios with executive producers Kevin Williamson ("Scream," "Dawson's Creek"), Julie Plec ("Kyle XY," "Wasteland"), Leslie Morgenstein ("Gossip Girl," "Private") and Bob Levy ("Gossip Girl," "Privileged"). Marcos Siega ("Dexter") directed the pilot. (Plot - CW.com)

|| Meet the cast ||

Paul Wesly as Stefen Salvator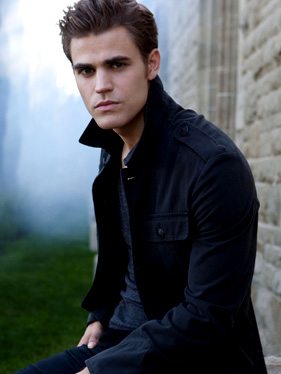 Paul Wesley stars as Stefan Salvatore, a vampire struggling to live at peace with human beings, in The CW's new drama "The Vampire Diaries."
On the big screen, Wesley just completed production on "Beneath the Blue," the sequel to the award-winning feature "Eye of the Dolphin." Wesley stars as Craig Morrison in this story about an ongoing, inner battle of conscience, trust and loyalty. Wesley was last seen in "Killer Movie," which premiered at the 2008 Tribeca Film Festival. He played Jake Tanner, a young director who is sent to a remote town to direct a reality series and senses something is not quite right when, one by one, his crew goes missing. His film credits also include "Peaceful Warrior," opposite Nick Nolte, and the cult favorite "Roll Bounce."
In the summer of 2007, Wesley starred in "Fallen," the four-part miniseries based on the hit book series by Tom Sniegoski, chronicling the journey of an 18-year-old (Wesley) who struggles to come to terms with his newly discovered identity as he is drawn into a world where angels ' good and evil ' walk among us.
Wesley has had recurring roles on television shows such as "24," "Everwood," "American Dreams," and "8 Simple Rules," to name a few. He was seen as a series regular in "Wolf Lake," and guest starred on "Law & Order: SVU," "Shark" and Cold Case."
Born and raised in New Brunswick, New Jersey, Wesley currently resides in Atlanta, Georgia, where "The Vampire Diaries" films, and Los Angeles, California.

Nina Dobrev as Elena Gilbert
Nina Dobrev stars as Elena Gilbert, a beautiful young girl caught between two vampire brothers '- one good, one evil -- in The CW's new drama, "The Vampire Diaries."
Dobrev recently wrapped production on Montecito Pictures' "Chloe," with Julianne Moore, Amanda Seyfried and Liam Neeson. Past film credits include "Fugitive Pieces," with Ayelet Zurer and Rosamund Pike, "Away From Her," with Julie Christie, and "The Poet."
Other television credits include lead roles on "DeGrassi: The Next Generation" and MTV's "The American Mall," as well as a guest appearance on "Eleventh Hour." She has also appeared in the television movies "Never Cry Werewolf" and "Too Young to Marry."
Born in Bulgaria, Dobrev moved to Canada at the age of 2 and grew up in Toronto, Ontario. She currently lives in Los Angeles, California, and in Atlanta, Georgia, where "The Vampire Diaries" is filmed.

Ian Somerhalder as Damon Salvator
Ian Somerhalder plays Damon Salvatore, the elder and far more dangerous of two vampire brothers who share a long and bitter history, in The CW's new drama "The Vampire Diaries."
Somerhalder is well known for his role as Boone on J.J. Abrams' critically acclaimed drama "Lost." He won the 2005 SAG Award as part of "Outstanding Performance by an Ensemble in a Drama Series" and "Lost" won the 2005 Emmy Award for "Best Television Series - Drama." The show was also nominated for the 2004 Golden Globe Award and the 2004 People's Choice Award.
Somerhalder will next appear on the big screen in Scott Mann's "The Tournament," opposite Robert Carlyle, Ving Rhames and Kelly Hu. The film is about a battle that takes place every ten years between 40 of the world's deadliest assassins. Other film credits include starring in Ellen Kanor's "The Wake," opposite Bijou Phillips; Aaron Wiederspahn's "Sensation of Sight," opposite David Strathairn and Jane Adams; Jim Sonzero's "Pulse," opposite Kristen Bell and Christina Milian; Roger Avary's "The Rules of Attraction," opposite James Van Der Beek, Kate Bosworth, Kip Pardue and Jessica Biel; Irwin Winkler's "Life as a House," opposite Hayden Christensen, Kevin Kline and Kristen Scott Thomas; Martin Guigui's "Changing Hearts," opposite Lauren Holly and Faye Dunaway; and Tony Giglio's "In Enemy Hands," opposite William H. Macy, Jeremy Sisto and Scott Caan.
On stage, Somerhalder starred off-Broadway in Trip Cullman's "Dog Sees God: Confessions of a Teenage Blockhead," an "unauthorized parody" of Charles Schulz' comic strip "Peanuts" that follows the travails of a grown up Charlie Brown and the original gang as their beloved beagle dies. Somerhalder co-starred with Eddie Kaye Thomas, Eliza Dushku, America Ferrera, Ari Graynor and Logan Marshall-Green.
Somerhalder recently starred in the Sci Fi Channel's "Lost City Raiders," opposite James Brolin. "Lost City Raiders" premiered to record ratings. He also starred in the miniseries "Marco Polo," playing the title character opposite Brian Dennehy and B.D Wong. Written by Ron Hutchinson, the film traces the Venetian adventurer's journey to Mongolia, where he was an envoy to the court of Kubla Khan. Somerhalder's other television credits include the lead role on The WB's "Young Americans," the TV movie "Anatomy of a Hate Crime," and guest starring roles in "CSI," "CSI: Miami," "Law and Order: Special Victims Unit" and "Smallville."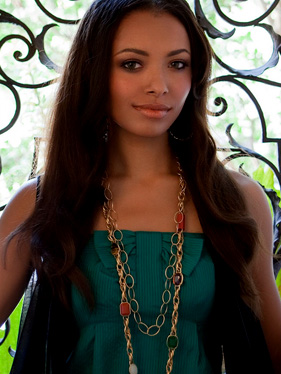 KATERINA GRAHAM as BONNIE BENNETT
Katerina Graham stars as Bonnie Bennett, the girl with psychic powers who is Elena's (Nina Dobrev) best friend
Born in Geneva, Switzerland, Graham speaks four languages, and was exposed to different cultures from an early age. Her father, Joseph, was a music executive. Her grandfather was a United Nations Ambassador from Liberia. The family moved to Los Angeles, California when Graham was 4 years old.
Graham was seen in the film "17 Again," with Zac Efron and Matthew Perry. Her upcoming film projects include "Our First Christmas" and "Bleachers," the remake of "The Breakfast Club." She can also be seen in "Chicago Pulaski Jones," directed by Cedric the Entertainer. She recently completed filming the movie "Boogie Town," with Marques Houston, Brenda Song, and Vanessa Simmons, as well as the upcoming thriller "The Roommate," with Leighton Meester of "Gossip Girl."

STEVEN R. MCQUEEN as JEREMY GILBERT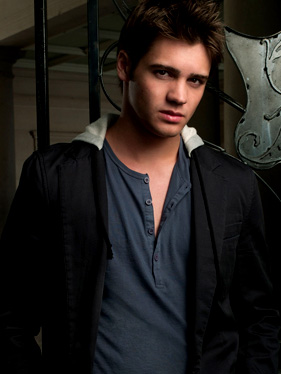 Steven R. McQueen stars as Jeremy Gilbert, a troubled teen on a dangerous and self-destructive path since the death of his parents
McQueen has already built an impressive resume of television appearances. He had a recurring role as a musical prodigy on the drama "Everwood," and a leading role in the Disney Channel movie "Minutemen." His guest-starring roles have included series such as "CSI: Miami," "Without a Trace," "Numbers" and "Threshold."
On the big screen, McQueen appeared in the independent film "Club Soda," for which he won the Beverly Hills Film Festival Audience Award for Best Actor. He also has a leading role in the upcoming sci-fi action film "Piranha 3-D," with Elizabeth Shue and Jerry O'Connell.
McQueen is skilled in martial arts, ice hockey, kickboxing and horseback riding.
Born and raised in Los Angeles, California, McQueen is the grandson of actor Steve McQueen. He has recently relocated to Atlanta, Georgia, for the filming of "The Vampire Diaries.
CANDICE ACCOLA as CAROLINE FORBES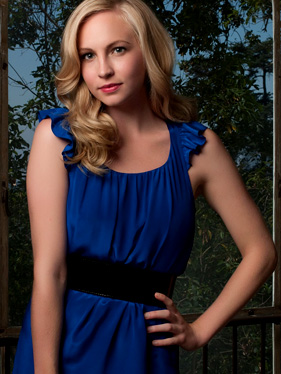 Candice Accola makes her debut as a series regular in The CW's new drama "The Vampire Diaries" as the manipulative Caroline Forbes, the nemesis of former friend Elena Gilbert (Nina Dobrev).
Accola recently completed filming the independent film "The Truth About Angels." She was last seen in a featured role in the smash hit "Juno," opposite Ellen Page and Michael Cera. She also starred in "Deadgirl," the independent horror film that was met with much critical attention and internet buzz at the Toronto Film Festival in 2008. The film will be in limited release in the summer of 2009. On television, she has had guest starring roles in The CW's "Supernatural," as well as "Greek" and "How I Met Your Mother."
Accola is best known for her musical talents, and she provided back up vocals in "Hannah Montana: The Movie," as well as touring with the "Miley Cyrus/Hannah Montana Best of Both Worlds" tour in 2008. An accomplished singer and songwriter since the age of 14, she achieved success in her music career after being signed to a record deal at the age of 16. Her music has garnered international success, and she continues to record and write her own music.
Accola was born and raised in Orlando, Florida, and currently resides in Atlanta, Georgia, where "The Vampire Diaries" films.

ZACH ROERIG as MATT DONOVAN
Zach Roerig makes his primetime series regular debut as Matt Donovan, the quintessential all-American athlete and big man on campus.
Many viewers will remember Roerig from his recent high-profile arc as Tyra's (Adrianne Palicki) bad boy beau, rodeo star Cash, on the critically acclaimed drama "Friday Night Lights."
While 2009 marks Roerig's true introduction into primetime television, he is no stranger to hard, steady work. Born and raised Northwestern Ohio, Zach assisted in his family business and played competitive sports, including football and wrestling. Growing up in a small, rural town, Roerig has always been avid outdoorsman. In his later years of high school, he caught the acting bug and began commuting to Cleveland (the closest big city) to begin formal training. Upon graduation Zach moved to New York to pursue his dream of a career as an actor.
Within a matter of months, he landed the role of Casey Hughes on the daytime serial "As the World Turns," where he made such an impression on the producers and fans that he was soon offered a long-term contract. His two-year stint on the soap allowed him to continue to hone his craft while enjoying steady work as an actor. During this time he also shot two pilots: "The Prince" and "Split Decision," and made a guest appearance on "Law and Order."
Shortly after leaving "As The World Turns," Roerig made his feature film debut in the ensemble comedy "The Assassination of a High School President." The film, which stars Bruce Willis, was an official selection at The 2008 Sundance Film Festival. This summer, Roerig completed a lead role the independent feature film "Strawberry Wine," and also served as one of the film's executive producers.
Roerig currently resides in Atlanta, Georgia, where "The Vampire Diaries" is filming.
KAYLA EWELL as VICKI DONOVAN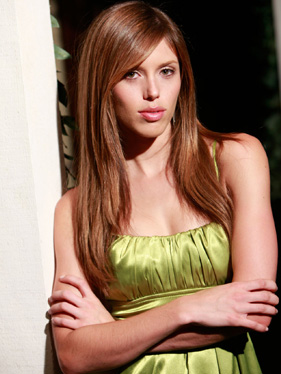 Kayla Ewell plays Vicki Donovan, a small town girl who is caught up in the violent feud between two vampire brothers, in The CW's new drama, "The Vampire Diaries."
Ewell first discovered her love of acting when she participated in the children's chorus for the national tour of "Joseph and the Amazing Technicolor Dreamcoat." Since then she has landed lead roles in the films "Fired Up," "Impact Point" and "Senior Skip Day," as well as roles in Martha Coolidge's "Material Girls," with Hilary Duff, and Donald Petrie's "Just My Luck," with Lindsay Lohan.
Ewell's television credits include a series regular role on "The Bold and the Beautiful," where she originated the role of Caitlin Ramirez. She had recurring roles on the hit shows "Entourage," "The O.C.," "Boston Public," "Freaks and Geeks" and "The Sullivan Sisters." Additional guest starring roles include "Bones," "Close to Home," "Veronica Mars," "The Profiler" and "Gulliver's Travels." In addition, her appearance as the girl on the beach in the Counting Crows' national Coca-Cola campaign garnered her national attention.
Ewell is accomplished in tap, jazz, and hip-hop dance. She also enjoys surfing, rock climbing and white water rafting. She currently resides in Los Angeles and in Atlanta, Georgia, where "The Vampire Diaries" films.
MICHAEL TREVINO as TYLER LOCKWOOD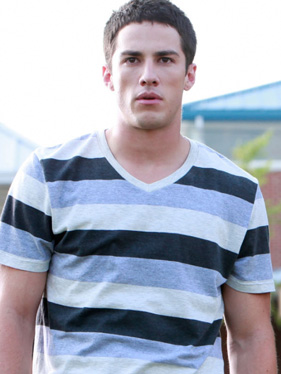 Michael Trevino plays Taylor Lockwood, a volatile young man who clashes with the mysterious new student in The CW's new drama "The Vampire Diaries."
Born to Mexican parents in Valencia, California, Trevino was raised in East Los Angeles. Once he discovered his passion for acting, he enrolled at Playhouse West for theater studies. One of his first jobs was an Old Navy Commercial. Since then, Trevino has had guests spots in various shows, including "Charmed," "Summerland," "Bones," "90210," "The Mentalist" and "CSI: Miami." Most recently he had a five-episode guest spot on "The Riches," co-starring Minnie Driver and Eddie Izzard. In 2007, he was selected to play Jimmy Smits' oldest son Jaime on the family drama "Cane."
In the past year, Trevino was one of the leads in the Hallmark movie "Love Finds a Home," which also starred Patty Duke. He has also completed work on "The Factory," a motion picture starring John Cusack, set to be in theaters in 2010.
An avid sportsman, Trevino enjoys football, surfing, body boarding, snow boarding and deep sea fishing. He is also a talented dancer.
Trevino now divides his time between Los Angeles and Atlanta, Georgia, where "The Vampire Diaries" films.
SARA CANNING as JENNA SOMMERS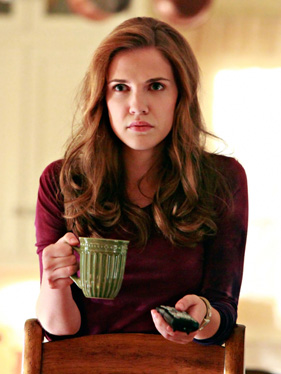 Sara Canning plays Jenna Sommers, the loving aunt trying to care for her teenage niece and nephew after the death of their parents, on The CW's new drama, "The Vampire Diaries."
Canning's love of performing began at a very young age; she was a competitive figure skater for much of her childhood and early adolescence. Later, she graduated from the Vancouver Film School's prestigious acting program.
Canning made her professional acting debut in the stage production of "1984" at the Citadel Theater in Edmonton, Alberta. She soon began working steadily in television, with guest starring roles in series like "Smallville" and "Kyle XY." Feature film roles swiftly followed, in projects such as "Paparazzi Princess: The Paris Hilton Story, "Slap Shot 3" and "Come Dance at My Wedding."
Her breakthrough role came with the cable film "Taken in Broad Daylight." In the based-on-a-true story movie, she starred as Anne Sluti, a teen whose bravery and intelligence led the police to locate her captor after she was abducted from a shopping mall by a deranged killer, played by James Van Der Beek.
Most recently, Canning's classical training and dialect work came in handy for her role in the independent feature "Black Field," in which she played a 19th Century Scottish migr making a life in the untamed Canadian wilderness.
Beyond performing, Canning's passions also include other aspects of entertainment. Last year, she wrote and produced an independent film, which was developed as her student thesis project.
Canning was born in Gander, Newfoundland and currently resides in Atlanta, Georgia, where "The Vampire Diaries" is filming.

PICTURE GALLERY - Page 02