~.~.~.~.~.~.~.~.~.~.~.~.~.~.~.~.~.~.~.~.~.~.~.~.~.~.~.~.~.~.~.~.~.~Fanclub Rules and Information:If you have any questions/ concerns/ suggestions regarding the AN FC, feel free to PM me (shockalot) or Trinzy (trina1)Rules:
This is a fanclub where fans of Abhi-Niki gather. If you don't have anything nice to say about them or the actors who portray their characters, please try to keep the bashing out as it'll upset FC members. This is not to say that you cannot give constructive criticism...everyone messes up! Constructive criticism is definately allowed! Just no outright hatred and bashing

Try to keep the personal chatting to a minimum

Please refrain from bringing in other characters into the FC - it's fine to comment on them in the episode but let's try to keep that to a bare minimum and keep the bashing out.

~.~.~.~.~.~.~.~.~.~.~.~.~.~.~.~.~.~.~.~.~.~.~.~.~.~.~.~.~.~.~.~.~.~
Previous AN fanclubs: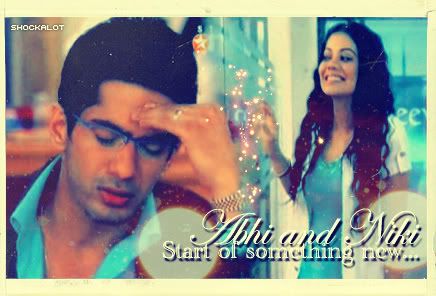 Shweta Gulati as Dr. Nikita

Shweta Gulati enters Dill Mill Gayye and Sanjeevani as Dr. Nikita Malhotra, the newest intern of the lot. She's beautiful, she's vibrant, she's the complete package! Niki plays a sweet and positive character who turns out to be Armaan's best friend from his college days but soon becomes great friends with Riddhima as well.


Amit Tandon as Dr. Abhimanyu
Members
shockalot (Shazia)
groovygal14 (Aishwarya)
rani1224patel
Anhdara13
Sonii_Babii (Neelam)
mz.intoxicated (Pagloo)
noha450 (Noha)
cool_pak
yam_dmg (Yamini)
26javey26 (Javeria)
musicdiva
* Unnati *
Chandani_C (Sayra)
Asthurox (Astha)
hmm...
shilpa_28
angeldmg16 (Noorin)
Rema_13
Love_ya (Neha)
ashprincess (Ash)
x.sonia.x
deepthis
mihrii
rogyvib (Roz)
Sati
calista
Aisha00 (Aisha)
aish_punk (Aish)
sheronia
sonu4ever (Humera)
forbiddenlove (Anu)
lovebapu18 (Radhika)
ftm_ca (Fatima)
fizzazaza (Fizza)
nema_dmg (Nema)
SaziArmaan
emmy21 (Emmy)
pakindmuziq (Iqra)
xxxxminixxxx (Minita)
dmg 4lyf
spring92
Miiss_Universe
sanah_tendulkar (Sanah)

mirchy (Adi)
60 FIVE Shotz (Saad)
asma1
AngelTeen
xsimzxchickx
cutiex0
xXAngeliCXx
coolmimz (Mimi)
Knowalot2 (Kanya)
clars
phenomenolgal
rose.three
music_l0ver036
karanrox
Nitica_82 (Nitica)
blackdaughter (Maddy)
Navi_44 (Navi)
sweetdreams4040 (Sameera)
Prietha
dilpreet15
trina1 (Trina)
aparna_1988 (Aparna)
dafoddils.dudu (Chaiths)
Erutan99 (Ivy)
angel3142 (Sushie)
ArmaansGirl (Sadi)
nowee10 (Noreen)
rialuvskaran
maxliz (Rach)
bmtd18 (Indira)
adventure_girl (Sonali)
KaSuPremeer (Lana)
Sigma (Parmjit)

Kay
Ashraqa
mich09 (Michelle)

dmg_mjht
abhinickiluv
xxsugasweetxx (Reyanka)
anotheranfan (Priyanka)
maha_prakrti (Krithika)
DMGdadi
Fallen Angel (Najmah)
doyel_777 (Doyel)
anyalolitta (Bhavana)
Anisa
_SuMmEr_LoVe_ (Summer)
Annu13
Neha55_Meghq
cutie_pie09
capri_girl (Minu)
shanti05
rahmona_pakswe (Mona)
mitzification
silentangel
current (Zainab)
sanjana38
chicken.butt05 (Jasmine)
Bini311 (Bini)
Neha55 (Neha)
bengiangel2k8 (Alysha)
pinalkpatel (Pinal)
Andhara13 (Radz)
angel_sub
TaintedShimmer
-Nina- (Nina)
sweety_16_usa (Riya)
Mrsha (Marausha)
ratika89
sand89 (Ritika)
SabKaDost (Anthony)
vaish04 (Vaishnavi)
Madiha (pokemon)
K2G2 (Shanga)
Abhi-Niki (Sanya)
qush3
maybe-just (Farah)
hum993
pagli91(Fahi)
hapinezz13 (Honey)
narutolion (Saphira)
Aisha862
b-daywish (Nawal)
Ditto100
ANfan_1810 (Annie)
wow123
ANfan (Shachee)
tamanna
b-daywish
desperate001(Himanshu)

*original post made by Shockalot*