B'Day msgs from your lovely friends......
From Me
Happy Birthday Jagavi.................
many many happy returns of the day
May the comming year bring lots of love happiness in your life!!
Thank u for everything!!!!
with love....Parita
From Radhika
Happy birthday jagavi!!! hope you have a great time!! youre an awesome person and i hope you get lotsa joy!
From Tani
A sweet girl like u is very rare in the world. So, the day is so special for all ur friends. Because it's ur birthday today Jagi. Wishing u the bestest day of ur life. May all the days of ur life be as beautiful as ur birthday.


HAPPY BIRTHDAY JAGI


Tanni.
From Koshi
Jagu Jagu pyaari Jagu
U r my sweety
Tumko paake paayi maine ek cute si sister
Though we have never been soo close but still I'm very close to u
even if u r not!!
PROUD TO BE UR FRIEND & SISTER
meri pyaari choti behen
LOVE U LOADS
Koshi!!
gimme a hug!! sweety!
From Yamini:

Dear Jagavi
Wish you a very HAPPY BIRTHDAY. May all ur wishes come true and may u achieve all success u ever wanted. God bless and have a rocking birthday!!!
Love
Yamini

From Naveen
Hey Jagavi !!
lots of love and best wishes,
Naveen
From Sana
Wish U A Very Return Of The Day

sana aka nice angel
From Kiran ( sharad_divyanka )
HAPPY BIRTHDAY wishes many happy moments,
a day when dreams come true,
and a year that's filled with all the things
that mean the most to you.

some gifts
From Bhumi(--Bhumi--)
happy birthday jagavi
hopping that all happiness come in your way !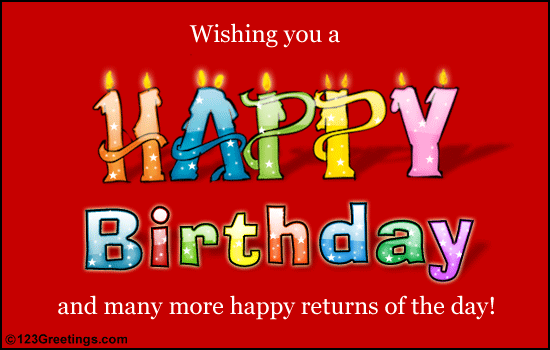 From Maru
- HAPPY BIRTHDAY JAGAVI -

Happy birthday to you
Happy birthday to you
Happy birthday to jagavi
Happy birthday to youu
WOu wou wou today is Jagavi's BD!!!
I wish youu a great Bd!!!!
Your a sweet and lovely person...and really really helpfull yaar!!
You have help me in every moment!!!
thanks alott i will never forget this!!!!
Loveeee your sweet and gorgeous siggys ..they are fab!!!
and keep doing siggy..ur the best!!
sooour waiting for ur gift right...so here you go:
You take the best and i take the friend!!
LOL...
Okkk...sorry yaar no siggy...i am in hurry....
Love Maru


From Shala
hey Jagz...my sweet little sisi!!!!happy B-D!!
i am so glad to have a friend like u in IF....soo enjoy alot cuz today is a special day for u...and eat all those pizzas!!ummyyyyyy...and my gift for u is a huge KISS!!!
--Shala


Edited by --Pari-- - 04 October 2009 at 11:12am