Rajeev Khandelwal
A Person who has captured our heart & still continues to Rule Them !!
The Man who can make millions of girls faint.
He was first behind the camera writting documentary film scripts & then few year ago made his way to the front screen


Rajeev Khandelwal

You gave us reason to smile

To just keep looking at u

And forget all aour worries for a while

Your eyes showed us the heights of hooded intensity

Your heart filled with nothing but sensitivity

The kid behind those mature looks

Your naughtiness wanting to emerge from every nook

Your tough decisions made us proud

Distinguishing you in the crowd

Your belief n your conviction

Got you through every situation

Your honesty stole our hearts away

Just hearing your name made our day

Seeing you brought twinkle in our eyes

Our mind going blank n being all smiles

The far away look that came on our face

Thinking n praying for your win in the race

The race of life,the race of love,

The race of fate and the race of luck

Just wanted to thank you

For all that you have bestowed on us

Love you!!!!

Rajeev Khandelwal........is a name which needs no introduction.....
he has the face tht makes zillions of girls go weak on their knees.............with his smile he won the hearts of millions...his intense looks r enough to kill..........girls go crazy wid just a mere glimpse of him......
Im proud to have the honour to open this Fc on behalf of all the Rajeevians.....
Lets get to know sumthing about Rajeev
16th of Oct. 1975 , A Smart, Handsome, Dashing baby was born on earth,,his parents were very happy and named the baby ...." RAJEEV KHANDELWAL"

His Shows

Kya Hadsa Kya Haqeekat (Sony):
He made his debut with his show portraying a conspiring husband..who would go to any extent to lay his hands on his wife's property and was even ready to prove her mad...


Kahin To Hoga (Star plus)
It is probably this show which gave him the real recognition and acceptance into the telly world. He portrayed the character of Sujal Grewal which brought him enormous success. Like all other balaji shows..this show too revolved around 5 women..but Rajeev's aura was such that he dominated the show in spite of having multiple parallel leads.The arrogant and obsessed lover that he played made women of all ages go mad after him. Though the show was scheduled for 11 pm in the night, people of all age groups stayed up just for one glimpse of their heart-throb.The emotions which he portrayed through his eyes......remain evergreen and etched in the hearts of his fans even today .
Time Bomb (Zee)
When he thought that Sujal's character was not shaping up properly he opted out of Kahin To Hoga. Many of his fans wanted him to come back but he is not a kind of person who would just do the serial for the sake of money or popularity. Rajeev signed a new serial on ZEE T.V called Time Bomb . under ketan Meheta's direction. Time Bomb had also got other good actors like Kay Kay Menon and Akashdeep but the role of Varun Awasthi played by Rajeev was appreciated the most. The character of Varun was very different from Sujal of Kahin To Hoga. And though the show did not go too well with the audience.....it resurrected a dying channel and helped Rajeev prove his point: VERSITALITY.

CID (Sony):
He played the role of ACP Prithviraj Chauhan. Though it was only a cameo, his efforts did not go unnoticed and he won high praises including an award for the cameo
Deal Ya No Deal (Sony):
He continued his quest for versitality and emerged as the third host for the reality game show. The previous two hosts being Madhavan and Mandira....it was quite challenging for someone with no experience as a host to get into their shoes. But Rajeev took it in his stride. Initially he was subjected to criticism but finally he efforts did not go in vain and he got noticed. Offers for hosting kept pouring in after the show, only showing that somewhere he had left his mark.
Left Right Left (Sab):




After almost a year of quitting KTH..he returned to the world of daily shows but with a character very different from what he had played untill then . Capt. Rajveer Singh Shekawat became very popular among the audience in no time and was especially a phenominal success with the younger age groups which finally seemed to have got a show of their choice, something different from the saas bahu sagas. Though Sab was a very small channel the show did well and turned out to be the platform for' The Return of The King.'


Sach Ka Saama(starplus):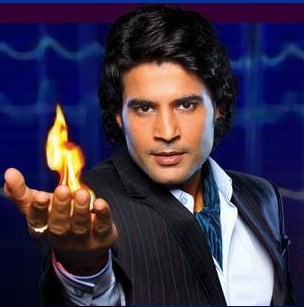 Rajeev's comeback on the small screen is with this game show based on the American format of the show 'Moment of truth'. The contestants are expected to say nothing but the truth.

Filmography

Aamir
Genre: social
Director:-Rajkumar Gupta
Production house: UTV spotboy
Producer:- Ronnie Screwvala
Star cast:-Rajeev Khandelwal
Cinematographer:Alphonse Roy
Editor:Aarti Bajaj

Plot:-A man-on-the-run thriller, it is set in the Muslim dominated streets,the bylanes and poor living conditions of people living in residential pockets of old Bombay. The protagonist's (Aamir's) family has been kidnapped by a radical mafia group, who want him to carry out a bombing in the city. The kidnapper's try to gain Aamir's sympathy by showing him the plight of many Muslims in modern India, but Aamir resists saying that such an attack is un-Islamic and will only make things worse for the community.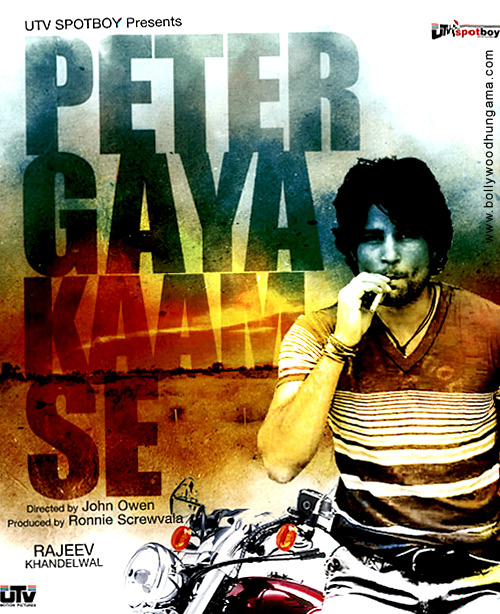 After getting a huge acclaim for his debut movie Aamir he has now taken a step ahead towards his golden dream "Bollywood" with his new project....Peter Gaya Kam Se....
Peter gaya kaam se is a fast paced action adventure with romantic twist that tells the story of peter, a football crazy motorcycle taxi rider who decides to turn his back on Goa and quit his job. thats untill his sleazy loan shark boss Bosco persuades him to do one last job. romancing with NRI damsel he creates a new history onscreen
with a completely new avatar of peter,goan taxi bike rider,a confused soul as we may call him,he promises a new refreshment and thrill
Awards
Special Recognition -ITA 2008

Best actor - Golden awards 2007

Best television actor-Sansui 2007

MTV award for the most stylish host-2006

Best Cameo-Sony 2006

Best television personality-ITA 2005

Most stylish actor -MTV 2005

Best television personality-ITA 2004

Best Fresh Face -ITA 2004

Best Jodi - ITA 2004 (with Aamna)

Best jodi -Star Parivaar awards
Aknowledgements
Thanks to RKFC mangement team.....for letting me open this FC.....im really glad tht i got the chance to open this FC.....hope i was able to live up to ur expectations....
Thankoo soo much Noor janu & Rabi for ur support.....

Regards
NidaRajeev