Hi Friends,
I am quite excited that our meme4u team has come up with such nice printable card designs and now selecting and customizing them is so easy.
http://www.meme4u.com/printables/
Check out the steps:
Steps 01. Choose the card you want to print.
Steps 02. Select the side you want to customize from the 4 sides.
Side 1 is the front of your card
Side 2 is the front back
Side 3 is the page where generally message of the card comes
Side 4 is the last of back side of the card.
Steps 03. Add your text.
Click the desired side (side 2 or 3) you want to write your message in.
Then click on the 'TEXT' button.
Select the text which you see inside the text box on the page and replace it by your desired text.
After writing and while the text box is still selected you can even customize it by different font styles, and colors.


Click on the 'X' button if you want to delete the text in the box.

Steps 04. Add your Image.
Check if the desired image is there in your machine's hard drive.
Click on the add photo button in the tool box.
Select the photo file from your hard drive and click open.
You can now even change the photo size or rotate it and even move it .


Click on the 'X' button on the toolbar if you want to remove the image.
Steps 05. Print
Click on the print button.

It will ask you for the size of the desired print which is half A4 or full A4.
Make sure your printer is filled with paper(For best results we highly recommend using cardboard, but any kind of paper will do) and turned on.

After printing the outer sides of the card, follow the printer animation as shown on your machine screen and load the same paper into the printer, so inner sides of the card will be printed on the second side of the paper.
Steps 06. Cut the edges and present it!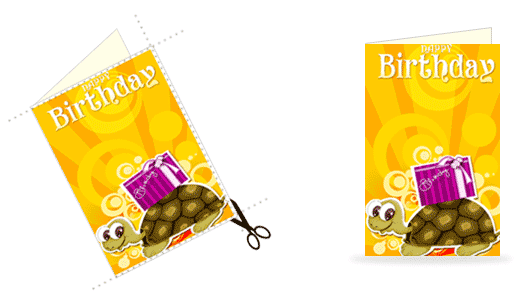 So do check the site out and let us know your valuable suggestions and feedback. If you want us to make certain type of printables more then also you can post it here. We are reading all the suggestions and feedback that are coming from time to time.

Cheers,
Vijay