Entry # 1

Only You
I wonder what miraculous wonders you hold
Everytime I think of you my heart goes out of control
When you gaze at me through those green emerald orbs
I feel you see right through my heart and soul.
The stars, the sun, the moon the earth are all dazzled by your heavenly beauty
When you smile that crooked smile, I forget to breathe
My heart pounds rapid in my chest, and i forget all my habitual duties.
The angelic voice of yours sing me lullaby all night
You hold me in your protective arms, and tell me you are all mine
You let me cuddle into your warm chest, and let me ruin your shirt with my quiet sobs
It's your face I see at the conclusion of the day, and it's your face I see before the sun hops out
The sweet aroma of yours fills my mind when I am near you
The tousled auburn hair, the Greek god like feature, the flawless marble lips of yours
Sometimes I wonder how I had been living my life before I met you
I know in my heart you are the only one for me
And there is no doubt that it will always be ONLY YOU.
Entry # 2


You're my everythng
Living is not living if its without you.
My life is just nothing,if its without you.
'cuz you're my everything.
The beauty of our love is absolutely splendid,
Which makes me smile being elated!
If its not you,then its nobody else
and its not a part of any fairy tale!
I can wait for my whole life through...
just to get a single glance of you!
Though situations may change me completely
But my love will always remain for you even more lovingly!
Sometimes...ever if you feel lonely,
just remember me and the moments we spent together happily!
Though you're not with me,neither am I with you...
But have confidence on the destiny's game...
'cuz it never makes the conditions remain the same!
If not today,then let it be a decade from now!
But my heart says...we'll come across eachother someday any how!
let anything be the aftermeth and let anything be the cause...
But my love for you will always be pure without any flaws!
Only one request till the end of the instance...
will you always remain mine under every circumstance???
Entry # 3


Alone
In this endless world...
you come across many persons...
some are good to you and some are not...
and some with a character,which you haven't ever dreamt of...!
Everybody with a desire...
but everybody with a need...
if you could fulfill or are worth it...
then,you survive,otherwise,there aint any use of your disguise!
In this endless world...
on this endless roads...
you hardly find anyone with a true heart!
They say something...
and you believe that...
Just a smile on your face...
But ultimately a feeling of disgrace...
Starting from friends till your close ones!
At the time of need...they all leave you ALONE!
Bitter...yet true...
your life is a mess which has got no clue...
deal with it alone...face it alone...
its the irony of life...with your self respect due!
Life's everything...but a sad path
A mystery...you gotta solve...being unknown of the aftermeth!
People are good...they can be bad!
But always remember being alone...
you never gotta be sad!
Loneliness is the truth of life...
let it hurt you...
let it affect you...
let it kill you...
but its the only way which makes you learn...
how to SURVIVE!
Entry # 4

&& Our worlds collided yet again , that fateful day


Your deep brown eyes met my own as you walked past
Your aura magical, just as it was when I saw you last
Struggling to catch my breath, I pinched myself ' yes it's true
Faded the fears I had of never again getting to see you.

Your silence bothers me no more; it's now my favorite sound
So that wasn't the end, our story must be themed ''lost and found''
I took a journey along the coast of your eyes - still in awe
The rainbows accompanied me ; I left behind all of your flaws

You turned to leave and the day turned dark
but in my heart swayed a joyous spark.
Knowing tomorrow will come, there'd be you
My dream the same ' only my faith anew

I lie awake that night - dreaming of you
In my mind, the old love struggled with the new
Too real to be by chance , yet too good to be true
The stars whispered to me quietly ' '' he belongs to you''

I'll pour myself out to you someday
But not with words
My heart will be on display;
You may take it or destroy it with a sword.

One day I'll have to wake from this dream,
And I will soon
May be they are right when they warn
''Never desire a moon''
Entry # 5

You
I won't compare you to a summer's day
for it doesn't last
The warmth of the breeze never parallels
the picturesque spell you cast

Your not the moon
it depends on the sun for its glow
A thousand smiles your presence brings
The rainbows are insecure

The sun can't hold a candle to you
it fades into the night
Your flow , so pure
So bright , your resplendent light

A millions of stars exist
so I won't call you one
Flowers wilt , stars fall
the dusk washes away blue off the sky
Nothing compares to you
The perfect illusion of my mind
I can't help but wonder
Are you perfect or am I blind ?


You pour life down my soul
and no being is as divine
You are everything , everything
Just not mine

Entry # 6


To My Grandpa
I admire you, everyday
Your heart was filled with love and respect for everyone
You are my inspiration, that's what I would say
Your helping style made me feel as rays are raising from Sun
Your nature was so bright
Your heart was pure like gold
Wish I could give you hug, very tight
I miss you like Ice get freeze in cold
My love for you will never end
Even though I never saw you
I wished you were beside me as friend
But my heart will always have a special place for you
Everyone wants a Grandpa like you
Wished I could have met you
Entry # 7

Amour.
My heart concedes with every beat,
My soul surrenders with burdened feet.
I wait and watch as you gaze in awe;
At my bloodied hands that touch your brow.
"I love you!" I whisper as I hand you a rose
And you kiss me deep with love that ever grows.
Entry # 8


I love you
The first time I saw you, love was what I felt
Everytime I see you my heart starts to melt
Whenever I see you my heart starts to sing
I truly love you more than anything
Your smile is brighter than the sun's rays
You can brighten up even the most gloomy days
Whenever I see you I always smile
You make every moment I'm with you worthwhile
You can make every moment sweet
Without you I feel incomplete
I think about you all day and all night
Without you in my life, nothing feels right
Entry # 9

Infatuation
I walked right by
Didn't even care why
But I noticed him sigh
When he looked into my eyes
He said he was in love with me
And there wasn't anyone else he could see
It was an awkward situation
But I managed to tell him
It's only infatuation
Told him he'd move on
And laugh it all off
When he'd remember
This next November
Entry # 10
Street Girls: The looted treasure Of God
She was born smiling at the world
But they frowned at the word girl.
When she reached the age six , she wanted to play
But they molested her to be their own toy to play.
At the age of 12 when she sought to study
They made her work and she had to be steady
she heard sixteen was suppose to be sweet
But woke up when she was put on a beggar's street.
At the age of 20 she was married to a man
she thought finally she will rest and have some tan
Her dreams were only just unrealistic dreams
Her husband beated and made her scream
she was used and abused and then discarded
If she had children would then she be regarded?
When the little miracles of God came, she felt elated
Finally she had someone who will love her, so she waited
she took care of her children and was an obedient wife to her man
But he divorced her to go to another and left her with no man
She struggled for her children, Heart broken though she was,
When they grow up will they remember what a good mother she was ?
Time passed and her bones became weak
And she looks back and recall what a life it has been.
Her children r living their own life now
but she is forgotten and is left all alone now
If she dies will she be remembered and may be only then loved
Or will she still remain the girl who was forever unloved.
Entry # 11


ARJUN, MY LOVE, MY SWEETHEART....
I thought of a poem especially for my sweet heart,
Describing his qualities i dont know from where do I start,
He is stylish and hot , handsome and smart,
His KILLER SMILE just took away my heart,
That voice, those eyes, that talent, those looks,
They drive me crazy and make me forget my books,
I just feel like pulling his cheeks whenever he smiles,
Just to do that i can even run miles and miles,
I think i love him but is love that simple??
I just dont know coz' i forget everything whenever i see his dimple,
I really wanna tell him how do i feel,
But i guess whenever i'll see him ,my lips will seal,
My heart starts crying when his eyes become moist,
But when he is happy ,my mood becomes light,
His SMILE always takes my breath away,
I just wanna hug him but is there a way??
I adore him , i love him from the depth of my heart,
I didnt know how to write poems,but his eyes also taught me this art,
I wish to meet him one day in my life on a beautiful sight in the evening twilight,
My ARJUN, MY LOVE, MY SWEETHEART seeing and talking to you would be such a DELIGHT.............
Entry # 12


Waiting ..............
She wore her clothes of dark red
And white lilies adorned her head
She kept ready the soup and bread
As she waited for him near the bed.
Her eyes like a doe's were limpid and brown
Flitted to the door, then up and down
Shyly she looked away, thinking of him
Till the moon shone bright and the stars had dimmed.
She sat by the steps and looked down the way
She'd been waiting for him the whole day
Where was he and why was he late?
She looked expectantly at the garden gate.
The sky was black and the moths flew
The scented breeze gently blew
The crickets played their violins anew
She laid her head back where the creepers grew.
She got weary and her lids fell
When he would return no one could tell
Her head she put on her arms and slept
She didn't know when in he'd stepped.
He looked down at her pretty face,
Her plaited hair with the flowery lace
He prayed that with God's grace
Joy with happiness would keep pace.
Theirs would be a beautiful life
Where happiness would linger and no strife
Day after day there would be contentment
To savour delight and enjoyment.
Entry # 13


Come ye Rains..............
The dark clouds melted and sent forth the rain
The silver mists lifted to wet the terrain
The night advanced and a soft silence fell
The whispering leaves had something to tell
She thought of him and she closed her eyes
Looking down at the valley to see what lies
When would he come to set her heart at peace?
Only he could make her anguish decrease......
She waited and waited for thirty days or more
Tears through her tireless eyes seemed to pour
How much longer would she have to wait?
When would this despair ever dissipate?
"O Rain" she lamented "Has my love forgotten me?"
The skies grumbled and answered thunderously
The sleet, the hail, the snowflakes seemed to say
After the long night has passed, there will be day.
In the distance she heard bells in the steeple
As the streets were quite bare with only a few people
A car seemed to climb uphill with a determined pace
As she saw it through the fog, her heart began to race.
From every window the lights seemed to shine
She raced down the stairway two steps at a time
She stood braving the wind down at the doorway,
Waiting to see the car through the gateway.
O come ye Rain with all your might
For my Love has returned home tonight
As you clamour to meet the earth
Your droplets laugh and mingle with mirth.
The rain fell and set out to appease
The scorched land wanting release
The comfort and solace that came along
Brought a smile to her lips that stayed for long.
Entry # 14


Friendship
What is friendship in reality all about?
With friends our personality genuinely comes out,
As we talk converse and be as we r,
Understanding another person is close to our heart.
As a friend there is so much to share, so much to care,
Even a small line, a word can make the whole difference somewhere,
Loneliness is a state very dangerous & a situation all messy,
It can lead to lack of will power, depression; self-pity.
One has to realize at that time,
U have friends around who love & care for U,
U have to gain the confidence in U,
That U have people who will stand by U.
Friends are caring; initially which means
not letting other fall give ur hand to pull out someone,
As friendship grows deep we realize it's a hope to say
'U r in ur own right Special to everyone'.
True friendship means so much more,
As if friend is the oxygen around you to grow,
Friend helps one to gain Wisdom
to know U have a beautiful heart and a stable mind,
Lightening ur soul & conscious saying
there is so much in U, which U have to find!
If you are in Love with a friend its Divine,
As Love in every circumstnces needs friendship to shine,
Romance & Relationship are like beauty & grace,
Money & power are the pride u want to embrace,
They are attractive, rosy and captures u in a glance,
But friendship is not about glance or chance.
Nothing & no one can fill the void of a friend,
Understand each other's emotions which connect them,
People tend to have atleast one very close friend,
With whom they talk freely and dont need to pretend.
U gain the right attitude & know
the right priorities U need to make,
When u find a perfect friend,
U never want the friendship to break.
Happiness is not a material thing
which is easily available,
It's not in mere possession of luxury
with a big brand or label.
Happiness is inner self celebration
U have to search within U,
It's not costly or cheap;
it needs truthful to soul and Be just'U',
Happiness is in the true FRIENDS u have around,
Who love u and bring smile on ur face life long.
Entry # 15


I'll miss you
You were with me when I had my first fight,
together we would laugh about everything in sight,
You stood by me when I was in trouble,
and when I had to come up with a story to mumble.
You gave me a shoulder to cry on when I wanted to,
and understood the pain even if I didn't tell you.
And here we stand, wishing for just one more day together,
We know that wherever we go, we'll be friends forever.
And it's that belief that will keep me going till the end,
I'll miss you always, my dear friend.
Entry # 16


No More
You always care and share love,
You are a special gift sent from up above.
You're always on my mind whatever I do,
I really must love you, it's totally true.
Time spent with you is so nice,
When I have a problem I seek your advice.
Having you in my life and close to me,
Makes my life easier, I must agree.
I really really love you,
People like you, there can only be a few.
But, why can I see you fading away,
Grandma, why can't you stay?
I open my eyes realising Grandma's not there,
But, she's there in a way really close' where?
Well, deep deep in my heart ' really deep,
She's in my dreams too, pleasanting my sleep.
Thinking she's no more sometimes makes me cry,
But, then I think of her in the heavenly sky.
At least I know she's there in my heart,
And from there nothing can take us apart'
Entry # 17

AN EPHEMERAL BUBBLE
He stares at her with that same, expressionless face,
Bt she still peers back and smiles
Despite her fear of his true feelings.
Surprisingly, he brings her close and hold her,
Shielding her form the chilly winter surrounding them.
The world outside their beautiful, little bubble stops
And slowly disintegrates to the point where
Everyone around them is no longer existent.
All that's left is the sweet sound of their simultaneous breathing.
She smiles at the fact that she can hear his pulse
Beating against her frozen ear drum.
Her heart is filled with such surreal serenity,
As if all her dreams had just come true.
The numbness in her body slowly disappears
Because all that matters is the warmth his hug brings.
She can't help but embrace this long awaited moment
As long as she can.
But time ticks away,
So she hold tighter than before,
Desperately hoping this present perfect moment will never end,
Furiously trying to hang on to the here and now,
Knowing that this ephemeral feeling
Cannot last forever.
Reality eventually kicks in and
In and instant
Another blissful bubble
Pops and
Vanishes.
Entry # 18


IN THIS COLD REALITY
In this cold reality,
I realize that you exist in cyberspace.
You are a picture,
Written in words,
And a single phone call,
That I repeat in my mind,
Again and again.
In this cold reality,
I gaze into ocean blue eyes,
Eyes that only a god can have.
Eyes that reveal your spirit to me.
My dear Edward,
It is in this cold reality,
Where I find myself staring at your photo,
Even as you've passed on with your life,
And continue to perform your talents.
I still gaze into your eyes of the ocean hue.
I still gaze at the soft, pale white skin that
You might possess
I still gaze upon
A blind, curing beauty that,
In this cold reality,
I will never have.
And it is in this cold reality,
That I will walk this earth,
On the battlefield,
In my home,
On the streets,
On a beach,
And in the night,
And your absence rips me apart,
Stitches me back together,
and tears it apart again.
Entry # 19


A Million
I look up:
A million reasons run through my mind on why I should transfer.
-New School
-New Friends
-New Enemies
I go in:
A million unfriendly pairs of eyes turn my way.
-Some blue
-Others green
-The rest brown.
I make a move:
A million whispers break through the room:
-"That's the new girl"
-"Eeww.. look at her"
-"What a freak"
I take a step forward:
A million more back away from me-
-To their locker,
-To the bathroom
-To their class.
I approach my locker:
A million close in my face, and their owners walk away.
-I sigh
-Try not to cry
-Think positive
I enter the auditorium and listen to:
A million hearts beat simultaneously with mine-
-"Thump"
-"Thud"
-"Pound"
I spot an empty seat:
Am given a million reasons on why it's taken.
-"I'm saving it for someone"
-"Someone's sitting here"
-"Ew- you're the new girl"
I turn away:
A million voices launch out behind me.
-"Ha-ha"
-"What a loser"
-"She actually thought she could sit here"
I fall and freeze.
A million heads turn my way and freeze with me.
-"It's him!"
-"He's GORGEOUS"
-"Take a picture!"
"I'm sorry, are you okay?" an angelic voice says.
A million mouths open in awe.
-"He talked to the new girl"
-"Did you see that?"
-"Gasp!"
I continue to stare.
A million more stare with me.
-"Blink"
-"Blink- Blink"
-"STARE"
The angelic voice speaks again, "come sit with me"
A million seats are emptied at once.
-"Come sit here"
-"Here's an empty seat."
-"I saved you a seat"


I thank my angel and smile.
A million more smile with me.
-Some toothed
-Others lip-glossed
-But all goofy.
I sit and watch my angel:
A million more watch with me
-"I cant believe her"
-"She's actually sitting with him"
-"I want to be her friend"
I look up at my angel,
A million reasons of why I should stay run through my mind.
-I love him.
-I love him.
-I love him.
Entry # 20


A fair day of the fall
and winds themselves call
sing and chime
the god's own rhyme
gifted in form of hearts
two, that never break apart
meant to be forever
till winter from summer
eons and eons
Entry # 21


The demons crawled up my window...
Red eyes Green hands shaking their fists
His words flew over me.... softly like the gentle sea
first time i saw the stark nakedness behind the eloquence
and wondered what had come over me
a silvery haze of the golden honeymoon days
long gone, now sit in the corner of my mind
like an abandoned trunk in an abaonded attic
tears and anguish poured from my eyes
salty like the sea
the sea of lies
in which my boat had capsized
and I gathered all I had...
courage and diginity tattered
and said "No"
the red eyes the green fists vanished
the deep sea calmed
and I cast away the shreds of influence
his dark murky waters from our confluence
evaporated
and the skies cleared for my eyes.....
Entry # 22


Remember those days
Dangling on the swings holding hands and giggling away
Seasoning under the scorching heat and blasting rains
We sat there, you and me, do you remember those days?
Passing notes and stifling yawns during classes
Ignoring the teachers glares under the skinny frames
We played that, you and me, do you remember those days?
Conversing in sign languages and secret words in the crowd
Letting outsiders to infer, their own made-up meanings
We fabricated that, you and me, do you remember those days?
Long hours of modeling, wrapped in fancy glam clothing
Leaving behind heaps and piles for our mothers to clear
We fancied that, you and me, do you remember those days?
Pillow fights and midnight snacks during monthly sleepovers
Waking up next morning to groggy sleepless minds
We passed that, you and me, do you remember those days?
Hallway gossip and long idle chats over half-hour breaks
Caused last minute homework errors and late class returns
We teamed up, you and me, do you remember those days?
Changing physicality, and mental reviews of distinct differences
We discussed some, the rest we silently accepted as obvious bordering territories
We handled that, you and me, do you remember those days?
Quick hugs in the middle of the road, shoulder thuds and smug looks
Rewarded us with the invisible understanding that lay beneath our limits
We witnessed that, you and me, do you remember those days?
In between crushes, set-ups, commitments and heart breaks
Memories were carved of hurt egos, distilled feelings and recovered impressions
We build that, you and me, do you remember those days?
Pursuing goals, reaching new heights and staging fresh standards
A peek in the past pulled the launch of its origin
We established that, you and me, do you remember those days?
Our journey of childhood through growth and significant lives today,
I see us webbed in a chain of strings tangled together,
In the elements and seasons of nature along with the six senses of human beings,
Guarding the superlative bond, that promises to last till the end of forever.
I remember those days'.do you?
Entry # 23


Passion exists
Shutting my eyes in reaction to the secure nearness
His warm breath thrilled my cold skin
A sweet-sour taste dried my throat
It wasn't just me, he was feeling it too.
The velvety touch of the two bodies
Pricked like thorns on my naked body.
Blend of his body odor and cologne, nauseating my senses
I lay there motionless like a rock, while he snaked over me.
Young as I was, innocent and nervous
Worried about losing my self-valued possession
I stiffened some more, still weighing beneath him.
"No!" I wanted to scream, all that I could murmur was a shy cry.
It was in that flash, that I felt his heartbeat, thudding over mine.
I couldn't do this, It wasn't right,
It was too early, I was not ready.
As if sensing my discomfort, he stroked my hair, and whispered my name
And I knew then, he'd never hurt me, he was simply making love to me.
The disturbed spirit in my mind calmed down, as I accepted
Maybe I was wrong; there couldn't be another, truthful time.
I let down my guard, whatever I was holding onto,
The passion had always existed, only now equating his longing,
My desires instantaneously soared high within me.
The last I memorize, it was the one of the few
Meaningful and real moments of my life,
When I blissfully surrendered myself to my love'.
Entry # 24


There I still remain'
Nor did I cry, nor did I complain.
I kept waiting there, while you changed the lane.
My heart did break and there was a slight pain,
I tried to remould it, but all was in vain.
Each moment my eyes keeps staring that lane.
Though I have move on, there I still remain
I tried to call it fate which, no one could negate
But still against it, my heart would debate
I still tried to move on, but there I still remain
Some matters of heart are never won by the brain
I give up my heart and yes you won
I will still wait there, looking for her return
for days and year or till I finally burn.
Entry # 25
Love: Essence of Love..
When u left me, I felt empty
I woke up in nights crying for u
I looked behind my back for u.
I blamed u for something which u couldn't help.
I blamed u for dying, but it was I who needed help.
It took me years to realize that u never left me
You never died, how could u when u r within me.
I realize that when u let go of my hand that final time.
Someone else came, who holds my hand from that time.
I love you as I have never loved anyone else in my life.
But from the day u died a different love entered my life.
I learned tears are blessing in disguise and I learned time is healing wine.
I learned to smile and breath again , I came to realize that life can again be fine
When your arms fell from around me.
Somebody else came and He now guides me
when I needed ur hand I lost u Papa to death,
But God came to hold my hand and give me strength
When life becomes excruciating
God showed me how to make it fascinating
God made me realize the reality of this fleeting life
God proved to me that we will join in after life
God is Merciful and love the one who face hardship with guts
God test us all with good and bad times so I shouldn't loose guts
A person can never feel alone if he finds God in his heart
A person doesn't need to look far but only check his own heart
life is a transitory face and not a permanent abode
So like different seasons it keep on changing its code
Till the day I breathe Papa u will be remembered
Eternity will bring us together so I will never surrender
2. Category: Hindi/Urdu (TWO poems from this cateogry)

Entry # 1


Guzaarish.
Taqdeer kay korey panney per
Haathon kii lakeeron key ander
Kuch likha hai sab yeh kehtey hain
Jaaney kyun kehtey rehtey hain
Main laakh chahun per parh na sakun
Kiya likha hai in lakeeron main
Rekhaon kii zanjeeron main
Ik aas hai jagi, himmat hai bandhi
Kiya sunta hoga rab mera
Aankhon kii chubhan dil kii yeh jalan
Kiya dekh raha hoga woh sada
Jo raat aankhon main kat ti hai
Jo din chup chaap siraktey hain
Jo aankhain nam ho jaati hain
To dil sey aah nikalti hai
Jo saarey diye roshan hain kiye
Unki lou hai ik chehra liye
Woh chehra hai beynaam magar
Dil key ander kahin chup ker
Woh mujhko paas bulata hai
Merey saath samay bitaata hai
Yeh khuwahish hai yeh guzaarish hai
Woh chehra kahey "Main bas tera!"
Baarish kii thandi boondon main
Suraj kii pehli kirnon main
Jo thaamey haath chaley mera
Saaye kii tarah, badal kii tarah
Jo dil key raaz sabhi sun ley
Jo aankhon key moti chun ley
Woh meet mila dey mujhko bhi
Woh geet batla dey mujhko bhi
In aankhon main jo rahey sada
In honton per muskaaye sada
Woh naam ho mera or uska
Rishta ho itna pavitr humara
Keh dekh ker kahey yeh jahaan saara
Taqdeer ney likha hai yeh milan
Jo chaley ga ab janmo janam!
Entry # 2

Nupur mayank ki jaan,
uski pehchann hai,
uski zindaghi ki shaan,
duniya mein kitne hai Ishq mein dobne wale
magar in dono ke ba gher Mohobbat ki masal anjaane hai_
Entry # 3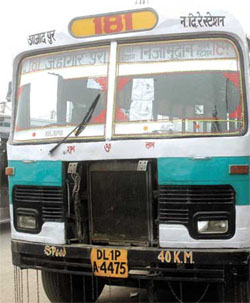 Blueline
Dilli ki sadko par chalti hai
Blueline bus
log kehte hai ki
woh hai dilli ki lifeline
ruk jaye woh to,
karde yahan ki rozmarna ko decline!
Blueline bus kay chalak
kamate hain utna,
jitna woh kar sakte hain,
grahako ko ikhattaa
Iss chhut ka mere bhaiyo
uthane lage hain woh fayedaa,
Lagate hai bus stops par awaze...
jaise bech rahay ho aaluu, paalak aur dhaniya!
Karte hai khada wo sadak par
ek bahut bada tamasha
log chadte hain unme to
ho jati hai unki haalat khasta!
Paise kamane kaa unkay paas
hai ek aur zariya
Aur bus chalako se...
Aage niklna hai unki samasya!
Lagate hain woh sadak par race
Aav naa dekha, taav naa dekha
Aam janta ko kuchal dalaa
par dikhai unhonay logo par
zaraa bhi naa grace!
Dilli sarkaar hai irresponsible
Vadaa kara unhe sadko se hatane kaa...
Par aaj bhi agar bahar jaao
to mere sathiyo....
dekhoge aap woh noxious tamasha...
chaalak ka blueline chalane kaa!
Entry # 4


Kya Hua Agar pyaar rooth gaya ho
Kya hua agar naseeb choot gaya ho
Kya Hua Agar Sukoon Cheen Gaya
Kya Hua Agar Dil Ko Cheer Diya Gaya Ho
Ye Saansein,
Ye Saansein Hamesha Chalti Rahengi..
Unke liye, SIRF Unke liye
Iss Yakeen mein, ke Woh Aayenge, Zaroor aayenge
Kyunki Dilkashi unse hei, Taazgi Bhi Unse Hai

Entry # 5
Mananiya professor Dr . C.K. Joshi
Mananiya Pradhyapak Dr. C.K Joshi
Sochte hain ki unki Kavitaaein hain Bahut hi funny
Par asal mein Unki kavitaein hai badi hi akavyatmak
kardeti hai sirr mein dard
Par kya karein
mananiya pradhyapak ji
samajhte ki vo hain bahut funny!!
Kitni hi bar unhe tamatar paday
kitne baar jootay
par mananiya pradhyapak ji
apni harkaton se baaz na aaye
Ek baar ki baat hai
unhe america se bulava aaya
america sikhana chahati thi bacho ko hindi
gad gad ho gaye pradhyapak Dr C.K. Joshi
Interview tha aglay mahinay
America ke reputed school may
Taiyaar karvaya unhonay passport
silvaya ek naya pant-coat
mahina bitgaya taiyaariyo mein
aur pradhyapak ji ki shaayariyo mein
unhe hua thoda arrogance
aur thoda over-confidance
teen din baad hai unka interview
baith gaye plane mein ud gaye fiewww..
paka diya logo ko buri tarah
log kehne lage "jaldi khatam hoye ye yatrrah!"
plane land hua san fransisco
log kehne lage "jaldi se yahan khisco"
utray mananiya pradhyapak
karte hue bak bak
"inki yeh himmat
main hu ek mahan pradhyapak..
kari hai maine hindi mein PhD
badla lunga zaroor kabhi naa kabhii"
Pakri unhone ek taxi
till the district "St Mark Maxi"
Taxi wale ne unhe charge kiya dollar forty
Par pradhyapak sahab ke paas thi Indian currency!!
Taxi wala tha bahut mahan
accept kar li professor ki currency
but only on the condition....
to give him some extra money!
Sab rafa dafa kar
chaldiye woh apni manzil par
jana tha unhe hotel
par chalte chalte gira di unhone apni
Paiso ki potli!
Kya karte ab humare
mananiya pradhyapak Dr C.K Joshi......
bech di unhone apni ghadi.....
jo thi bahut hi keemti.
Gaye woh hotel ke andar
in the district "St Mark Maxi"
hotel ke room ki keemat dekhkar socha unhone....
"Ab kya rakhu main girvi!"
Unkay bag mein tha ek kavya sangrah....
socha "yeh hi rakh deta hu girvi....
yeh hi hai mere liye...
is duniya mein sabse keemti!"
Hotel walo se nahi ho raha tha unka settlement...
aakhir kaar haar kar....
laga bethe apna sara saaman daav par!
kya karte professor sahab.....
laga diya tha apna sab kuch daav par....
jiske liye unhe mila vahaa....
only a stay for twenty four hours!
Agle din proffessor sahab
chal diye dene interview
school tha bahut duur....
chalna pada unhe pedal
till the district "Martin Soup"
chalte chalte thak gaye woh...
sadak par ek konay mein hi so pade woh...
neend khuli do ghante baad
yaad aaya unhe achanak...
aaj hai unka interview!
kharab ho gaye unke saare kapday
ho gaye mitti mitti
karte bhi kya voh ab
chaldiye dene apna interview
school wale samajh baithe unko naukar
nahi samajh paye unki boli...
thama diya haath mein jhaadu
lag raha tha mano
unpar tha shani ka prakop bhaari!
karte bhi kya mananiya professor
kar li naukar ki naukri
fas gaye mano woh ek andheray kamray mein....
paraye des mein bin paiso ke kaise rahe
ek majbur aadmi...................
Entry # 6


Koi ajnabi ajj,
Dil ki taron ko chu gaya,
Apni mithi-mithi baton se
Dil lubha gaya
Ahista-ahista apne rang main
Mujhe Dubo gaya,
Houle se... mere dil main,
Woh pyar ke rang bheego gaya'
Entry # 7


Woh Chupke Se Aakar
Satana Mujhko
Woh Dhere Se Nazdeek Akar
Tadpana Mujhko
Kasam Se... Jaan Le Jata Hai
Woh Houle Se Apka
Pukarna Mujhko...
Entry # 8


Reet ya Preet
Meri Duniya Shant thi aur Main Gumsum si bethi thi,
Is Duniya mey tum Shamil huey aur Main Khil Uthi thi,
Na jaane kyun Tum lagtey Mujhe Sabse Khaas,
Tumhari Baatein dil ko chuti hoti unmey Kitni Mithaas.
Mulakat Hamari Hui aur Jaana humney Ek Dusrey Ko,
Bahut hi Kam Waqt laga hame Acche dost banney Ko,
Tum they Sachey Aur bekhoff Zamaney key banavat se,
Meri Hichkichahat aur Udasi door kardete ekdum jhatase.
Mere Sang najane Kitne Dukh Dard Tumney Bantein,
Magar Is Rishte par Hastey Log, chubhoty Humey Kantein,
Meri Sadgi, masumiyat aur Saral Swabhav Tumhe lubhata tha,
Mere Dil mey basa tumhareliye Apaar Sneh tumhe Harshata tha.
Tum the nidar janti thi zamane ke agey nahi jhuko gey ,
Main darti thi Parivaar se door tum kardiye jaoogey,
Tumne Apne ghar pe batadiya , tum mujhse shadi karogey,
Sabne kahdiya tha Mere sath tum kabhi khush nahi rahogey.
Mauka bhi nahi diya ki kabhi hojau main tumpar khafa,
Mujhe yakein tha tumpar janti thi tum na hogey kabhi bewafa,
Phir bhi na chahtey hue hogai main khud hi bewafa,
Tumhe Jhuti Narajgi dikha ker,kardiya Apne Gharse dafa.
Tum Umra se the Baais saal ke aur phir bhi kitney samajhdaar,
Main thi Paintis ke aas-pass phir bhi manliya zamaney se haar,
Tumne kahdiya tha jhuti hai narajgi aur mere dil mey hai prem Apaar,
Dil ke darvaje khulne ka beqararise karogey zindagi bhar mera intezaar.
Tumney kaha Pyaar key safar mey mushkileyn ayengi har dagar ,
Magar yeh pyaar dafan nahi hota, yeh to rehega hamesha Amar.
Pyaar Umra mey jakda nahi rehta hai,
Pyaar Bhavanao se judata rehta hai.
Pyaar ko samjhna Umra ke hathon mey nahi,
Kyunki Pyaar ki khud ki koi umra hoti nahi,
Samaaj mey Umra ki reet hai shadi ke bandhan keliye,
Pyaar mey Prit hi kafi hai humdum baney rehney keliye.
Jahan preet se door aur umra se sath ho,
Wahan Umra ka chalava behkasakta hai,
Jahan sachaa pyaar, taal mail aur aadar ho,
Wahan umra koi maainey nahi rakhta hai.
Entry # 9


leke ja raha hai kahaan aaj mera dil mujhe
aisa lag raha hai ke milne ko hai manzil mujhe
mushkilon ka saamna jo har qadam par hai kiya
zindagi ka ab safar lagta nahin mushkil mujhe
haasil-e-maqsad ki khaatir jo jiya karte hain log
kaash us fehrist mein karde khuda shaamil mujhe
apne maazi ko bhulaana aa gaya mujhko magar
raat bhar hai ab jagaati fikr-e-mustaqbil mujhe
ilm ki shama se roshan hon jahaan mere khayaal
dhoondna hai aaj aisi hi koi mehfil mujhe
hai yehi hasrat ke apnon ke liye main kuch karoon
aye khuda ab to bana de tu kisi qaabil mujhe
(haasil-e-maqsad: achieving a purpose; fehrist: list;
maazi: past; mustaqbil: future; ilm: knowledge; hasrat: desire)
Entry # 10


hum khade unka intezaar kiye jaate hain
bewajah dil ko beqaraar kiye jaate hain
keh na paaye hain dil ki baat abhi tak hum unse
chupke chupke hi jaan nisaar kiye jaate hain
jisne vaadon ki ahmiyat nahin samjhi hai kabhi
kyoon usi par hum aitbaar kiye jaate hain
uski yaadon se dard milta hai to phir hum kyoon
apna yeh haal baar baar kiye jaate hain
jinki aankhon mein mohabbat ki jhalak hi na rahi
pyaar hum unse beshumaar kiye jaate hain
Entry # 11

MAA..
Hai wo mamta ki moorat...
Duniya mein sabse pyaari hai uski soorat...

Khuda ka bheja farishta hai..
Jiske man me sirf mamta hai..
Jaanti hai jo sirf pyaar lutaana..
Jise kehta hai MAA ye sara zamaana..

Jo hume 9 mahine apne khoon se seenchti hai..
Aur hume duniya me laane ke liye dard sehti hai..
Hume apne aanchal mein chhupakar rakhti hai...
Duniya ki burayi se bachakar rakhti hai..
Hamare liye saari duniya se ladti hai..
Haan, ye ek MAA hi kar sakti hai...
Maa ki god mein hum saare dukh bhool jaate hain..
Uske pyaar se hum har gham se jeet jaate hain...
Wo hamare nanhe kadmo ko sahara deti hai...
Hume jeene ki wajah deti hai..
Wo hume jeena sikhati hai...
Hamari zindagi ko raah dikhaati hai...
Jab ek bachha pehla lafz bolta hai
To wo "maa" hi hota hai...
Bachpan ki baaton ko log kitni aasani se bhool jaate hain...
Jawaani tak aate aate "maa" ko peeche chhod aate hain...
Nahi kar paate hum maa ke dard ko mehsoos..
Aur us se door ho jaate hain...
Use humare sahare ki zaroorat hoti hai...
Use humse milne ki tadap hoti hai...
Lekin nahi kar paate log uski ye khwahish bhi poori..
Aur "maa" phir se duniya mein akeli hoti hai...
"Maa" ko hai khuda ka darja haasil..
"Maa" ke bina nahi milta kisi ko saahil..
Hamari laakh galtiyon ke baad bhi uske hothon se dua hi nikalti hai..
Haan,ye ek "maa" hi kar sakti hai...
Dena "maa" ko khushi,hai uss khuda ki ibaadat...
Hamari zindagi hai sirf "maa" ki amaanat...
"Maa" ke bina ye duniya be-jaan hai...
Mera uss "maa" ko dil se salaam hai...
Entry # 12

PYAAR HUA..IQRAAR NAHI...

Khushboo pyaar ki hawaaon mein ghul rahi hai...
Fizaaein bhi khushnuma ho rahi hai...
Har taraf hai pyaar ka mausam...
Iss dil mein bhi ajab si hulchul ho rahi hai...

Yeh thandi hawaaein aaj meri rooh ko chhoo rahi hain...
Mujh par anjaana jaadu kar rahi hain...
Sab kuch lag raha hai naya sa...
Lagta hai pyaar ki shuruwaat ho rahi hai...

Uski khushboo hai meri saanson mein...
Sirf wo hi wo hai meri baaton mein...
Mere dil-o-jaan mein basti hai wo..
Sirf uske hi nishaan hain meri raahon mein...

Uski baatein mere kaano(ears) mein goonjti hain..
Uski muskurahat mujhe jeene kaa maksad deti hain...
Uska dard mehsoos karta hoon main..
Uski aankhein har pal mujhse kuch kehti hain...

Usse hi hai meri saasein,usse hi meri zindagi..
Usse hi hai meri khushi,wo hi meri badagi...
Naa ho jo wo mere saath...
To bemaayne hai ye zindagi...

Uski nazron mein main khud ko paata hoon...
Uski jheel(lake) si aankhon mein main gum ho jaata hoon...
Uske bina adhoora hoon main...
Usse milkar main poora ho jaata hoon...

Hai mujhe usse mohabbat bepanaah...
Ab to uska hi hai har lamhaa..
Uske ishq mein mere maulaa..
Ho gaya hoon main FANA...

Uske dil mein bhi pyaar ki shama jal rahi hai...
Uski aankhein mujhe kuch ishaare de rahi hai...
Uske dil ko bhi ho gaya hai pyaar ka ehsaas...
Par na jane kyun zubaan kehne se darr rahi hai...
Phoolon ke saath unki khushboo hai..
Bhanwaro ke saath unki gunjan hai...
Chaand ke saath uski chaandni hai falak par...
Har taraf bas pyaar hi pyaar hai...
Lekin aaya hai ye waqt kaisa..
Ki mere pyaar ko uske iqraar ki darkaar hai...

Pyaar mujhko bhi hai...
Hai pyaar usko bhi...
Phir bhi na jaane kyon..
Iqraar se darte hain dono hi...
Gaa rahi hain dhadkane pyaar ka nagmaa...
Magar labo par aati nahi baat..
Ek-doosre ka izhaar sunne ke liye
Tadapte hain dono din-raat...
Nazron se karte hain ishaare...
Dono apne dil se hain haare...
Badal gayi hai ye duniya hamari...
Mohabbat hi manzil hai ab hamari..
Aaj to bas kehna hai yahi...
Pyaar hua magar iqraar nahi...
Kehta hai ye dil mera...
Aayega ek naya savera..
Aayega kal aisa bhi...
Jab pyaar bhi hoga aur iqraar bhi...
****Please PM me ASAP if your entry is not included.****
Enjoy Voting and reading some wonderful poems!! Mahi & Ghungroo