Lupin (lupin_roza)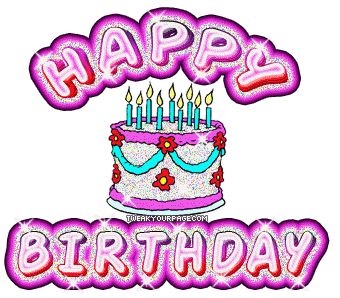 party time!!! lol...I hope all your wishes come true!!
May your special day be filled with memories and flowers, friendship and happy hours.
Wishing you all the fun and excitement that only birthdays can bring.
Go you, its your birthday, we're going to party like its your birthday!
You're older today than yesterday but younger than tomorrow, Happy Bday!
Wishing you all the best for your Birthday.
Happy birthday Neetzy weetzy,
I am going to warn you, I am really bad at writing birthday messages, so I am going to make it short and sweet. So here it goes...
I hope you have many more birthdays to come, and wishing you all the great things in life, hope this day will bring you an extra share of all that makes you happiest. Neetzy, you are the clever clog of this CC. Always keep rocking, and smiling. May god fulfil all your wishes, dreams and may you become a very successful person in whatever you decide to pursue and you get your very own Daniel Radcliffe, if not the real one.
But for now, here is the real one for you. I kidnapped, no no man-napped him, especially for you..Enjoy...
Lots of love
Huma
Happy Birthday Lizz!!!!!!!!!!!!!!!!!!!!!!!!
Ok heres your gift=)
Have a great birthday!=D

Sonia (x.sonia.x)
happy bday neetz!

hope u hav a wonderfulicious day and even better year.

i really wish we could hav done more for ur bday as u totally deserve it.

with all u nd rox hav done to get everyone together nd even more to keep us always entertained and addicted to this cc.. u deserve so much.. nd i am sure u will get whatever u want out of life as u are one of the most genuinely nice people out there.

ur lucky.. i am not usually this emo! lol..
Hello, Hello fellow Cancer. By the way this is Zainab. Hehe. I distinctly remember our first encounter on India - Forums when I acted as if I was a 12 yr. old Hannah Montana lover. LOL. By the way, from the very first day I was fully impressed with your vocabulary and thoughts. Oh and here's news: I didn't even comprehend half of your scholarly words but I recognize being awed by you and your chain of thoughts. In short, I wanted to be your FRANDD. Haha.
(My Neetu girl
My Neetu girl
Girl' girl' girl' girl)
IF par aake
Jo milale agar woh nazar se nazar mein taale
Words jo dikade,
Sabki dhadkan mein kadam se kadam milale
Lehron si chaal pe chaal bichade
Ishan aur Ankit ke dilo ko behaal bana de
Par deewane mane
Na dekhi koi aisi girl
(Na dekhi koi aisi girl)
Dekhi lakh lakh pardesi girl
Ain't nobody like my Neetu girl
Dekhi lakh lakh pardesi girl
Sab toh soni saadi Neetu girl
Who's the hottest girl in the world?
My Neetu girl
My Neetu girl
Thumka lagaike she'll rock your world
My Neetu girl
My Neetu girl
My Neetu girl
My Neetu girl
live long life
hi lizu sis
Happy birthday
Man many happy returns of the day
OK
First of all
that i will call u liza
i m emotionally touched with it
u r a veryyyyyyyyyyyyyyyyyyyyyyyyyyyyyyyyyyy
special to me
just memorising the those golden days
U r moooost sincere,januable,intellignt
always remain the same
pllllllllllllllllllllllllllzzzzzzzzzzzz
hamisha aisay hi rehna
Here is ur Birthday gift
every one wished through Daniel
bt now see who r wishing u
with loooooooooooooo
oooooooooo
oooooo
oooo
ots
of
loooooooooooooooooooooooooooooove
ur cute n sweet sis


Edited by x.sonia.x - 22 June 2009 at 10:19am