blow out your 17 candles plus one for good luck!
Birthday Wishes!
Sam (Naughty_n_nice)


Happy Birthday Neetz!!!
Hope you have an amazing year to come, and many more!
Enjoy college life to the fullest, and I hope you had a great summer knowing that you're finally done with the boards! Congrats on that as well! Stay the same, don't change. Remain as intelligent and charming as you are!
Loads of love,
Sam


Noreen (nowee10)

Neetu! Happy Birthday yaar! May God bless you and give you tons of happiness!
You're a wonderful friend...I'm so glad I know you. You're sweet, intelligent, funny, and caring.
I love you! I love talking to you in the CC! You're truly the best!
You're one of my bestest friends! Muah! I hope all of your wishes come true!
This day is all yours! I hope you have a blast! Keep smiling and rocking! Muah! Love ya!
-Norr



Lupin (lupin_roza)
Happy birthday to a special friend!
Although I haven't known you many years,

Perhaps because you've dried so many tears,

Pleasure reigns as I these greetings send.
Your happiness should last till all things end!
Because you've been so sweet and understanding
Many Many Happy returns of the day Neetz..
Wishing you an abundance of blessings,today and all year through.Happy Birthday once again..
Nimmi (dizzyonlemonade)

Neeta, I wish you many happy returns on your special day. Now, that you are embarking upon the start of a new year, I hope that you accomplish the goals that you have set out to do. And that you have fun on the great journey of life as you learn and have many wonderful experiences along the way. Though you are especially wise already, I cannot imagine you having to gain much more knowledge unless you are planning something on a scale never seen before. Just kidding, enjoy yourself kiddo, and I hope you have one rollicking time on your birthday.
Ankit (stint)
Wishing you (Neeta) a Happy Birthday and many more to come.
I hope all your birthday dreams and wishes come true.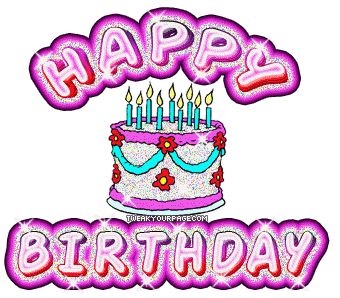 H
A
P
P
Y
B
I
R
T
H
D
A
Y
Paromita (mysticwater24)
"Wish u a very Happy Birthday!!!.......may all your dreams come true
"


Rae (angelteen)
Happy Birthday Neeta!!!!!!!!!!!!!!!!!!!!!!!!!!!
Wish you all the very best in life!!!!!!!! Hope you enjoy your day!



Mitsy (mits002)
HAPPYYYY BIRTHDAY NEETTAA!!
Hope you have a blast!
Lots of luv and luck!
And Here's your birthday card!

BIRTHDAY CARD
Ishan (ishan.k)
Hey Neeta wish you many many Happy returns of the day !!!


Enjoy you day and may God fulfill all your Wishes !!!
Keep rocking always

Cheerz
Mahima (cutie_mahi)

HAPPY BIRTHDAY NEETZZZ!!!! omg, are u like 16?????????? woahhh!! SWEET 16!!!!
party time!!! lol...I hope all your wishes come true!!
May you get all the happiness in the world and HAVE A BLAST ON UR SPECIAL DAY!!!!!!!!!!!
and, oh ya....always remember...
"Zindagi mein kuch banna ho, Kuch hasil karna ho, Kuch jeetna ho, Tho hamesha apne dil ki suno, Aur agar dil se bhi koi jawaab na aaye ... Tho apni aankhein band karke apni Maa aur Baba ka naam lo ... Phir dekhna tum har manzil paa sakogi, Har mushkil aasan ho jayegi, Jeet tumhari hogi ..... Sirf tumhari..."
HEHE!! SRK dialogue!! but a good one!!! well, have fun on ur day!! Best of wishes from my side!!
<3333333333
Mahi!
Noorin (angeldmg16)
!! Wish u many Many happy returns of the day !!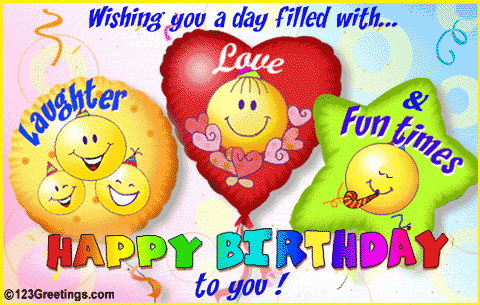 May your special day be filled with memories and flowers, friendship and happy hours.
Wishing you all the fun and excitement that only birthdays can bring.
Go you, its your birthday, we're going to party like its your birthday!
You're older today than yesterday but younger than tomorrow, Happy Bday!
Wishing you all the best for your Birthday.
Once a year I get the chance
To wish you birthday cheer.
It pleases me no end to say,
I wish you another great year.

So happy birthday to you Neetz ,
From the bottom of my heart.

Lots of Love
-Noorin
Dhara (kash4eternity)
Many Many happy returns of the day Neetu Love you. you're very special to me.

Love

Dhara aka Big D


Miloni (chocogurl)
Dear Neeta,
HAPPY BIRTHDAY
May all your dreams and wishes come true!!! Neetz, you a wonderful person!!
You are intelligent and very creative!! I lovee watching all your VM's!!!
You are by far one of the best VM makers ever!!!
You are also soooooo nice and a very fun person to talk to!!
Im soooo happy that I have a friend like you!! May you have a rocking birthday!!

Loveee ya

Miloni


Huma (*Huma*)
Happy birthday Neetzy weetzy,
I am going to warn you, I am really bad at writing birthday messages, so I am going to make it short and sweet. So here it goes...
I hope you have many more birthdays to come, and wishing you all the great things in life, hope this day will bring you an extra share of all that makes you happiest. Neetzy, you are the clever clog of this CC. Always keep rocking, and smiling. May god fulfil all your wishes, dreams and may you become a very successful person in whatever you decide to pursue and you get your very own Daniel Radcliffe, if not the real one.
But for now, here is the real one for you. I kidnapped, no no man-napped him, especially for you..Enjoy...
Lots of love
Huma


Neeta I was brought here especially for you, by Huma..she man-napped me, see I didn't even get to dress well for the occasion..but HAPPY BIRTHDAY NEETA..

This is a little something for you Neetzy, I am not a very creative person, but a little attempt from my side.



Having an amazing day..
Love ya loads
Hugs and kisses
Huma

Chandni (moonlit.gold)
Happy Birthday Lizz!!!!!!!!!!!!!!!!!!!!!!!!

Hope you have an amazing day, and that alllll of your vishes come tru. You know that youre my beshtest beshtest friend and I love you=P
Ok heres your gift=)
Have a great birthday!=D

Sonia (x.sonia.x)
happy bday neetz!

hope u hav a wonderfulicious day and even better year.

i really wish we could hav done more for ur bday as u totally deserve it.

with all u nd rox hav done to get everyone together nd even more to keep us always entertained and addicted to this cc.. u deserve so much.. nd i am sure u will get whatever u want out of life as u are one of the most genuinely nice people out there.

ur lucky.. i am not usually this emo! lol..
Divya (divya_07)

hey neeta!
i guess v've met just once....so sorry...u won't get to read any nice things bout u in my message

but here's wishin u a very happy b'day
love,
divya
Sayeed (stingray)


La La La La La La
Hmm Hmm Hmm Hmm Hmm Hmm
Happy Birthday Dear Mrs. Potter
Happy Birthday to you!
Hello! For reasons unknown, I can never write proper birthday wishes.
And I always get my mom, sis and gf to buy the gifts
Well, wish you a fun-filled day. Eat, drink and be merry
All the best wishes for you and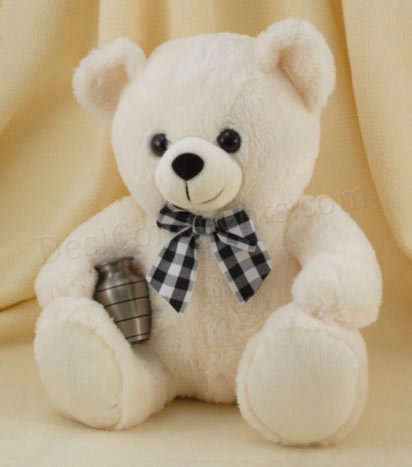 Simi (-simi-)


LIZZYYYY (i think im the only one who still calls u that, but i like it)
i dont even know where to start! even though ur younger than me, you are one of the people who i truely idolize because of ur clarity of thought and straightforward attitude! you really are a very strong girl, and just from IF, it shows that you really know how to stand up to urself and not let anyone walk over you!! and by spending so much time with u here, i have also seen the crazy, whacko kiddo in u that loves to be rediculously foolish
you have given me the best time on IF by opening IC!! i cannot thank you enough for getting us together so we could all get so close to each other!
make sure to party hard for ur bday!
lots and lots and lots and lots of love!
sims
Zainab (zainab25)



Hello, Hello fellow Cancer. By the way this is Zainab. Hehe. I distinctly remember our first encounter on India - Forums when I acted as if I was a 12 yr. old Hannah Montana lover. LOL. By the way, from the very first day I was fully impressed with your vocabulary and thoughts. Oh and here's news: I didn't even comprehend half of your scholarly words but I recognize being awed by you and your chain of thoughts. In short, I wanted to be your FRANDD. Haha.
Anyways, I pretty much was frandlass back in February but then suddenly we all came together for a mission. All it took was one topic and BANG on we came together. For some reason I always chatted and conversed with you as a group and never individually until just recently and I am sure you agree. Why? I don't know. We were never formal with each other because c'mon we are bindaas, but our frandship was not up to the mark. LOL. Thank God we both had MSN! MSN made us better frandsss. Our bond strengthened like a thread spinning on machine.
Bad exampe, I know.
I am glad that I got to know you better as a person in the recent weeks even though we have known each other for quite some time now.
I am not going to stretch this message like a chewing gum and write another 1000 words but all I would like to say is Thank you. Thank you for everything. I never ever in my dreams thought that I would encounter such amazing human beings on the net. LOL. Alas I was wrong. If there's one person that I would love to meet in person, then it's you FO'SHO! PS: I am Yamraaj. LOL.
As song for you. By the way it's from Dostana, the Desi Girl track, that I twisted. We twist and we twist. LOL. OK here it goes. It's very stupid.
(My Neetu girl
My Neetu girl
Girl' girl' girl' girl)
IF par aake
Jo milale agar woh nazar se nazar mein taale
Words jo dikade,
Sabki dhadkan mein kadam se kadam milale
Lehron si chaal pe chaal bichade
Ishan aur Ankit ke dilo ko behaal bana de
Par deewane mane
Na dekhi koi aisi girl
(Na dekhi koi aisi girl)
Dekhi lakh lakh pardesi girl
Ain't nobody like my Neetu girl
Dekhi lakh lakh pardesi girl
Sab toh soni saadi Neetu girl
Who's the hottest girl in the world?
My Neetu girl
My Neetu girl
Thumka lagaike she'll rock your world
My Neetu girl
My Neetu girl
My Neetu girl
My Neetu girl
On an ending note, look at this. Hehe.

Yeh Dosti Tere Dam Se Hai
Ha Yeh Dosti Tere Dam Se Hai
Yeh Dosti Tere Dam Se Hai
Tu Zindagi - 3 Kasam Se Hai
Saari Khushi Tere Dam Se Hai
Tu Zindagi - 3 Kasam Se Hai
Yeh Dosti Tere Dam Se Hai


Usman (Uussmann)
Hi Neeta Dear !
Happy Birthday !
live long life
here is a gift for u
Luv Usman
fizii (fizii_gurl)
hi lizu sis
Happy birthday
Man many happy returns of the day
OK
now my speech time
First of all
i will say u lizu bcoz i have already warned u
that i will call u liza
i m emotionally touched with it
u r a veryyyyyyyyyyyyyyyyyyyyyyyyyyyyyyyyyyy
special to me
plzzzzz always be my friend
just memorising the those golden days
U r moooost sincere,januable,intellignt
best vm maker
,loving
always remain the same
Itnay paisay mein itna hi milta hai
pllllllllllllllllllllllllllzzzzzzzzzzzz
hamisha aisay hi rehna
Here is ur Birthday gift
every one wished through Daniel
bt now see who r wishing u
with loooooooooooooo
oooooooooo
oooooo
oooo
ots
of
loooooooooooooooooooooooooooooove
ur cute n sweet sis
fizii
Aisha (Kashfanatic)
HAPPY BIRTHDAY LIZ !! Im so sorry for the late Bday message ! honestly i havent had time to login to IF ans stay for long enough, been busy looking for a job aswell
well firstly, OMGDDD UR 17 ?
happy birthday sis
many many happy returns of the day ! i pray that all ur wiishes and hopes and dreams come true and that u have many sucesses in your life
god bless you
i know that we may not see eye to eye in some cases (ahem twilight
) but heck i still love you
i will never forget all the fun times we have had on IF, just remembering those moments brings a smile to my face
firstly the whole gatecrashing thing in the charlies angels club
and then singing the lamest hindi songs to each other
and then spamming the dmg forum with ''belans are rolling'' and ''golmal hai sab golmal hai'' type phrases
woahhh crazy times
u really are very special
and witty, funny, super intelligent, adorable, nice, friendly, cool ... u get the picture right
i know that if i ever need advice or just a friend to speak to the first person that comes to my mind is you i dont know why i just feel that i can speak abt anything with u and just be myself
thankyou for being the sweetest friend a person could ask for
and thankyou for opening our golden thrad of friendships aka incognito critics
u really rock liz ! always stay the way u are
*CRIESS* omgash my liz is all grown up
lots of love
Aisha


Edited by x.sonia.x - 22 June 2009 at 10:19am