Have you Ever Heard of Butterfly Day?...
Well, Now Now, I'm sure it isn't the best of days right? Well You've got it wrong there!! Butterfly day is the most beautiful and exquiste day of the year. The wonderful lush beauties around us get celebrated
Here is a little more about the day:
Butterfly Day is the one and only day you can fully admire the beautiful butterflies, that flutter around your flowers, in the garden and also make your summer worthwhile. It's a day to cherish to hot sun outside and the beauty of nature through BUTTERFLIES!
Can you Find The Fab Fly Challenge!
The Crazy Creatives of India-Forums.com have decided to set a on off contest, in which you have to find images of the most beautiful butterfly, according to you!
This Contest is Just for Fun and the Winning Prize is also very worth while!
Rules:
- You Must Submit only ONE (1) Image of a Butterfly
- Please Post You Entry in THIS THREAD
- Do Not Reply, if you are not posting a image of a butterfly.
- Each Member can only Post in This Thread ONCE (with an image of a butterfly)
- Please Upload your Image of the Butterfly on
www.Tinypic.com
because links from thirdparty websites and google, sometimes break and images aren't visable.
TIPS:
Is the Image your posting Clear?

Does it look Beautiful?

Is the Pattern Clear?

Is the Image a good Size? (It shoud'nt be too small)

Does it Sum up Butterfly Day for you?
The Last Date to Post your Images of Beautiful Butterflies is .. 26th June 2009
Happy Posting
Love,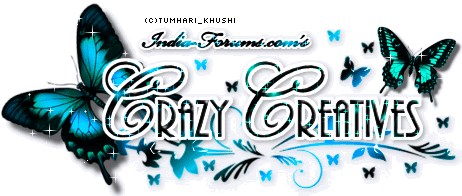 Edited by DramaholicVibes - 26 June 2009 at 1:07pm