Home

»

Father's Day Contest Deadline Extended till Jun 28
Father's Day Contest Deadline Extended till Jun 28
Post Reply
New Post
ramas
IF-Veteran Member
I-F Creative Head

Joined: 03 February 2006
Posts: 36772
Posted:

15 June 2009 at 10:15pm

| IP Logged

To the Father's Day Contest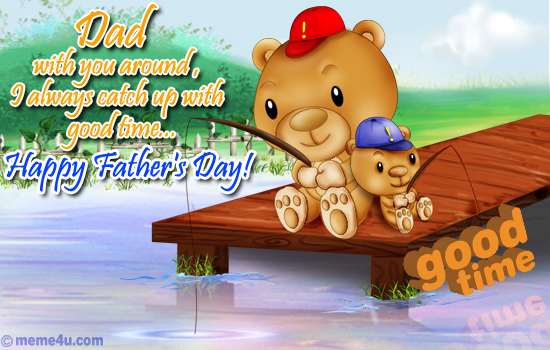 Link:
http://www.meme4u.com/ecards/holidays/fathers_day/happy_fathers_day/card_1305.htm
Father always takes care of us. He makes us feel warm, secure and comfortable. whenever we are scared. He is there to take care of us. Let us make this father's day very special. To make this father's day you will make some plans and share with us thru pms.
Please do not forget your father on this father's day and show him how much you appreciate all the love and warmth he provided to you. Most of all do not forget to tell him how much you love him. Send your Dad card from Meme4u.



Please share an incident or incidents that made you feel that your dad is the most wonderful person and out of this world. The limit is 500 words. Person with most creative and genuine entry will be the winner. You can write about an imaginary incidents. but it should appear geniune.
Dead line is june 28th.
Maximum 3 entries per person.
pm your entries to "crazycreative"
subject "Father's day contest"
Have Fun



Edited by ramas - 20 June 2009 at 4:35pm
The following 18 member(s) liked the above post:
Jayshree
,
Aahaana
,
*Shruti*
,
nulz
,
Asharkibiwi
,
punjabi_qt26
,
Knowalot2
,
whoa..
,
Sweet_Kandy
,
-Mystery-
,
cityoflights
,
Perfangel5655
,
rojapoooo
,
-aditi-
,
mallika_14
,
pop77
,
QH_DDEJ_Fan
,
-Jwalamukhi-
,
Dear
Guest
, Being an unregistered member you are missing out on participating in the lively discussions happening on the topic "
Father's Day Contest Deadline Extended till Jun 28
" in
meme4u.com
forum. In addition you lose out on the fun interactions with fellow members and other member exclusive features that India-Forums has to offer. Join India's most popular discussion portal on Indian Entertainment. It's FREE and registration is effortless so
JOIN NOW
!
Sweet_Kandy
IF-Rockerz
Joined: 25 September 2007
Posts: 6796
Posted:

16 June 2009 at 1:00am

| IP Logged

nice...will try 2 participate!

QH_DDEJ_Fan
IF-Stunnerz
Crazy Creative Baby

Joined: 17 April 2005
Posts: 30637
Posted:

16 June 2009 at 2:57am

| IP Logged

thats great.

good luck everyone.
roshaaan
IF-Sizzlerz
Joined: 25 November 2008
Posts: 16179
Posted:

16 June 2009 at 4:35am

| IP Logged

hmmmm i will try to take part

~*LoVeLy*~
IF-Dazzler
Joined: 27 July 2007
Posts: 4233
Posted:

16 June 2009 at 2:03pm

| IP Logged

nice!!
cityoflights
IF-Veteran Member
Joined: 11 September 2008
Posts: 12823
Posted:

16 June 2009 at 7:31pm

| IP Logged
mayur_rox123
Goldie
Joined: 18 November 2008
Posts: 1552
Posted:

16 June 2009 at 7:50pm

| IP Logged
smiles_sakshi
Groupbie
Joined: 21 August 2008
Posts: 123
Posted:

17 June 2009 at 8:16pm

| IP Logged
Post Reply
New Post
Go to top
Related Topics
Forum Quick Jump
Please login to check your Last 10 Topics posted