Friends, today is the birthday of a special girl we all know and love. She has done starring roles in Sangam, Kya Hoga Nimmo Ka, and now the role of Riddhima in Dill Mill Gayye.




Her acting and dancing have won her legions of fans around the world. Who else could I be talking about but the beautiful and talented Miss Jennifer Winget, who turns another year older today.




Below are a few messages from her fans:

from jennichait_kasu:




dear jenni,

HAPPY BIRTHDAY TO YOU...many many happy returns of the day...i hope and pray your each and every dream comes true....and you achieve more success in your life. I really love you, your hardwork ,dedication, sweetness, everything about you. once again many many happy returns of the day...enjoy your birthday!! love you!!
from Nishat:
Hey Jennifer
hope you have a great birthday with lots of gifts!
Love, Nishat :)
from Anita:
Happy Happy Happy Birthday Jen!

Wishing you loads of happiness on this special day of yours...
Hope all your wishes and aspirations in life come true!!

You are doing a brilliant job with Riddhima and keep rocking!

Lots of Love, Anita
from Preeti_285
Happy Birthday Jennifer!
I hope all your dreams & wishes come true and you achieve lots of love, happiness and great success in life both personally and professionally.
Thanks for being our Riddhima and doing such great justice to the role with your immense talent...You're doing an amazing job so far!
I hope you have an amazing birthday and an even better year ahead...God bless you, always!
Lots of love,
Manpreet [Preeti_285]

from Kashvi:
Dear Jennifer
A very happy birthday to you,
Hope you have a great year ahead
Your undoubtedly a wonderful actor...and extremely sweet and gorgeous:)
I love you as riddhima..and it took me no time to accept you.as our new riddhima
your doing a wonderful job...I love your chemistry with karan..!!!
Your a fab dancer too..and we have seen that in ZND and whenever you danced in dmg.
Keep up the good work..
and on this special day..have a blast..and hope all your wishes r fullfilled..
Lots of love,
Kashvi
-India.
from Karizma:


Dearest Jennifer,
Happy Birthdayyyyyyyyy!!
You'v Won our hearts all over again by playing
Riddhima to ur fullest capabilities

Thank you!
And i hope u have a gr8 day and an even rocking year ahead

Lots of Love
- Karishma

from Shalini:
Dear Jen,
Happy Birthday. Hope this day brings lot of happiness to you. Hope all your dreams come true. You achieve everything you dreamed of and wished for. Your hard work and dedication shows on the screen and with that attitude, I am sure you would reach great heights of success. Keep smiling..


Thank you for becoming our Riddhima. You have given your own flavor to the character and you have made us fall in love with you same way Suki did. I wasn't sure if I would be able to see and accept anyone next to Karan other than Sukirti, but when I saw the first episode, you won me over. You are doing a great job and I have fallen in love with AR all over again. Keep rocking DMG and pleaseeeeeeeeee give some LOVE to our Armaan....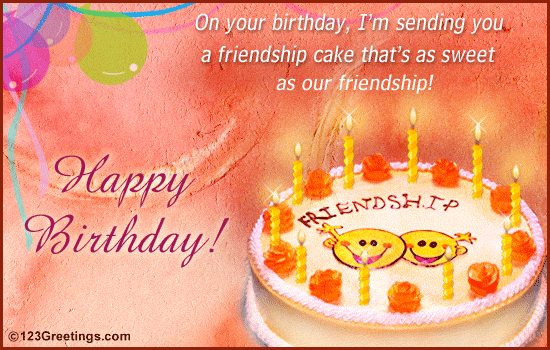 Lots of Love
Shal






from Aliya:




Jenniffer,
Happy Birthday,hope you have a blast on the day and may u celebrate many many more birthdays...I think you are one of the best actors who took up the role of riddhima really well and all i can you're doing a awesome job..I always loved you in kasauti with karan...After that i loved you in sangam...I must say your capabilities have been visible in all the shows...Anyways all the best for your future hope you have a blast today
Aliya
from indian _ chick
Happi B'dai Jennifer!
Hope You Hav De Bes Day
Of Ur Lyf!!
N I Hope Success Followz U Foreva
N Eva!!
Lov Yo Loadzz!!
x-X-x
from Dhara:
Dear Jenny Many Many Happy Returns of the day on this day i wish you get all the happiness & Success that you have wished for we love you as Dr.Ridhima in DMG and you are fabulous actress God bless you


Love,
Dhara
from Riya07
Happy Birthday Jennifer
Luv U Loadz
hope you have a blast
may all your dreams and wishes come true
from rinxkashsujen
Happy Birthday Jenny


May you have fantastic day today and you are surrounded by your most dearest on this special day!
from Smriti:
Happy Birthday Jen~!!

May all your wishes come true!

Smriti

from Siddhika
Hey Jenny Many many Happy Returns of the Day!!

A birthday is just the first day of another 365-day journey around the sun. Enjoy the trip

Enjoy the day
from Jia (dmgkajollover)
Dear Jenni,
On your birthday I wish you much pleasure and joy;
I hope all of your wishes come true.
May each hour and minute be filled with delight,
And your birthday be perfect for you
You rock as Ridz in DMG. You redefined Ridz character. Love your chemistry with Karan and Abhi too.
........ Love you
Lot of wishes and love
Jia
from caprigurl:
Hey ! Hope you have a fantabulous Birthday ! This year's special for us as we see u as our beloved Ridzi ! Hope this year and the years ahead are filled with happiness, success and love for you !
HAPPY BIRTHDAY JEN !

from Gene_Nisha:
Dear Jenny,
Many Many Happy Returns of the day Jennifer....i always loveddd u ever since sangam days nd you made Ridhima charecter even more lovely....May god bless you and have a rocking day nd have a blast....have loads of fun wid ur friends nd family and we all wid u only.....you just rock the charecters you play and may god bless you and be wid you in each and every thing you do in future....your miliion dollar innocent smile is enuf for anyone to fall in love wid you.....thanks a lot fr doing Ridz charecter and i'm sure u'll rock even more in th future......
from Veena:








Dearest Jen
Happy Birthday!!!!!!!
Many... Many Happy Returns of the day..
and many more to come!!!
Jen, wishing you happiness and success always!!!
Thankyou for being a part of DMG.
We really appreciate you and really enjoy you!!
Looking forward in creating lots of wonderful
DMG memories.
Have a wonderful day
Loves.
Veena!





from Shanthi:
Jennifer,
Happy Birthday!! hope your day goes well and the yeasr ahead brings lot of joy into your life as you have brought into ours. You have fit into the role of Ridz so easily and added your own bit to the role of Ridz.. its been great seeing on TV for 4 week nights. Have a lovely year and hope all of your wishes come true today and forever.

hugs
Shanthi

from Meghna:
HAPPYYYYY BIRTHDAYYYYYYY
Wish you a very very very HAPPPYYYYY BIRTHDAYYYYYYYY Jennifer! Hope this year brings you loads of happniness smiles n Success and Hope all your dreams and desires come true! I LOOOOVE you as Dr Riddhima! U are doing an exceptionally good job and uv taken the character to newer heights....I always loved you as an actress priorly and so got warmed up with you as Dr Riddhima quite soon...Love ur chemistry wid Karan,...U'll rockkk together! Ur a brilliant actress and a very hardwrking person too! Hope You continue achieving all the heights in you life! Thnk you So much for playing Dr Riddhima sooo well and working so hard for us! Muaaaaah! Hav a GREAAAAT B'DAYYYYYY and PARTYYYYYY Harddddd!
God Bless you and always keep smilinggg!
Lots of Love
Meghna(India)
Happy Birthday Jennifer,
may you have a wonderful year ahead!!!
Love,
DMG Dev Team