Salaam Namaste to One and all members out here!!

India-Forums, Co Site MeMe4u.com has some exciting activity coming up.... Remember your art class wherein you make greeting cards for your friends or your project?

Confused, well let we make it simple for you all!!
What if we give you that opportunity that you would be giving "ideas" for online Greeting Card and the "Top Creative Ideas" would be taken and thus card would be given with courtesy given to the members who gives the particular idea......


Event - Online Romance Week 10th- 16th May!!What Needs to Be provided- Your idea, or Image you can provide, which would be taken by the creative
team as a sample and an idea would be executed and card would be made, don't forget to provide the text you would want to be carved in the card (Please note not to take poems from any online site, you can be creative and think of something original and hatke)-
It could be an Animation or a simple Non Animated Postcard concept.....

ExampleMember Says,My Idea-How about a Teddy Bear with a heart saying Love and with the text that that cute teddy bear card reminds me of someone special!! Either the heart canImage(Something Like This)
Thank You!!The card Made ( would be having your name unlike this one- Below Meme's logo)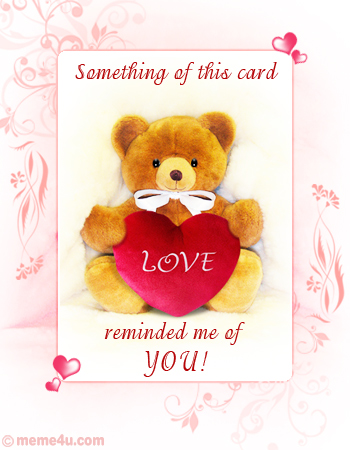 Interesting isn't it? Romance is a beautiful essence of life, now its up to you how would you want a
rom
antic e card to be presented so start giving ideas Now!!
Please send all your entries to Meme4u
Name your subject as Online Romance Week Entry
Last Date for sending your ideas is 3rd May, 2009
Winning card which is made by the Meme4u team by the ideas of Maha_1


Missing You
(Click the image to view the Card)

Congrats Maha_1
Other Cards which are made on Online Romance Week by Meme4u Team are:
So Celebrate Online Romance Week (10th May to 16th May) by Meme4u Cards
Love, India-Forums Development Team



Edited by *Jayshree* - 08 May 2009 at 9:04am