look alike..
Post Reply
New Post
kulgeet
Groupbie
Joined: 13 March 2009
Posts: 160
Posted:

12 April 2009 at 6:01am

| IP Logged

judwa....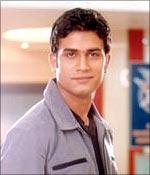 heyy frnds i think our cute and handsome heart throbe
piyush
looks somewhat like sharad kelkar (the person who plays the husband of saloni in saat phere )
what say...............


Edited by kulgeet - 12 April 2009 at 6:21am
Dear
Guest
, Being an unregistered member you are missing out on participating in the lively discussions happening on the topic "
look alike..
" in
Meet Mila De Rabba
forum. In addition you lose out on the fun interactions with fellow members and other member exclusive features that India-Forums has to offer. Join India's most popular discussion portal on Indian Entertainment. It's FREE and registration is effortless so
JOIN NOW
!
gapgirl
Senior Member
Joined: 25 February 2006
Posts: 589
Posted:

12 April 2009 at 12:39pm

| IP Logged

Hmmm... I don't really see it, but Sharad is very cute. He's probably one of my favorites after Kulwant. I also used to love Shekhar from Reth - the actor's name was Ankur Nayyar. He is too cute!



stephhh
IF-Rockerz
Joined: 09 January 2009
Posts: 6903
Posted:

12 April 2009 at 9:36pm

| IP Logged

dunno I don't think Kulwant resembles anyone or viseversa but maybe piyush can!!!

Post Reply
New Post
Go to top
Related Topics
Topics
Topic Starter
Replies
Views
Last Post
Stunning new look

stephhh

9
667
10 March 2009 at 8:12am
By

stephhh

they look so good

annamshaukat

2
454
18 December 2008 at 3:58pm
By

Aamir's Fan
Forum Quick Jump
Please login to check your Last 10 Topics posted
Monaz Mevawala comes back with Chintu Chinky!
Monaz's will enter as Chinki's cousin named Dolly in SAB TV's Chintu ...
Saurabh Jain gets to play his natural self in Parichay...
Saurabh Jain aka Anand Chopra of Colors' Parichay speaks about his ... 18