Mischa Barton Cast in New Ashton Kutcher Show
By Jenny Sundel
Originally posted Friday March 13, 2009 08:00 AM EDT
Mischa Barton Photo by: Matt Baron / BEImages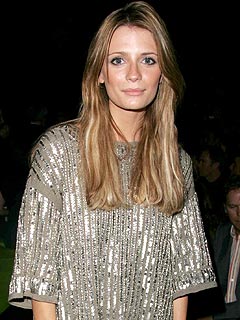 The latest rumor Mischa Barton would like to debunk is she's not appearing on the
Melrose Place
remake. Instead, the former
O.C.
star will make her return to the small screen with a role on another CW show,
A Beautiful Life
, produced by Ashton Kutcher.
"Ashton developed it about his life growing up as a model from Iowa, so it's about the whole fashion world that he was in, and obviously I have a lot of friends in the fashion world, so I'm used to being around a lot of people in that," Barton tells PEOPLE on Thursday night at a
GQ
magazine-hosted party to celebrate new men's fragrance Burberry the Beat.
And Barton, who recently attended the fashion shows in Paris, promises to put the catty in catwalker. "[I play] a bitchy model-type character, like it's a totally different character for me," says Barton, who starts shooting as Sonia, a successful model who keeps the competition at bay but also advises the younger ones, at the end of the month.
Aside from modeling experience, the former face of Dooney & Burke has something else in common with Kutcher – a desire to reach out to fans directly. While Kutcher favors Twitter, Barton has recently taken to her own blog to "clear up all the misconceptions."
Like what? "Like right now I'm supposedly too skinny. I just had to release a comment about how I'm eating enough and I'm healthy," says Barton, who nibbled on a sweet onion tart with mushroom and a burger during the event. "I'm more concerned for young girls these days … and I think it's important that you say I'm comfortable and I'm fine and you should to be too because it's, like, silly … You're always too skinny or too fat or too something."
Other things she wants to clear up: "Like places I go, what kind of people I hang out with, what I'm like, if I'm a party girl, if I have issues … my real fans might go there and check out the music I like, the books I read, stuff like that." Adds Barton, who also just broke the news of her breakup on her
official Web site
, "It's just the best way for me to clarify things and show people who I really am."
•
With reporting by LISA INGRASSIA


this show sounds exciting..wating to watch mischa' come back..missed her ever since the OC